Asia, China
Grenville Cross-Rule of law in HongKong- Protecting criminal justice operatives from violence.
Jul 6, 2021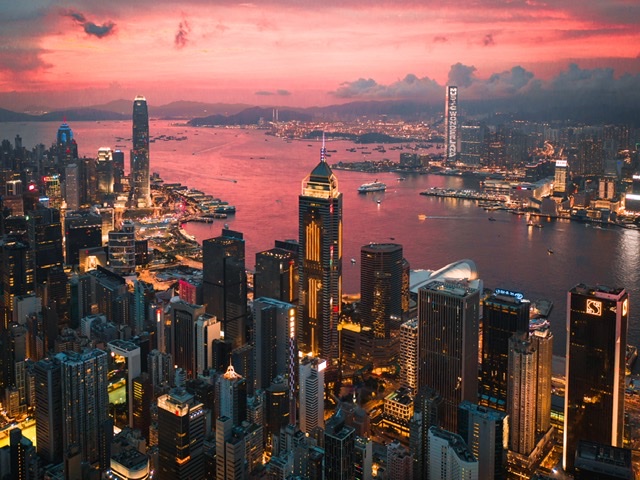 When the Hong Kong protest movement and its armed wing launched their insurrection in 2019, they realized that to make headway they had to target people involved in upholding criminal justice. From the outset, they systematically attacked the police, with petrol bombs, bricks and improvised weaponry, and then set about terrorizing their families. They doxxed officers, intimidated their spouses and children, and mounted late night attacks on police married quarters.
On January 29 and 30, 2020, there were petrol bomb attacks on four police stations, with the culprits obviously hoping to weaken police resolve. Thereafter, on March 22, 2020, three petrol bombs were hurled into the police married quarters compound in Sheung Shui, destroying two parked vehicles. This was the fourth attack on the site in six weeks, and followed a January post on the Telegram app in which protest leaders urged their followers to "burn doghouse", meaning the officers' homes.
The protesters realized, moreover, that the judiciary also plays a central role in defending the rule of law, and they therefore went after its judges.In a crude attempt to terrorize, they firebombed the Court of Final Appeal, the High Court and the Shatin Magistrates Court, and then turned on individual judges, initially by doxxing. The situation became so bad that, on October 30, 2020, the High Court had to issue an injunction, proscribing the publication of personal information of members of the judiciary and their relatives, as well as any threats or harassment.
Although many protesters ignored the injunction, they had decided far earlier that it was better to intimidate particular judges, and this became a favorite tactic. In January 2020, for example, after she had sentenced several rioters to imprisonment, they homed in on Justice Anthea Pang Po-kam, an experienced criminal law judge. Having vilified her online, they then scrawled insulting graffiti on the walls of the High Court, denouncing her as "a judge with a red background".
Although Pang carried on regardless, the next victim, at least so far as is known, was the Chief Magistrate, Victor So Wai-tak. On December 30, 2020, after he had refused to grant bail to Jimmy Lai Chee-ying, at West Kowloon Court, a call was received from a man who shouted "I will bomb you, your wife, and your son to death". Apart from terrifying So, the caller also presumably hoped to affect the way future cases are handled by the courts, although in that he failed.
On May 28, 2021, after Judge Amanda Woodcock had sentenced Jimmy Lai and his confederates to imprisonment for their involvement in an unauthorized assembly, judicial intimidation again reared its ugly head. She received three alarming telephone calls, directed at her and her family, and which were described as being intimidatory and insulting in nature. In the best traditions of the Hong Kong judiciary, an undaunted Woodcock has resolutely continued to dispense justice fairly, without fear or favor.
A clear pattern of threats, insults and even terror has, therefore, developed over recent times, and it is ongoing. But it is not only police officers and judicial officers who are in the subversives' firing line.
The Department of Justice (the Department) also has to take every possible step to protect its prosecutors from danger, even though they have, thus far at least, been relatively unscathed. Although the enactment of the National Security Law, on June 30, 2020, has certainly helped to restore law and order, it has by no means obviated the existential risks to those who serve Hong Kong and uphold criminal justice, as recent events have shown. On June 29, for example, two suspects were arrested for possession of weapons and explosives, and their reported objective was to "kill well-known figures", and create "bloodshed" at police stations.
On July 1, moreover, two incidents arose, one worrying and the other horrific, that demonstrated just how careful officials and law enforcers still have to be. In the early morning, several bottles of combustible material, including LPG tanks and lighter fluid, were thrown near the slope of Government House, on Lower Albert Road, causing a fire, but, fortunately, no injuries. In the late evening, a black-shirted man stabbed a police officer in the back in Causeway Bay, puncturing his lung, and then fatally stabbed himself.
The Secretary for Security, Chris Tang Ping-keung, said the attacker, who reportedly had an anti-police, anti-China mindset, had been "radicalized", and he described his crime as "a lone wolf style of domestic terrorism". He added that it was not only the assailant who had to be held responsible, "but also the many people who customarily advocate violence, incite hatred against the country and beautify these attacks". Attacks of this type, of course, were common during the insurrection, when protesters, for example, stabbed one police officer in the neck at a protest in October 2019, killed a street cleaner with a brick in November 2019, and set a construction worker on fire that same month for arguing with them. This latest atrocity, therefore, is simply more of the same, from the same sort of thug that terrorized the streets during the insurrection, and this explains why some of their ilk have now described the deceased online as a "martyr".
Indeed, in conduct so nauseating as to beggar belief, there were online calls for people to gather to "mourn" the officer's attacker, whom they described as "valiant". Thereafter, dozens of lowlifes, some dressed in black, appeared at the crime scene and left white flowers, grotesquely mourning the assailant's demise. One woman, devoid of shame, even brought a child along, clutching flowers, which was as clear an instance of child abuse as can be imagined. When individuals with poisoned minds like this are at large, nobody is safe, and the police, apart from increasing their cyber monitoring, will need to ascertain if their behavior is seditious. Although many subversives, bowing to the inevitable, went to ground on June 30, 2020, they still nurse deep grievances over their failure, and they hope for revenge. They could mobilize at any time, even without the approval of their foreign backers, and even their small-scale operations could have deadly consequences.
While, however, the police have their weapons and defensive equipment, the Department of Justice does not, and has to deploy alternative strategies to safeguard its personnel.  Although some lawyers, academics and journalists have queried why the identities of the specialist prosecutors who handle national security cases have not been disclosed, the potential dangers explain everything, as their professional body recognizes. In 2001, the Department, through its Prosecutions Division, joined the International Association of Prosecutors, one of whose preoccupations, together with high standards, is prosecutorial safety.
In 2008, the IAP issued its "Declaration on Minimum Standards concerning the Security and Protection of Public Prosecutors and their Families" (the Declaration), and this prioritizes the safety of prosecutors. The Declaration requires States to take "all necessary measures to ensure that public prosecutors, together with their families, are physically protected by the appropriate state authorities when their personal security is threatened as a result of the proper discharge of their functions". In other words, the Declaration envisages such things as bodyguards for prosecutors, safety counselling, and protective mechanisms, but this is by no means all.
What malign forces crave is detailed intelligence which can facilitate their operations, lone-wolf or otherwise, and this must, if possible, be denied them. They would like nothing better, for example, than to get their hands on the details of the national security prosecutors, which they could then weaponize. This is precisely why the Declaration enjoins state authorities to "take such steps as practicable to prevent personal information concerning public prosecutors or their families becoming known to third parties where this would be inappropriate". If, therefore, the Department had disclosed particulars of its personnel, as some people advocated, it would not only have endangered their safety, but also have violated the IAP's Declaration, which, through its organizational membership, it is required to uphold.
With the National Security Law's first anniversary, Hong Kong celebrates the triumph of decency over mayhem, but nobody should forget that many of the insurrectionists are still out there, biding their time. They are not, as some Western governments pretend, democracy campaigners, but individuals alien to even the most basic of decencies, and capable of any outrage. They lack any sense of right or wrong, and the warning signs of the past week must be heeded. Consumed by hatred, but buoyed by foreign praise, they pose a real threat to police officers, public prosecutors, and judicial officers, and, to protect the rule of law, they must, if possible, be identified, halted in their tracks, and fully held to account.
The author is a senior counsel, law professor and criminal justice analyst, and was previously the director of public prosecutions of the Hong Kong SAR. He has just been awarded the Gold Bauhinia Star which is the highest Bauhinia Star rank in the honours system of Hong Kong, created in 1997 to replace the British honours system of the Order of the British Empire after the transfer of sovereignty to People's Republic of China and the establishment of the Hong Kong Special Administrative Region.
The views do not necessarily reflect those of China Daily where this article was first published.