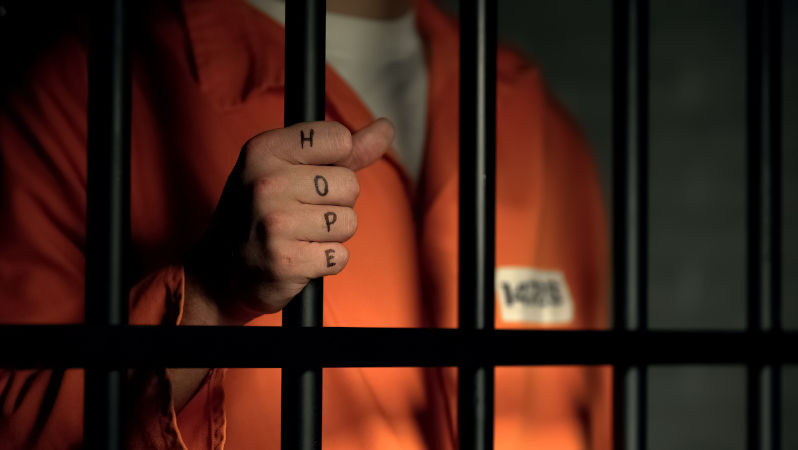 There is a simple, relatively costless government move that should give about half a million Australians confidence in homeland security.
While not exactly the same sort of security, and not to be too flippant about the peril that the AUKUS deal puts us in, this move would cost 0.000000272 of the $368 billion subs' contract or about 0.002 of the $500 million War Memorial project.
It's something that needs attention, from all reports, in all Australian jurisdictions, but, as I practise criminal law in the ACT, that is where I'll concentrate.
Sure, it's unfashionable, but it could be done as a line item in an ACT Budget and no-one would even notice, and the gains are, in my view, indisputable.
It is $1 million for Prisoners' Aid, which currently receives what I believe a ridiculous amount of just over $200,000.
You need spend only an hour with the manager of Prisoners Aid, Glen Tibbitts, or meet some of his clients, or their families, to feel the value of what this 60-year-old organisation is achieving. It's palpable, and done quietly in so many small, but vital, ways.
The focus is on re-integration into society upon release, perhaps by "filling a house with furniture", picking clients up from prison, ensuring they get some lunch and to Corrections (parole) or Centrelink appointments, or, when they're still incarcerated, that their children get to learn-to-swim classes or footy practice, or have school shoes, and any of the myriad "normal stuff" as Mr Tibbitts puts it. Those little things that so many of us so comfortably in the middle class take for granted.
"Just letting them know there is someone there who gives a damn" counts for so much, according to Mr Tibbitts.
He is quick to extol many specific examples of how Prisoners Aid has prevented people returning to prison, achieving rehabilitation (a legislated aim of sentencing), which is always the community's best protection (another legislated, and often supposedly contrary, sentencing aim).
One man, a tradesman, continued to call, no longer needing help but instead to relay how well his work was going and how he had been able to buy toys for his kids for Christmas, items that would previously have been stolen.
"An awesome bloke," Mr Tibbits said. "He just went down the wrong path with the wrong people … his partner had [alcohol and other drug] issues and the children were suspended quite often from school."
But now? "The family unit's back together … the children are doing well. They're totally really good at school. So, it's stopped that cycle [of offending] going from one generation to the next."
Mr Tibbitts is a familiar, and towering, figure around the ACT court complex, respected by the Bench, relied on by legal practitioners and, vitally, trusted by his clients.
A man who, in earlier times, battled his own addiction and homelessness issues, Mr Tibbitts was employed previously also in "close personal protection work" (including as personal bodyguard in Australia for former UN secretary-general Kofi Annan), which gives him not only serious credibility with his clients but unique insights as well.
"I have the capability of relating to people on all different levels, especially detainees who have done it tough," he said. "Everybody has a story."
He is greatly encouraged by the Supreme Court's Drug and Alcohol Sentence list, which has the appropriate supports in place but is severely limited in numbers. Justice Richard Refshauge has taken charge of this list and described it recently to the ACT chapter of the Australian Academy of Forensic Sciences as the most worthwhile work he has done in his long and distinguished career in the law.
So many more convicted people, not necessarily with drug or alcohol issues, could do with similar support, the support Prisoners Aid can provide, if able. All that is needed are more pairs of hands.
It is our community that needs to change, to be demanding of our leaders, and perhaps expecting a little better from ourselves and our peers.
As far back as the organisation's 10th anniversary in 1973, then president Ken Woods said, "The community's attitude could make or mar the work of the Canberra Civil Rehabilitation Committee [as Prisoners Aid was then known]."
Little, sadly, it seems, has changed in half a century.
"There's a lot of work that needs to be done," Mr Tibbitts says. "To make change, it needs to be put in …
"Each person we kept out of incarceration for a 12-month period was over a $100,000 saving. Each person when they came out probably cost only a couple of grand to help, as in materialistic things, home appliances and bedding and lounges etc etc, to try and assist people in moving forward and not re-offend.
"It's not only a government problem. It's a community problem. We all need to address that … Of course you can have feelings of people being a victim, and I've been one myself, with my house robbed and then my company robbed, but it's a matter of thinking about how we stop the next victim, how can we stop the next crime and how can we stop the amount of money that's being spent to detain people."
Proper education and proper job opportunities provide pride.
"A lot of things come from that …" he says. "It makes a big difference."
Much has been spent on the Alexander Maconochie Centre, looking to assist people when in jail, but it is outside where they can really flourish, and the community truly benefits, not just in lower crime rates, but in budget savings, too. As Mr Tibbitts puts it, "It's a no-brainer."
You can donate to Prisoners Aid here.