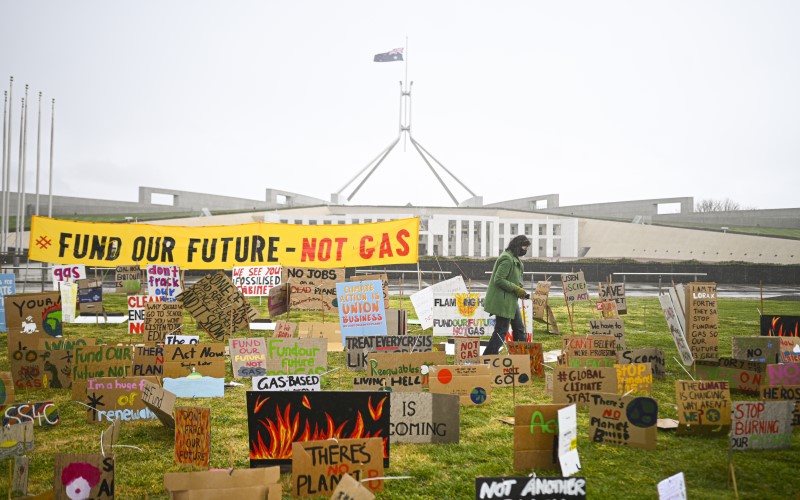 Not only does News Corp's new climate change campaign come after years of spreading climate misinformation, it is also simply replacing its last fraud with another.
For the past decade, stalwarts of Rupert Murdoch's News Corp have claimed that climate change is a hoax and a fraud perpetrated on the Australian people. News Corp has orchestrated a campaign of climate misinformation so successful that it has resulted in some of the most harmful policy decisions imaginable for a 21st century developed country.
That the misinformation was deliberate is obvious from the fact that it was stubbornly sustained as an editorial direction running contrary, year after year, to the vast majority of scientific findings. Hypocrisy and lies were even proudly admitted to by some commentators.
Take Peta Credlin admitting on Sky News in 2017 saying the carbon price "wasn't a carbon tax, as you know. It was many other things in nomenclature terms but we made it a carbon tax. We made it a fight about the hip pocket and not the environment. That was brutal retail politics and it took Abbott about six months to cut through and when he cut through Gillard was gone."
Never mind that the repeal of the carbon price excluded Australians from the most efficient process of economic transition into a renewable energy superpower, and from the possibility of making much more money from keeping fossil fuels in the ground than we can ever henceforth make by digging them up. This is a fact now recognised by even the conservative Business Council of Australia and the Australian Industry Group, both of which have been calling for the reintroduction of a price on carbon since late 2019.
Never mind that through the extent of News Corp's misinformation Australia has suffered other policy failures which, if persisted with, will make it impossible for Australia to transition to an economy based on renewable energy before climate change does irreparable damage to the environment that sustains that economy. One of those policy missteps is the failure to increase the Renewable Energy Target — an absolutely vital mechanism if Australia is to reach the necessary speed in transition of its electricity market.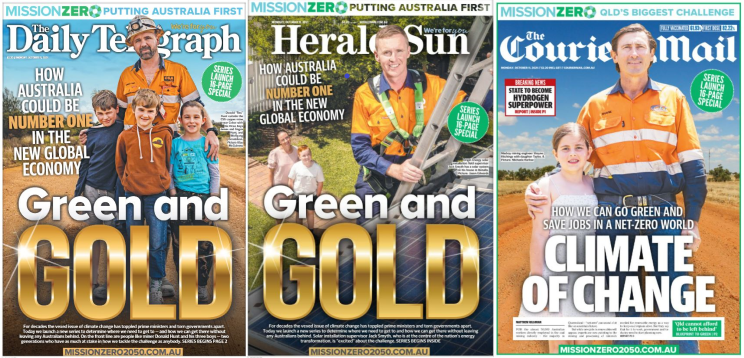 And never mind that the pervasive success of the News Corp editorial "cut through" policy has marked Australia out as a pariah internationally. Our reputation as a trustworthy signatory on all types of agreements made with other nations, including for trade, is now in tatters.
With such an array of damage it is a reasonable assertion that it is not the scientists nor the environmentalists, but News Corp that has perpetrated a massive fraud on Australians over the last decade.
Now we are to be treated to a reversal of all that with the introduction this week of a campaign dubbed "Time is Now: Australia's moment of truth".
The central message being floated under this catchy title is that "new analysis has painted a frightening future for Australians if the world does not get emissions down before 2050 with average summer temperatures soaring by as much as 2C in about 30 years."
It is a shame that News Corp writers appear not to have read the latest United Nations climate change reports which show clearly that the world is currently on track for up to 4.5 degrees Celsius of heating by 2060 and that a massive increase in pledged emission reductions is needed to pull the world off that path.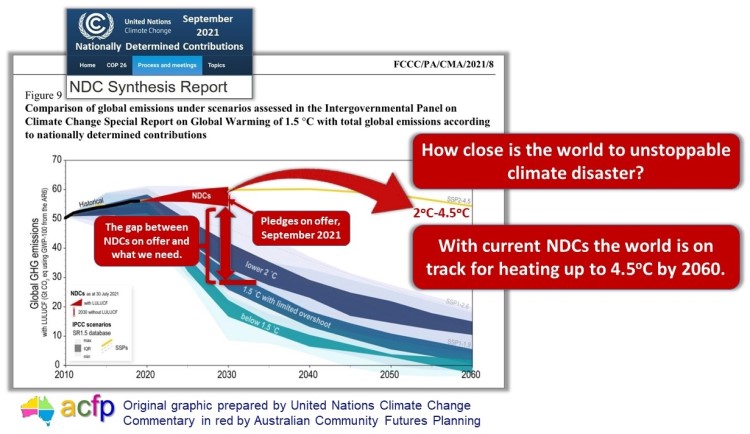 And if a zest for "truth" has suddenly found its moment at News Corp, then what its journalists should be looking at is whether "getting emissions down before 2050" will limit global heating to the level all countries have agreed to — that is, to between 1.5 and 2 degrees.
The fact is it won't, and pushing this theme is to simply replace News Corp's fraud of the last decade with a new fraud.
The reality is that if the world is set on and stays on a path to reach net zero by 2050, this will not stop temperatures rising. On the contrary, it will lock in temperature increases well above 2 degrees Celsius.
Knowing this, organisers of COP26 — the next climate change conference of world leaders in Glasgow in November — have called for countries to increase their "Nationally Determined Contributions" of both money and carbon emission reductions in the fight to stop the heating. The call has gone out for a minimum of 50 per cent reductions in emissions by 2030 and net zero by 2050 — the objective being at least to "keep 1.5 degrees within reach".
But a reduction of 50 per cent by 2030 and net zero by 2050 will not "keep 1.5 degrees within reach" if by 2030 or 2050 — or whenever all countries reach net zero — the world has emitted more tonnes of greenhouse gases in total than the atmosphere can hold before it acts as a blanket locking in uncontrollable heating.
It's the total tonnage emitted that matters, not the percentage reductions in annual emissions that opportunistic politicians might feel emboldened to offer once permitted by Murdoch. Nor does the date by which the emissions are reduced to net zero matter, except that it should be the day before too many tonnes are emitted.
In the most recent report of the Intergovernmental Panel on Climate Change, the scientific estimate is that the world can emit no more than another 400 billion tonnes of CO2 for a 67 per cent chance of limiting heating to 1.5 degrees Celsius. But if emissions of non-CO2 gases such as methane are reduced more slowly than CO2 emissions and if Earth system feedbacks such as melting permafrost add more CO2 to the atmosphere, the remaining budget for a 67 per cent chance of limiting heating to 1.5 degrees could be as small as 110 billion tonnes.
In this situation timelines such as net zero by 2050 (or close to it, as Scott Morrison is likely to proclaim) become meaningless. At the current rate of CO2-e being emitted annually — around 43 billion tonnes — the 400 billion tonne carbon budget would be consumed before 2030 and the 110 billion tonne budget would be consumed in less than three years.
With a five per cent vote the Nationals are holding us to ransom on climate change
These simple facts should spur decision makers to look past News Corp's latest attempted distraction from the truth. And that truth is that we are perilously close to climate-caused environmental and economic catastrophe — too close to indulge in illusions created purely for the purpose of providing cover to the Morrison government as it affects to be capable of building a policy that will actually head off global heating while not harming fossil fuel interests.
Net zero by 2050 and even 50 per cent emission reductions by 2030 will not head off global heating, especially if that new fraud allows us to indulge in the idea that we can still use fossil fuels.
Do News Corp's editors, in their new-found moment of truth, have the courage to print that? It's extremely unlikely.
But news need not be all bad.
Australians themselves can keep driving their governments to do better. If a discussion can be started at COP26 to acknowledge the fact that there is a finite limit to the tonnage we can still safely emit, there is some hope that the world could be swung back onto a safer path for climate than we are on now.
Without that acknowledgement, COP26 will probably offer political wins to countries that in no way deserve it and catastrophic losses for global climate and the planet we depend on.
Australians can find out more about how nations can work together to stop global heating here. We can still fix it; but to do so we must immediately take a position of leadership and cooperation on the international stage.