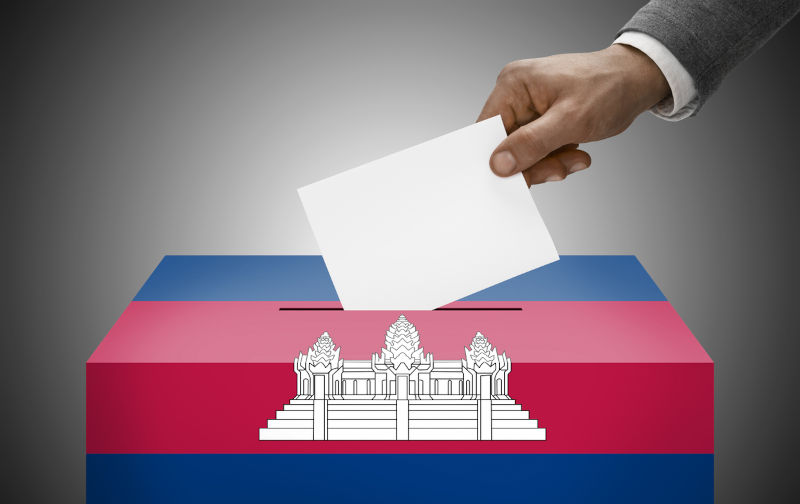 In Asian media this week: Assaults on democracy in Cambodia, Thailand. Plus: Thaksin sets date for his return; Opportunity for BRICS to seize, or squander; 'End of regime'- blunt message to North Korea; 'Swimming in circles' on South China Sea.
Political Islam is waning
Hun Sen's guaranteed landslide win in Cambodia's national elections this week and the royalist/military moves to block the winner in Thailand's May poll highlight the weakness of democracy in Southeast Asia.
It is a matter of concern in Indonesia, the region's biggest democracy.
The Jakarta Post newspaper said in an editorial Hun Sen's victory was decided by threats and suppression rather than ballots. Along with the royalist/military conspiracy in Thailand, it had rung alarm bells for the prospects of democracy in ASEAN.
"The two assaults on popular sovereignty come as the bloc continues to fail [to] stop the Myanmar military junta from carrying on with its violence and human rights violations," the editorial said.
"Now ASEAN has seen three of its 10 member states reach low ebbs of the democratic regression, not to mention other member states at various points on the spectrum of illiberalism and autocracy."
Hun Sen announced after the election he would step down as prime minister and hand power to his eldest son, Hun Manet – setting up a dynasty along North Korean lines.
Hong Kong's South China Morning Post reported Hun Sen's Cambodian People's Party won 82.3 per cent of votes but the election was neither free nor fair.
It quoted Seng Sary, a political analyst, as saying Hun Manet was still learning how to lead the country. So far, he had just fulfilled his duty according to his father's policies.
Singapore's The Straits Times reported Dr Astrid Noren-Wilson, a Swedish expert on Cambodia, as saying the purpose of the election was to sanctify the generational change. "That has now been achieved," she said.
In Thailand, a second parliamentary vote to elect a new prime minister has been postponed indefinitely. The winner in the May 14 poll, Pita Limjaroenrat of the Move Forward Party, was defeated in last week's prime ministerial vote by senators appointed by the military. Parliament also blocked an attempt to re-nominate Mr Pita as a parliamentary rule says the same motion cannot be put twice in one session.
A new vote, with Pita not allowed to stand, had been scheduled for this week but it was deferred when the Ombudsman asked the Constitutional Court to rule on the rejection of his re-nomination. Bangkok Post said the court would consider the issue on August 3.
Parliament will sit again on August 4. If the court decided not to hear the case, a vote could be held that day. The next vote is expected to involve a candidate from Pheu Thai (Thaksin Shinawatra's party).
Thaksin 'can ask for royal pardon'
Thaksin Shinawatra might be a big winner from all the negotiating, chicanery and double dealing that has flowed from Thailand's May 14 election.
He is scheduled to return to Thailand on August 10, after 15 years of self-exile, avoiding criminal charges of corruption and abuse of power.
Thaksin's daughter Paetongtarn announced his planned return on social media. "I can't quite believe what I am typing," she wrote. "My father is returning on Aug 10."
His return was supported by General Sonthi Boonyaratglin, the former army chief who ousted him in a coup in 2006. Bangkok Post reported Sonthi as saying it was a good opportunity for national reconciliation.
Thaksin has outstanding sentences amounting to 10 years' in prison for corruption-related convictions. Police say they will greet him at the airport and show him warrants for his arrest.
Deputy Prime Minister Wissanu Kreangam said Thaksin would go to jail, Bangkok Post reported. Family members could meet him at the airport and visit him in prison.
But he pointed out that Thaksin could ask for a royal pardon on the first day of his imprisonment.
India-China tension could stymie BRICS
The BRICS grouping is to hold a summit next month, attended by officials from at least 60 nations, in a climate where many countries no longer look to the West to help solve their problems.
This presents BRICS with a big opportunity. Will the bloc seize, or squander, it? asks a commentary in Hong Kong's South China Morning Post.
BRICS – Brazil, Russia, India, China and South Africa – is to hold its first post-COVID in-person conference in Johannesburg (although Vladimir Putin, who is wanted by the International Criminal Court over alleged war crimes in Ukraine, will attend remotely.)
The SCMP commentary, by Canadian geopolitical analyst Abishur Prakash, says some 22 heads-of-state are expected to take part. More than 40 nations are interested in joining BRICS, including Saudi Arabia, Indonesia, Egypt, Bangladesh and Argentina.
"The grouping could soon have new power and positioning," Prakash says.
The most-pressing issue that could paralyse the bloc is friction between China and India. "From border clashes and the expulsion of journalists to growing US-India defence ties," the room for India and China to put aside their differences is shrinking," he says. "Unless this tension is overcome, the BRICS bloc can achieve little."
SCMP also reports that Wang Yi, Beijing's top diplomat, has asked India to stabilise ties between the two countries. An immediate issue of concern was India's rejection of carmaker BYD's $US1 billion bid to set up an electric vehicle factory there, citing security concerns.
Wang met Ajit Doval, India's national security adviser, at a meeting of BRICS national security officials this week and called for policies that would enhance strategic trust.
Whether China and India supported or exhausted each other would affect development in both countries, as well as the global outlook, Wang told Doval. China's account of the meeting quoted Doval as acknowledging the destinies of the two nations were closely linked.
Kim Jong Un a hardened leader
The US and South Korea have established a unique alliance arrangement that centres on deep discussions of nuclear deterrence, to counter threats from North Korea.
It is called the Nuclear Consultative Group and its aims include improved intelligence sharing, exercises and training, South Korean support for US nuclear operations and visits by US nuclear submarines.
The NCG was announced earlier this year, during a trip to Washington by South Korean President Yoon Suk-Yeol.
The group met last week and according to a report in The Japan Times the language in a post-meeting statement was blunt. "Any nuclear attack by North Korea against the United States or its allies will result in the end of that regime," it said.
The author of the paper's report, academic Brad Glosserman added in parentheses: "Japanese readers take note: it says 'allies', not 'ally'."
Glosserman says Japanese security officials have been keeping a close watch on the NCG. He says experts and officials suggest the group might need to expand to become a trilateral organisation – or perhaps the US and Japan might set up a separate NCG.
He quotes General Mark Milley, chairman of the US Joint Chiefs of Staff as saying North Korean Leader Kim Jong Un is unpredictable. This is wrong, he says. "Kim is quite predictable."
This view is backed up by a separate piece in The Japan Times – a profile of Kim. It says he has evolved from an inexperienced "Young General" to a hardened "Supreme Leader."
It says: "Contrary to common perception, Kim is anything but a madman bent on war. He has steeled himself over the years, playing a calculated, long-term strategy aimed at securing his rule and building up his country's military."
Marcos toughens Philippine stance
Seven years ago, a UN tribunal held that China's claims in the South China Sea, represented by its nine-dash line, violated the UN Convention on the Law of the Sea. This month. China marked the anniversary by repeating it would not accept the ruling.
A report by Singapore's The Straits Times on talks between ASEAN and China to devise a code of conduct for the sea is headed "Swimming in circles". Earlier this month, Jakarta, as ASEAN chair, announced the completion of the second reading of the negotiating text, as well as guidelines to speed up talks on future drafts. The first reading was completed in 2019.
"Neither the guidelines nor the second reading have been published," the story says. "However, informed sources suggest there might be less to both than meets the eye."
The main South China Sea confrontation right now is between the Philippines and China. A second Straits Times story says the Chinese Coast Guard restricts Filipino fishermen's access to traditional fishing grounds and harass Philippines' vessels doing research and exploration within the country's 200-nautical mile exclusive economic zone.
President Ferdinand Marcos Jr is taking a harder line with Beijing than his predecessor, Rodrigo Duterte, had done.
"Beijing's increasing assertiveness in the disputed sea has pushed the Philippines to forge a deeper defence cooperation with its traditional ally, the United States," the story says. "Mr Marcos has also been busy harnessing the potential of collective deterrence in the region, initiating talks and exploring security agreements with like-minded nations."
An opinion piece in the South China Morning Post, however, is less sympathetic.
Marcos, it says, is trying to have his cake and eat it, too – seeking the protection of international law on the South China Sea disputes but resisting attempts by the International Criminal Court to investigate Duterte's murderous war on drugs.
The ICC recently dismissed a Philippines attempt to block the probe.
"For Marcos, who has vowed not to cooperate with the ICC, the decision is a litmus test of government's commitment to international law and a stress test of the political alliance between the Marcoses and the Dutertes," the article says.
West Asia's post-Islamic era
Until recently, political Islam – or Islamism – has been the dominant force in West Asian politics and a disruptive, often violent, force elsewhere. But now there are suggestions the region might be entering a post-Islamic era.
An essay by diplomat and scholar Talmiz Ahmad says political Islam manifests itself in three main forms: quietist Islam, activist Islam and radical Islam.
The essay has been published by Frontline, the magazine of The Hindu newspaper.
Quietist Islam, Ahmad says, is reflected in the Wahhabi doctrine that has underpinned Saudi state order: political authority resides in the ruler, who is responsible for the welfare of his subjects – who owe unquestioning loyalty.
Activist Islam is seen in the ideology of the Muslim Brotherhood, set up in Egypt in 1928 to counter the influence of western culture.
Radical Islam emerged as an intellectual force in the 1950s, advocating jihad (or jehad) to protect Islam and establish God's order on Earth. The two transnational organisations that came to be formed, Al Qaeda and the Islamic State, engaged in wanton cruelty and violence.
Ahmad, a former ambassador who is now professor of international studies at Symbiosis International University in Pune, says Al Qaeda had gone into steady decline with only a dozen core members in Afghanistan and ISIS has been reduced to a few stragglers in Iraq and Syria.
"Political Islam has exhausted its capacity to effect change," he says.