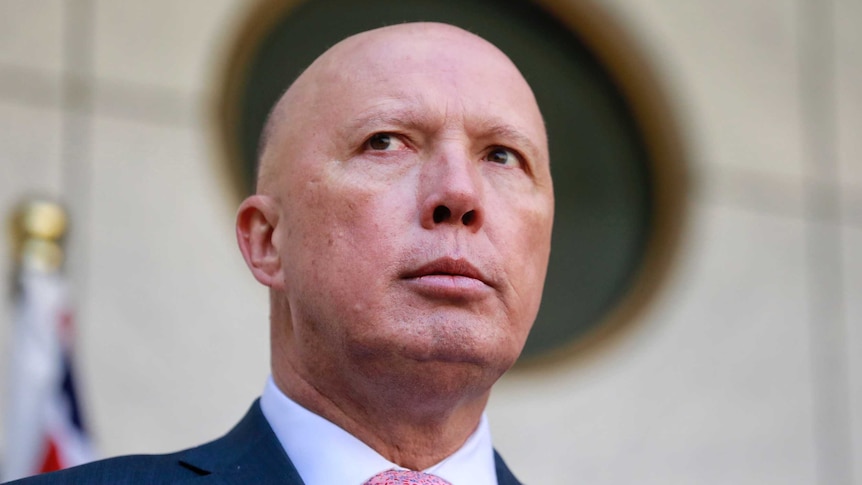 The in-coming minister's briefing prepared by long-standing Departmental Secretary Mike Pezzullo was inevitably going to be more significant for what it didn't highlight than what it did.
Now that this briefing is publicly available, its possible to identify the issues Pezzullo does not want Andrews to focus on – particularly issues that go to his competence or his hypocrisy.
No one would be surprised Pezzullo focuses the briefing on his pet interest of national security – as he sees this in his own narrow world-view and not as many others would. He downplays his Department's responsibility to efficiently manage Australia's immigration system – which in itself is a crucial ingredient of effective national security.
So let's take a look at what the briefing says on citizenship matters (I will look at other issues not highlighted in the Minister's briefing in later articles).
For most of the time since the start of our post-war migration program, encouraging people with an Australian permanent resident visa to become citizens as quickly as possible has been core to our success as a multicultural nation. While John Howard began resiling from that successful policy from 2005, it was former Home Affairs Minister Peter Dutton who did most to discourage permanent residents from becoming citizens.
Chart 1 highlights just how much.
Remember permanent residents have a right to reside in Australia for the rest of their lives. Denying them citizenship or making citizenship more difficult to access doesn't actually achieve anything positive. It may have given Dutton and Pezzullo some personal joy – a bit like schoolboys picking the wings off a butterfly – but nothing positive.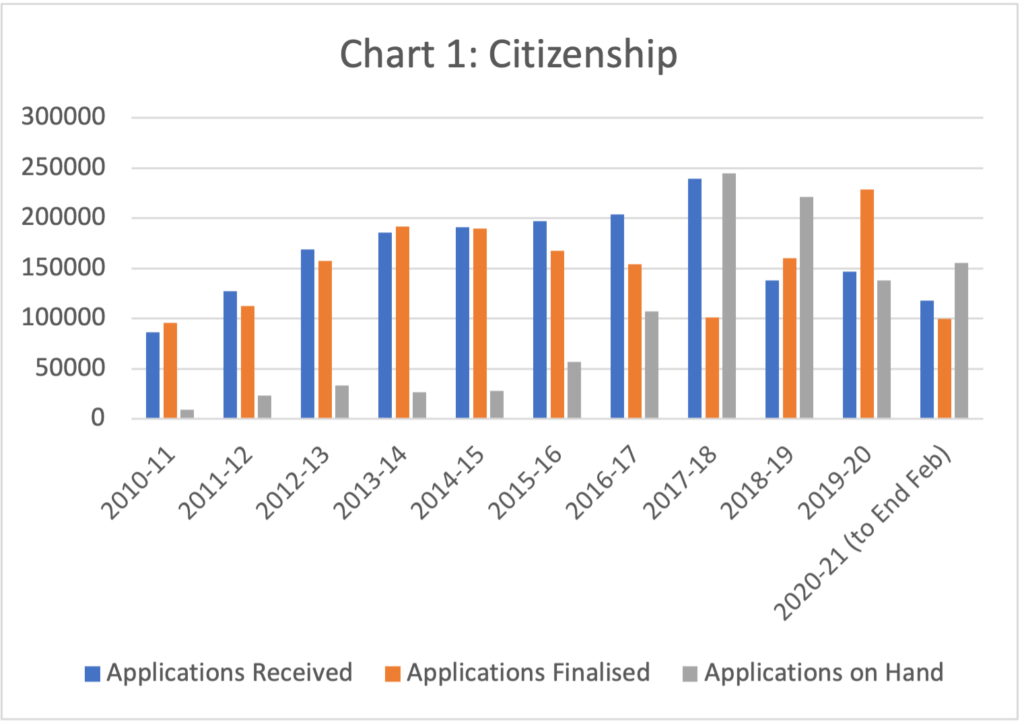 The massive citizenship application backlog we now have was started by Dutton and Pezzullo in 2015-16 and peaked in 2017-18. The backlog grew rapidly partly due to an increase in applications associated with the larger migration programs of 2013-15 – something a self-described strategic planner like Pezzullo should have anticipated but failed to do so.
But it was much more due to a sharp decline in applications being finalised, either because of a withdrawal of resources from this function that were -directed to 'other priorities' or because of specific instructions from Dutton and Pezzullo that led to slower processing.
Either way, average processing times for citizenship applications increased from around 45 days in 2011-12 to an astonishing 410 days in 2018-19.
While there was a marginal improvement in citizenship processing times in 2019-20 to 366 days, we remain a long way from best practice. That improvement was itself due to pressure from Parliamentarians, Parliamentary Committees and community advocates.
Pezzullo would no doubt say the process now includes much more rigorous character checking. However, we need to remember applicants for citizenship have already been subject to extensive character checking when they obtained their permanent resident visa. Surely Pezzullo would not say those character checks are inadequate given they mostly took place while he was Secretary?
Even after Dutton's departure, Pezzullo has continued to discourage permanent residents from becoming citizens by introducing the biggest ever increase in citizenship fees – almost a doubling – in the 2021 Budget.
And without a hint of irony, the in-coming minister's brief says the acquisition of citizenship is 'central to the Australian Government's social cohesion policy and programs'. The Government will in 2021 introduce a 'Social Cohesion Statement' to keep Australian together and a campaign to promote Australian values, citizenship and our inclusive national identity.
Seriously?