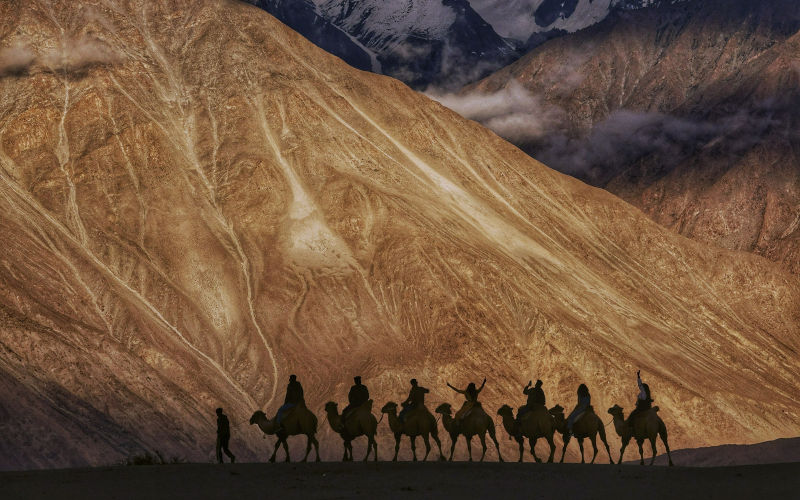 The United States left Afghanistan in a state of dangerous and monumental disorder in 2021. Soon after, it made matters still worse by confiscating the meagre foreign exchange reserves of one of the world's most deprived countries — shamelessly claiming that it was advancing certain human rights while doing so.
Therefore, it took the US 20 years and over $1 trillion to replace the Taliban in Afghanistan with — the Taliban.
Afghanistan remains in terrible difficulty. The Economist newspaper reported that the economy was collapsing in 2021, with widespread death by starvation. According to the World Bank, by mid-2022, two-thirds of the population could not afford food and other basic items.
However, let's shift our gaze from this harsh reality and review a map of Asia as we consider a relevant, massive project that offers immense potential benefits to Afghanistan.
China's most westerly rail service extends to Kashgar in the Xinjiang Uygur autonomous region. The distance from Kashgar to Shanghai, as the crow flies, is 4,200 kilometres. The distance from Kashgar to Damascus, Syria, is around 3,580 km. Remarkable as it may seem, Kashgar is significantly closer to the Mediterranean Sea than it is to the East China Sea.
Next, the direct distance from Kasghar to Mashad, Iran's second-largest city, which lies relatively close to the border with Afghanistan in eastern Iran, is less than 1,500 km (not much farther than the distance from Kashgar to Urumqi, the capital of Xinjiang).The extensive rail system in Iran uses standard gauge tracks, as China does. Moreover, western Iran shares a border with Turkiye, which also has a standard gauge rail system that is connected to the standard gauge European Union – think of the Orient Express train, which ran from Paris to Istanbul.
There is an enticing possibility that China might one day be connected from Beijing to Paris by a standard-gauge rail link all the way, via Afghanistan, Iran and Turkiye. Currently, all the China-EU rail links are more northerly and involve at least two rail-gauge changes as they encounter the extensive Russian broad-gauge system, which covers Russia and much of Central Asia.
Significant planning within the Five Nations Railway Corridor project has already mapped out a route from China to Iran for a standard gauge rail link. Under this plan (on which little work has progressed), the line would extend from Khaf, Iran (close to Mashad), into Afghanistan and then through Tajikistan and Kyrgyzstan into China. Around half of this new railway would pass through northern Afghanistan.
This remains a huge and difficult undertaking, and there are further challenges. In Turkiye, for example, the current link with Iran relies on a ferry system to cross Lake Van in eastern Turkiye. A land-based link around that lake is needed, but the terrain is difficult.
Once built, however, this planned new southern standard-gauge link from China to the EU would not only offer Afghanistan transit income, but would also greatly relieve that country's landlocked status by providing rail access to Iran's southern ports on the Persian Gulf and the Gulf of Oman. Next, a southern link within Afghanistan could link Kabul and major natural resource deposits to this new line.
This project also opens up the extraordinary possibility of one day offering travel on a new, standard-gauge "Orient Express" from London to the Hong Kong Special Administrative Region.
Much extremely difficult geopolitical negotiating is still needed to advance this project. Additionally, there are formidable political obstacles to overcome.
Still, several broad factors indicate that this ambitious project could ultimately proceed. First, it proffers the possibility of creating desperately needed, economy-building infrastructure to help with the task of relieving Afghanistan's decades-long misery and violent instability. Second, it offers conspicuous long-term economic and political-stability benefits for all the countries involved, not least China.
Next, the US has determined that a key aspect of its global project to contain the rise of China is to throw sand into every major Chinese economic gearbox it can find. Now, however, the US can no longer do this from within Afghanistan itself. It is, thus, a cogent fact that having the US out of Afghanistan removes a significant likely impediment to securing real progress.
Most important, China's can-do track record in completing major, very difficult infrastructure projects is simply unmatched. Over the last several decades, China has transformed itself into the most globally important builder of roads, railroads and bridges, for example. Today, it is also the leading global manufacturer of 5G equipment, automobiles, commercial shipping and railway rolling stock.
Meanwhile, although the US continues to maintain a global lead in delivering bombs and bullets to various afflicted jurisdictions, it increasingly looks to be not very useful when it comes to delivering major infrastructure development where it is most desperately needed worldwide.
There are two contemporary, fundamental commandments to achieve better governance, which surely should be observed: Say no to war and yes to eliminating extreme poverty. China acts on both these precepts. The US does not. And the results are clear to see in each case.
We must hope that China's exceptional track record — built on adherence to these precepts — will ultimately allow it to offer crucial remedial assistance to Afghanistan.
First published in the China Daily July 19, 7 2023