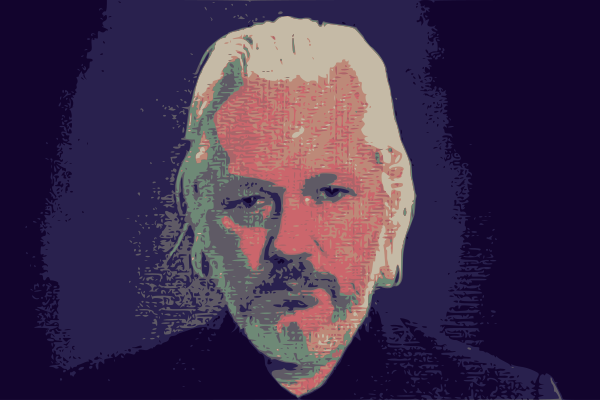 We believe the right and best course of action would be for the United States' Department of Justice to cease its pursuit and prosecution of Julian Assange."
As a cross-party delegation of Australian politicians headed to Washington, D.C. on Tuesday to pressure the U.S. government to end its yearslong pursuit of jailed WikiLeaks founder Julian Assange, dozens of parliamentarians from Down Under expressed support for the diplomatic trip.
"We are resolutely of the view that the prosecution and incarceration of the Australian citizen Julian Assange must end," states a letter signed by 64 Australian senators and members of Parliament, which was shared with journalists last week and published on Tuesday as a full-page advertisement in The Washington Post.
"We agree entirely with the position expressed by the Australian Prime Minister Anthony Albanese," they wrote, pointing out that the Australian Labor Party leader—who is set to visit D.C. next month—said in May that "enough is enough when it comes to the ongoing incarceration of Julian Assange and that nothing is served from the ongoing incarceration of Julian Assange."
Assange lived at the Ecuadorian Embassy in London from 2012 until 2019, when Ecuador withdrew his asylum protections and he was arrested by British authorities. He remains imprisoned in the United Kingdom while fighting extradition to the United States, where he faces Espionage Act charges for obtaining and publishing leaked material from American whistleblower Chelsea Manning.
"Let there be no doubt that if Julian Assange is removed from the United Kingdom to the United States there will a sharp and sustained outcry in Australia," warns the letter, which also applauds the U.S. academics, civil society groups, human rights advocates, journalists, and lawmakers who have demanded freedom for the 52-year-old.
"We believe the right and best course of action would be for the United States' Department of Justice to cease its pursuit and prosecution of Julian Assange," the letter says. "Alternatively, a decision to simply abandon the extradition proceedings would have the sensible, just, and compassionate effect of allowing Mr Assange to go free from a prolonged and harsh period of high-security detention. It is well and truly time for this matter to end, and for Julian Assange to return home."
The letter was led by co-convenors of the Bring Julian Assange Home Parliamentary Group: Liberal MP Bridget Archer, Independent MP Andrew Wilkie, Labor MP Josh Wilson, and Greens Sen. David Shoebridge. Joining Shoebridge for the U.S. trip are Liberal Sen. Alex Antic, Nationals MP Barnaby Joyce, Independent MP Monique Ryan, Greens Sen. Peter Whish-Wilson, and Labor MP Tony Zappia.
"Members of the delegation have different reasons for wanting the U.S. to drop the charges against Assange, from characterising him as a brave truth-teller to the broader fear, stressed by Joyce, that allowing the extradition of someone who hasn't been accused of wrongdoing in their country of citizenship would set a precedent that China, among other countries, might exploit," Jon Allsop noted last week in the Columbia Journalism Review. "Even Joyce, however, has echoed the argument of press freedom groups that the charges against Assange would effectively criminalise information-gathering and publishing practices that news organisations routinely engage in."
Gabriel Shipton—the WikiLeaks founder's brother and chair of the Assange Campaign, which raised money for the delegation's trip—told Allsop that the visit "will be pivotal" in creating "the political space" for Albanese to pressure U.S. President Joe Biden to let Assange return home when the prime minister travels to the United States in late October.
"The time to act to save Julian is now," Shipton said in a statement. "We have faith that the group's message will be heard in Washington, D.C.and officials will abandon attempts to extradite Julian to the United States in relation to unprecedented allegations of espionage."
"Julian's physical and mental health continue to deteriorate each minute he spends in prison," his brother added.
Shoebridge said last week that "the reason we are going is that Julian Assange is facing an unprecedented situation," and "the core crime he faces is the crime of being a journalist."
"We are hopeful that [in] the partisan world of Washington politics, such a broad cross-party visiting group will have some political cut through," the senator added. "We are at a critical point. In a matter of weeks Julian Assange could be put on a plane, in shackles, and sent to the U.S."
First published in Common Dreams September 19, 2023