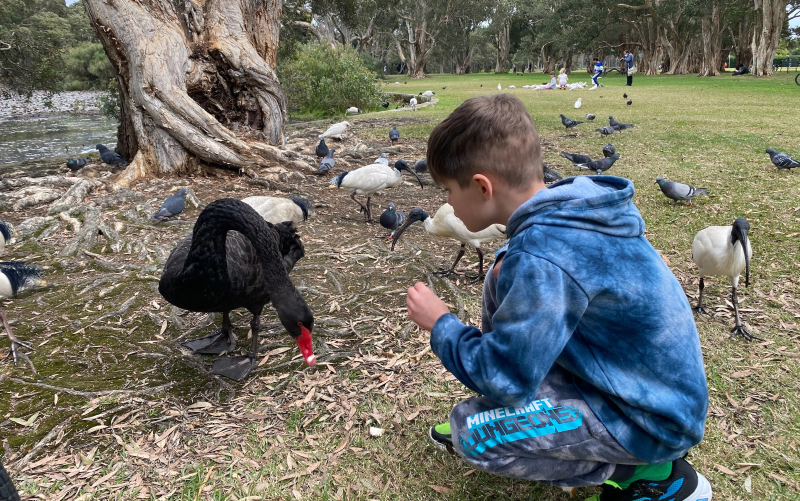 The longing for stability is real, whatever our political leanings. But there is another choice, brought about by a transformation of consciousness.
An authentically hopeful beginning — especially to a new year in a time of plague – may need to be sacramental, even for those who might shudder at the word. Perhaps they (you?) would be more comfortable with the word "ritualised", although the meaning is not quite the same.
"Sacramental" conjures up what used to be known as the "outward sign of an inward grace". Pausing to contemplate what expression of grace is needed most at this destabilising time, we may have to transcend language. We may need silence. We may need the connections with one another, to this earth, and to the deepest parts of ourselves that can only emerge from willing contemplation – however briefly experienced.
Ours is a time that fears silence as much as it does gentleness, tentativeness, compassion. Yet it is out of a deeply personal silence, shared with others, that connectedness will most easily arise. And hope. Actor and playwright, Nakkiah Lui, said in an interview recently on ABC Radio, "We don't have hope. We create it."  Perhaps we also allow it, sometimes in the face of relentless idiocy in the public spheres. And in the face of our fears of what's yet to come.
The moments that mark any genuine transition in our thinking are plainly sacramental: "Once was blind, but now I see." However, if we are to perceive these moments and receive what they bring, some open mindedness is needed. And maybe a brave vulnerability of heart.
Just days ago, I received a community email from Father Richard Rohr, the Franciscan priest who is guide and friend to millions around the world seeking an embracing, passionate, totally undogmatic way of being Christian. Or just human. This means not looking out at the world (or at God) as a "sinner", but as someone deeply immersed in life in its complexity, mystery, awesomeness, and wholeness.
He is self-evidently a voice for all on the margins, as Jesus was. He seldom, though, comments directly on party politics except from the perspective of pain for those who suffer most, including from the harshness of patriarchal religion. Instead, he shows by example that we live in a spiritual world, here and now. This has immediate significance. Theistic faiths more usually regard our familiar earthly world as distinct from and far inferior to "the world to come".
Richard Rohr's views – common to wisdom teachers of all faiths – disrupt such dualistic thinking in its manifold forms. He urges against our usual dividing of experiences and people into simplistic, often cruel dichotomies: good/bad, applauded/disparaged, winner/loser, deserving/undeserving, "saved"/"condemned".
This matters, for what such judgements frequently lead to is a splitting not just from feared or mistrusted "others" only, but also from disowned parts of ourselves.
In a journal like this one, we analyse, assess, judge constantly, both as readers/writers and as activists. My sense is that Rohr isn't urging us away from any of that but rather supporting us to expand our view, our vision, our perspective on connectedness – very much in the Franciscan way.
What would this mean?
His comments about liberalism and conservatism in that recent email give us a clue. Please don't read these in any absolute sense, but for liberals (he means progressive activists, like himself), Rohr suggests, "…life is an issue to be informed about or fixed, but seldom a mystery to participate in — even in its broken state [my italics]." He adds: "But if liberals refuse to be part of the dirt of history, conservatives refuse to even see the dirt — particularly in their own group!"
He goes on: "Neither conservatives nor liberals are willing to carry the burden of living tentatively in a passing and imperfect world. So, the contemporary choice offered most of us living in the West is between unstable correctness (liberals) and stable illusion (conservatives)! What a choice! It has little to do with real transformation in either case, because in each case we have manufactured our own false stability."
That longing for stability is real, whatever our political leanings. But these are clearly not our only choices. Rohr offers, "There is a third way, and it probably is a way of 'kneeling', but we could also just call it 'wisdom', which is always distinguished from mere intelligence. It demands a transformation of consciousness and a move beyond the dualistic, win/lose mind …"
"Kneeling" is an actual and symbolic act of humility. We don't "know it all", whoever we are. There is always more to perceive and understand and it is in transcending our conditioned "solutions" that we might become most ready, in Rohr's words again, "… to carry the burden of living tentatively in a passing and imperfect world".
That thought alone is deserving of our attention. And of our silence.
Rohr again: "The Gospel accepts the essentially tragic nature of human existence; it is willing to bear the contradictions that are imprinted on all of reality. It will always be the road less travelled. Let's call it 'unstable stability'! But for some reason, it is the only real stability, because it is a truthful map of reality, and it is always the truth that sets us free. It is contact with Reality that finally heals us. And contemplation, quite simply, is meeting reality in its most simple, immediate, and paradoxical forms."
There's nothing passive or wishy-washy here. Rohr's call to contemplation coexists with a call to meaningful action. The organisation that he loosely heads is called Center for Contemplation and Action. Contemplation need not be an activity for the spiritually minded only. A sacramental pausing, a willingness to share silence, is part of all cultures and "belongs" to no person more than another. But it is itself healing. It offers wholeness in a "passing and imperfect world". It restores hope.
Rohr: "Here [in the silence that generates hope] the paradoxes — life and death, success and failure, loyalty to what is and risk for what needs to be — do not fight with one another but lie in an endless embrace. We must penetrate behind them—into the infinite mystery that holds all things together." That holds us together … in trust.