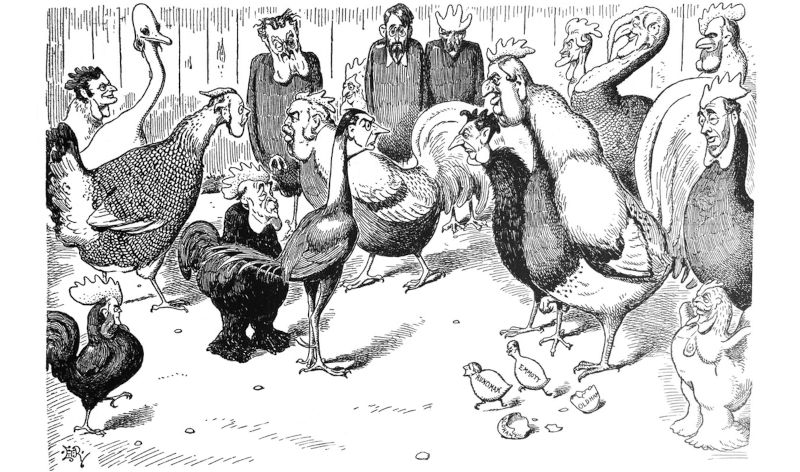 In Victoria, I came across she who had rhetorically embraced violence against the premier in the successful sniper's image of red mist. A new dimension to analysing the discontented and their underlying social and economic situation.
The chicken or the egg?
the conundrum I was grappling with.
Was anti-elite, anti-expert and anti-government
populism just the chicken –
the marginal and the outsiders,
the parties and movements
beating the drum,
complemented by heavy orchestration
by the Murdoch media
and the mainstream conservative parties?
Or was it even more the egg,
the vague and economic discontents
out there in the land of the great unwashed,
ordinary people feeling flattened by events,
by the rising Cost of Living,
by housing, petrol and even supermarket prices,
as the gulfs of inequality deepened,
after over four decades of neoliberalism
and declining real wages,
new capitalism's oligarchs were not only in Russia,
even if they had more superyachts
Then I came across the Facebook followers
of the alternative health practitioner candidate,
she who liked to claim the title "Doctor",
on a Facebook page,
she who had rhetorically embraced
violence against the premier,
in the successful sniper's image of red mist.
Over 40 women and over 20 men.
The women added a new dimension
to analysing the discontented
and their underlying social and economic situation
Many were in worlds close to her universe,
small business people in health and well-being,
Reiki and more,
a few in love with images of medieval fantasy,
soft, feminine versions,
not quite the same as the Aryan myths Hitler so loved
These strangely disconnected people
all joined in the attacks on 'Dictator Dan',
in the dirtiest state election campaign ever,
American style, on both sides.
The discontented women
were agitated,
like their more physically aggressive and Right
macho male confreres, with conservative party links,
attacking
the horrors of pandemic lockdowns,
as both chimed in with the Denialists,
the anti-vaxxers.
They were a hidden part of the iceberg,
a proportion of discontents,
a fusion of wreckers,
although only the polls will make it clearer,
whether these mobs were 7/8th or less than one 8th
of the electorate,
perhaps a sign of wider discontents,
everyday eggs hatched by the chickens,
from the fantasy doctor and the aggro males
to the conservative mainstream.
Was it now democracy's winter
or just another small social media scab?
Those final polls might answer that.