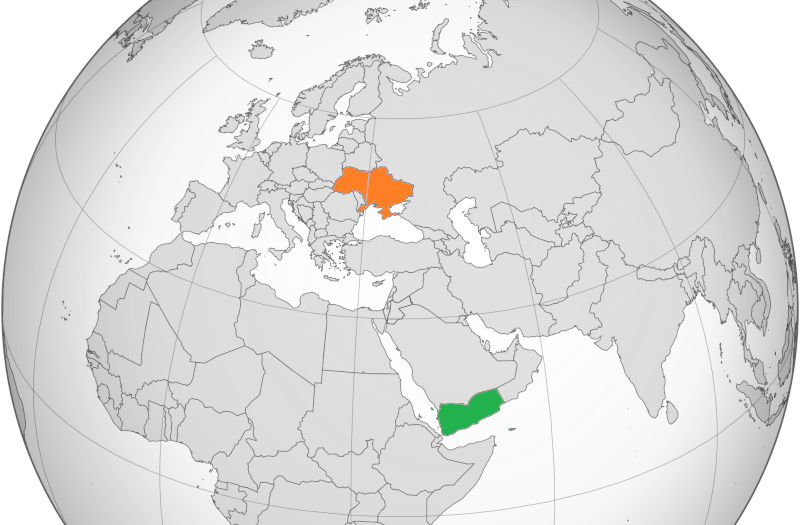 In the last five years, an estimated 377,000 people have died in Yemen mostly from hunger, lack of health care and unsafe water. In Ukraine?
In Australian mainstream media reporting and in social media circles, the consequences of the war in Ukraine prompt outrage, and millions of Ukrainian refuges are welcomed by numerous countries. By contrast, the seven year-long catastrophe and carnage of the war in Yemen supported by the US, excites little interest. Why?
Reporting of people's suffering depends not only on what can be known, but also on stereotype perceptions of the people at risk. Whereas devastation in Ukraine is experienced by white citizens with ethnic, religious traits in common with English speaking countries, the dark people of Yemen would almost certainly be perceived as socially different and culturally unusual.
Stereotypes left unchallenged allow prejudices to grow. Australian commentators are not openly racist in their attitudes towards the suffering of Yemenis, but years of failure to demand an end to this war, suggest the unconscious prevalence of judgements nurtured by white people's views.
A list of likely stereotypes merits attention. Yemen, somewhere in the Middle East, is poor, hot, desert like, discriminates against women and is a Muslim country. Despite universal human rights, despite having the same size population as Australia, it is not worthy of much attention. In minds where racially unconscious attitudes are stored, the moral worthiness yardstick is likely to affect citizens' understanding, media interest and government policies.
Although the war in Yemen has been underway since 2015, inquiries by the Columbia Journalism Review show why the conflict is under reported and seldom treated by journalists as a priority. Access to the country depends on visas granted by two warring sides, the Houthi controlled north and the Saudi coalition in the south. Western journalists in Yemen report that if either side perceives them as US sponsored spies, survival is dangerous and pictures of the conflict difficult to obtain. Amnesty International says this is the forgotten war.
In English speaking countries, forgetfulness or indifference to suffering Yemenis exists, but significant corporate and political interest persists. So significant that a history of the war could be depicted as a mismatch between suffering women and children and arms industry profits.
The UN predicts that in the coming months, approximately 20 million Yemenis will go hungry. Reduced supplies of wheat from Ukraine will push hunger levels even higher. In the last five years, an estimated 377,000 people have died, mostly from hunger, lack of health care and unsafe water. Despite the corona virus pandemic, the UN reports that only 50% of health care facilitates operate.
Of four million people displaced across Yemen, 80% are women and children. At the end of 2021, Save The Children reported that 2.3 million children were 'on the brink of starvation'. UNICEF estimated that one in five children, more than half a million, are acutely malnourished and at risk of dying without urgent treatment. A quarter of a million pregnant or breast-feeding women also need treatment for malnutrition.
In spite of these alarming figures, Australian governments via the Export Finance and Insurance Corporation have supported the sale and shipping of arms to Saudi Arabia and the UAE, each an enthusiastic participant in the Yemen war. Documents obtained by the ABC reveal Australians' secret arms deals with nations fighting Yemen's bloody war. Encouraged by the Turnbull government's goal to make the Australia the tenth largest exporter of arms in the world, in the last five years, Canberra has granted thirty-seven export permits for military related items to be sold to the UAE and twenty such permits for sales to Saudi Arabia.
Electro Optic Systems (EOS) an ASX listed Defence and Space Company 'designs and manufactures high precision remote weapons systems, turrets and senior systems for infantry fighting vehicles, combat reconnaissance vehicles, armoured and non-armoured support vehicles and naval vessels.' These weapons systems have been sold to the UAE and to Saudi Arabia, though the Australian government claims that sales permits are checked to ensure that the use of such weapons does not break the country's human rights obligations.
Trade in arms trumps concern for human rights. A reported $33 million Australian government subsidy to this weapons manufacturer contrasts with the $23 million in humanitarian aid to Yemen.
Relative silence about the consequences of the seven-year long war in Yemen sits oddly with near universal outrage expressed over devastation during five months of war in Ukraine.
A three member UN Panel, which includes former Labor MP Melissa Parke, shows how Saudi led coalition forces deliberately starved civilian populations, blocked medical supplies, bombed hospitals, and in common with rebel groups committed murder, enforced disappearances, rape and torture. Melissa and her colleagues have condemned the international community's failure to prevent such outrages.
Prevention depends on what is known, and whether there is widespread protest against what is judged inhuman. But that judgement may depend on how the victims are perceived: are they white, brown or black, Christian, Muslim or of another religion?
Even the success of arms sales to facilitate the Yemen war appear to depend on racially conscious or perhaps racially unconscious attitudes towards Yemenis. Unless those attitudes are acknowledged, and protests about catastrophe in Yemen increased dramatically, the human rights abuses of a whole people will continue and the UN Panel's dismay will not be addressed.