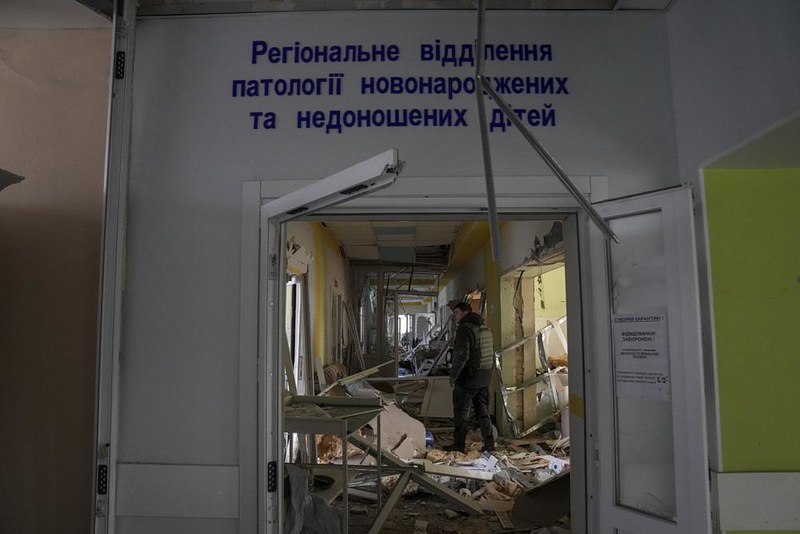 Until lions have their own historians, their history will be that of the hunters
There has been a lot of western media coverage of recent Russian air strikes on the Mariupol maternity hospital in Ukraine.
There was also an infamous attack by US forces on  Fallujah and its hospital in Iraq in 2004. There was scarcely a mention in Australian media despite the ADF being involved.
Whilst our  media turned a blind eye with the encouragement of ADF public relations  about what was happening in Iraq and Fallujah, overseas media reported extensively.
The following are extracts of an article I posted on February 14, 2018.
On October 16 2004, the Washington Post reported that "electricity and water were cut off to the city just as a fresh wave of [bombing] strikes began Thursday night, an action that US forces also took at the start of assaults on Najaf and Samarra". The Red Cross and other aid agencies were also denied access to deliver the most basic of humanitarian aid – water, food, and emergency medical supplies to the civilian population.
On November 7, a New York Times front page story detailed how the Coalition's ground campaign was launched by seizing Fallujah's only hospital: "Patients and hospital employees were rushed out of the rooms by armed soldiers and ordered to sit or lie on the floor while troops tied their hands behind their backs." The story also revealed the motive for attacking the hospital: "The offensive also shut down what officers said was a propaganda weapon for the militants: Fallujah General Hospital with its stream of reports of civilian casualties". The city's two medical clinics were also bombed and destroyed.
In early November 2004, the New York Times reported that Fallujah's main hospital had been attacked "Patients and hospital employees were rushed out of rooms by armed soldiers and ordered to sit or lie on the floor while troops tied their hands behind their backs …".
The Nation magazine referred to "reports that US armed forces killed scores of patients in an attach on a Fallujah health centre and have deprived civilians of medical care, food and water"
The BBC reported on 11 November 2004 "Without water and electricity, we feel completely cut off from every one else … there are dead women and children lying on the streets.  People are getting weaker from hunger.  Many are dying from their injuries because there is no medical help left in the city whatsoever'.
On 14 November 2004, the Guardian reported "The horrific conditions for those who remained in the city have begun to emerge in the last 24 hours as it becomes clear that US military claims of 'precision' targeting of insurgent positions were false. … The city has been without power or water for days."
A further allegation supported by BBC pictures on 14 November 2004 is that coalition forces prevented the distribution of aid supplies to civilians.
The Independent referred to an Italian documentary which claimed that Iraqi civilians, including women and children, had died of burns caused by white phosphorous during the assault (on Fallujah).
According to Ali Fadhil writing in the Guardian of 12 January 2005, "The US military destroyed Fallujah.."
The Australian media edited out the attacks on the Fallujah General Hospital but not on a maternity hospital in Mariupol. We write what suits our view of who are most deserving.