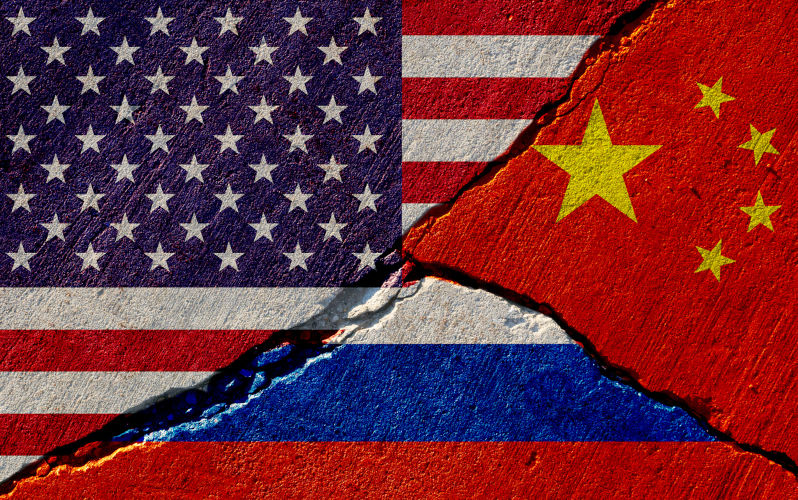 Not since the end of the Cold War has the world been so divided politically, ideologically and economically.
The end of history, with a unipolar world, as described by Samuel Huntington is no more. That conclusion can be drawn from extensive research carried out by the University of Cambridge through its 'Centre for the Future of Democracy' in its recently released report, 'A World Divided: Russia, China and the West.'
The report examined how worldwide attitudes towards the major international powers – China, Russia, and the United States and their shift 'in the wake of the Ukraine war, China's rising assertiveness, and recent challenges to American democracy.'
The study was carried out through harmonising and merging data from 30 global survey projects collectively spanning 137 countries containing 97% of the world population. This included 75 countries surveyed since the Russian invasion of Ukraine. The result is an updated insight into the current views of 83% of all people across the globe.
The analysis covered not only high-income democracies but also included a comprehensive coverage of emerging economies and the Global South, revealing a marked divergence between the two.
'The world has divided into liberal and illiberal spheres. Among the 1.2billion people who inhabit the world's liberal democracies, three-quarters (75%) now hold a negative view of China, and 87% a negative view of Russia. However, for the 6.3 billion people who live in the rest of the world, the picture is reversed. In these societies, 70% feel positively towards China, and 66% positively towards Russia….. [there is] a growing inverse relationship between whether countries are positive towards Russia and China, and whether they are positive towards the United States.' The study found a high correlation between how societies view Russia and how they view China. This correlation has increased over time and is now higher than ever before.
For the first time in the developing world slightly more people (62%) are favourable towards China than towards the United States (61%).
The political as well as economic success of China's Belt and Road Initiative is clear in that two-thirds of the 4.6 billion living in those in countries supported by the initiative hold a positive view of China, while that figure plunges to just (27%) in non-participating countries. The BRI offers an alternative to the western model for developing countries. Since the 2013 launch of China's Belt and Road Initiative (BRI), more than $4 trillion has been committed to 147 participating countries, providing funding for transportation projects, port construction, and energy infrastructure without the same conditionality required by western bi- lateral and multilateral aid. Even in a nation of such historical enmity with China, Vietnam, participation in the BRI has largely been instrumental for support for Beijing more than doubling in the past decade from 18% to 40%.
However, this boost in approval across the Global South has come at the cost of a dramatic collapse in support in developed nations. Whereas just five years ago, two in five (42%) western citizens held a positive view of China, today the figure is just half that amount (23%). The fall in support for Russia in the West has been even more precipitous dropping from 39% a decade ago to just 12% following its Ukraine intervention. However, Russia's international influence remains high outside the West. 75% of respondents in South Asia, 68% in Francophone Africa, 62% in Southeast Asia continue to view the country positively in spite of the events of this year.
That support for Russia was evident in a meeting voting to suspend Russia from the Human Rights Council. Of 193 nations, 24 voted against the resolution with 58 nations, including key countries such as India, Brazil, South Africa, Mexico, and Indonesia abstaining. In terms of population most of the world supported Russia.
The study concludes, 'While the war in Ukraine has accentuated this divide, it has been a decade in the making. As a result, the world is torn between two opposing clusters: a maritime alliance democracies, led by the United States; and an Eurasian bloc of illiberal or autocratic states, centred upon Russia and China.'
Given, that a number of electoral democracies, such as Indonesia, India or Nigeria, in which the public remains sympathetic to Russia and China, despite differences in political systems, it is too simple to reduce the division to being whether countries are democratic or other. It is not whether institutions exist that counts, but rather, the degree to which they are seen as functional and legitimate, and whether living standards have reached western standards. In these nations where these things haven't occurred, it is likely the attractiveness of China lies in the effectiveness of its political model.
The researchers ask, 'is it no more than a simple economic calculus? Or are societies drawn together by other factors, such as shared values, institutions, culture or history?'
A core element of Chinese foreign policy is the respect of national sovereignty. Mainly interpreted to mean cooperation with all political regimes, it also extends to acceptance of differing societal norms and practices. This allows China to put itself forward as a benign alternative for nations not wishing to be subject to Western demands as to their political system and cultural practices.
This conclusion is supported those nations less attracted to such western values as secularism, feminism, support of LGBT+ and other minority rights, viewing both China and Russia more favourably. Conversely, socially liberal societies in Northern Europe, Australasia and Latin America perceive Russia and China most negatively. That association, weak, a decade ago, is quite evident today.
The study concludes, 'today's geopolitical divide does not depend upon historical ties or cultural affinity. Rather, it finds its basis within politics and political ideology: namely, whether regimes are democratic or authoritarian, and whether societies are liberal or illiberal in their fundamental view of life.'
In such conclusion I believe it brushes over the power of those things it dismisses, even the taboo, unspoken issue of race. Certainly, in Australia, support for the U.S. and fear of China in particular finds basis, not only in political ideology but also, perhaps more so in cultural affinity, fear of the 'other' and even dare I say it, especially given Australian history, race.
The study may be found here: Bennett Institute for public policy Cambridge