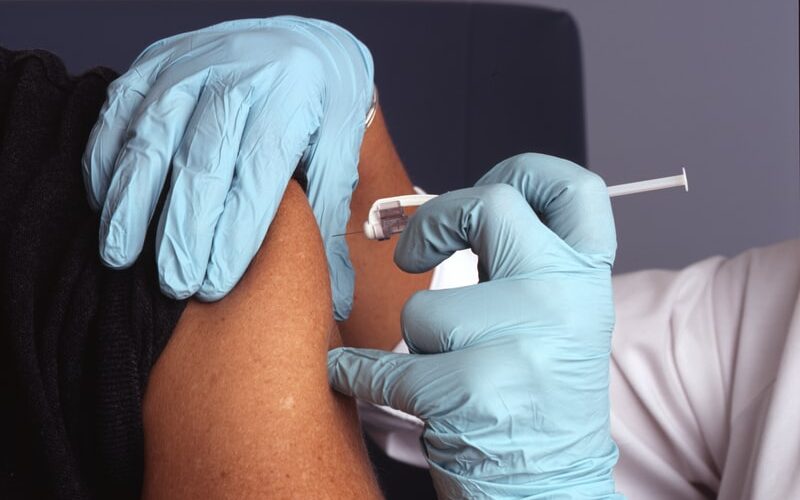 'How many more people must die needlessly before countries do the right thing and support the lifting of patent restrictions, so COVID-19 vaccines, tests, and treatments can be produced worldwide?'
A full year has now passed — and roughly 3.5 million people worldwide have died — since India and South Africa first introduced their proposal to temporarily suspend patent protections for coronavirus vaccines, part of an effort to boost the inadequate global supply of lifesaving shots.
But despite garnering the support of a majority of World Trade Organization (WTO) members — including the United States — as well as Nobel Prize-winning economists, the head of the World Health Organization (WHO), and hundreds of advocacy groups, negotiations over the proposed patent waiver remain at a standstill thanks to the opposition of a handful of rich countries, most prominently the United Kingdom, Germany, and Canada.
While the Biden administration endorsed the patent waiver in May, it too has come under fire for taking a backseat to the process as US allies stonewall the proposal, which was first unveiled on October 2, 2020.
On Monday, the WTO's TRIPS Council — which oversees the implementation of global intellectual property rules — convened once again for an informal meeting to discuss the patent waiver. And, once again, the opposition of major European nations reportedly kept the talks at a "stalemate".
The India-based business publication MoneyControl reported that "as negotiations stall at the World Trade Organization, multiple well-placed sources have confirmed that there remains almost no hope of the global vaccine waiver getting clearance till December, if at all."
One unnamed senior trade negotiator told the outlet that the European countries blocking the waiver "have been emboldened by a noncommittal United States, despite the support of almost all WTO member nations".
"Since all WTO decisions have to be unanimous," the official noted, "there is nothing that can be done even if a single nation is unwilling."
Marking the one-year anniversary of the waiver's introduction, Amnesty International secretary-general Agnès Callamard lamented in a statement that "greed is triumphing over human life and human rights".
"How many more people must die needlessly before countries do the right thing and support the lifting of patent restrictions, so COVID-19 vaccines, tests and treatments can be produced worldwide?" Callamard asked. "It is simply shameful that a handful of wealthy governments continue to monopolise vaccine supply while consistently opposing attempts to free up intellectual property rights that would enable other states to fulfill their obligations to protect their people."
"Pharma companies have also behaved shamefully — pushing up prices, monopolising intellectual property, blocking technology transfers, and lobbying aggressively against measures that would expand global manufacturing to line their pockets," Callamard added. "We don't have the luxury of time. Rich states must act now. Countless lives depend on it."
To date, according to Our World in Data, just 2.3 per cent of people in low-income countries have received at least one coronavirus vaccine dose. Rich countries, meanwhile, are sitting on — and on the verge of wasting — hundreds of millions of excess doses and offering donation pledges that experts say are woefully insufficient to meet the needs of poor nations.
Thanks in large part to wealthy countries' hoarding of shots and pharmaceutical companies' refusal to share key vaccine technology, more than two-thirds of Africa's 54 countries were unable to inoculate at least 10 per cent of their populations by the end of September, a modest target set by the WHO.
"This is not the time just to be uni-dimensionally focused on just profit," South African President Cyril Ramaphosa said last week during an event organised by the WTO. "This is the time to save lives."
As Amnesty noted in a report last month, "Johnson & Johnson has developed the world's only single-dose vaccine and sells at cost price, yet it will not deliver the vast majority of its commitments to COVAX and the African Union until 2022."
"They have also refused to grant a license to a Canadian manufacturer offering to manufacture millions more doses," Amnesty observed.
Dr Sharmila Shetty, vaccines medical adviser to Médecins Sans Frontières' (MSF) Access Campaign, said in a statement that in the year since India and South Africa first put forth their patent waiver proposal, "countless lives could have been saved and sustainable global access to COVID-19 medical tools equitably increased."
"A handful of governments have chosen to obstinately block the TRIPS waiver from the beginning, and these are the same governments that have stockpiled vaccines and therapeutics to protect their own populations instead of sharing," said Shetty.
"If most of the world, including many countries where MSF works, continues to have only minimal access to COVID-19 vaccines, treatments and tests, this pandemic will continue, new and more transmissible variants may develop, healthcare systems will buckle, and more people will suffer and die."
"The EU, UK, Norway, and Switzerland must stop obstructing the TRIPS waiver," she added, "and support the adoption of a groundbreaking effort that could increase access to COVID-19 medical tools for everyone, everywhere."
This article was first published by Common Dreams and is reproduced under a Creative Commons licence.