Tourism Minister Simon Birmingham has announced an additional $25 million to market Australia to international tourists in response to the impact of the bushfire crisis. He says this is necessary to 'save Aussie jobs'. But his counterpart Peter Dutton has been dramatically reducing approval rates for visitor visa applications for Asian tourists. Are they not talking to each other?
Since early 2017, Dutton has been steadily reducing grant rates for visitor visa applications from Asian countries (see Chart 1). The Department of Home Affairs defines the visitor grant rate as the 'total number of visitor visas granted divided by the total number of visitor visa applications decided'.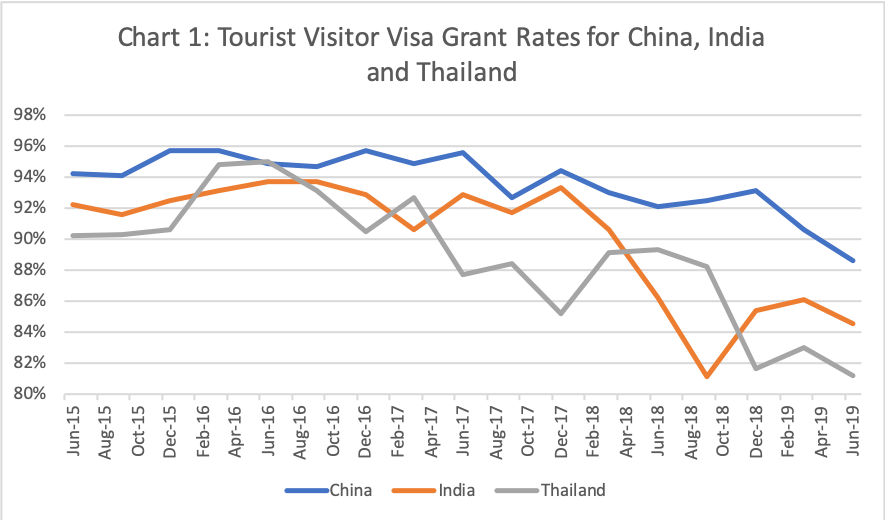 While Birmingham's extra international tourism marketing money may well target visitors from Europe and North America, the reduction in grant rates for visitors from Asian countries is likely to completely swamp any increase in visitors from Europe and North America. Tourists from Asian countries now significantly exceed the number of tourists from Europe and North America.
But if Birmingham's international tourism marketing campaign also targets Asian countries, Dutton's declining visitor grant rate for Asian tourists may well ensure this is a total waste of money.
With almost a million tourists from China every year, the seven percentage point reduction in the grant rate since early 2017 means around 60,000 Chinese tourists are being denied a visa for Australia each year. These are not people who need to be encouraged to book a holiday in Australia, they have already committed to doing so but are being refused a visa by Dutton's Department.
For Indian tourists, the grant rate has declined from 95.6 percent in the June quarter of 2017 to 84.5 percent in the June quarter of 2019. India is one of Australia's fastest growing sources of international tourists, now ranking as our sixth largest source and with an application rate growing at over 16 percent in 2018-19 over 2017-18.
But because Dutton has significantly reduced the grant rate, the increase in visitors from India in 2018-19 over 2017-18 was just 4.5 percent. In other words, an extra 30,000 potential tourists from India are now being refused a visitor visa by Dutton.
With a middle class that is now growing as rapidly as that of China in the past 20 years, Australia cannot afford Dutton's ham-fisted approach to managing visitor visas from India.
We have also seen a significant reduction in the grant rate for visitors from Thailand, the Philippines and other Asian countries.
Malaysia is another country where the visitor grant rate has declined. Malaysia is Australia's fifth largest source of tourists with over 326,000 visitors in 2018-19. But the grant rate for tourists from Malaysia has declined from 99.7 percent in 2017-17 to 98.7 percent in 2018-19.
While a one percentage point decline may seem minor, it has flow-on implications for where Malaysians choose to holiday. It has undoubtedly contributed to the decline in visitors from Malaysia of almost 20,000 compared to 2016-17.
Much of the decline in the grant rate is very likely a response to the surge in asylum applications from Malaysia, China, India and Thailand in recent years.
But the blunt response of increasing visitor refusal rates in an untargeted way; not recognising the honeypot effect of a large and rapidly growing backlog of asylum applications in Australia; and doing little to nothing about the growing number of unsuccessful asylum seekers in Australia means that Dutton is just compounding the costs of his incompetence.
These costs are not just the budget costs, which will eventually run into the billions; but also the negative impact on Australia's labour market through the exploitation of around 100,000 vulnerable people currently in Australia; and now a job destroying impact on Australia's tourism industry at a time the Prime Minister says "Australian tourism is facing its biggest challenge in living memory".
Yet Dutton continues to be allowed to pretend this all just a red herring.
Abul Rizvi was a senior official in the Department of Immigration from the early 1990s to 2007 when he left as Deputy Secretary. He was awarded the Public Service Medal and the Centenary Medal for services to development and implementation of immigration policy, including in particular the reshaping of Australia's intake to focus on skilled migration. He is currently doing a PhD on Australia's immigration policies.