At end June 2018, the Government had allowed a backlog of over 80,000 Partner visa applications to build up. These are overseas-born people who are married to, or intend to marry, Australian citizens or permanent residents. Rather than take steps to deal with the backlog, Dutton started to cut down on the number of Partner places available, even though the law requires spouse visas be managed on a demand driven basis. His successor David Coleman has decided to continue the scandal.  
By voting down amendments to s86 and s87 of the Migration Act (the capping powers), Parliament has twice (in 1989 and 1996-97) made it clear it expects visa applications for spouses of Australian citizens and permanent residents to be processed on a demand driven basis. Nevertheless, the Coalition Government has allowed a backlog of over 80,000 partner applications (ie including fiancees) to develop. It has allocated only 39,799 places for partners in 2019-20 – the same as in 2017-18 (see Chart below). This can only result in the backlog continuing to grow and the law continuing to be flouted.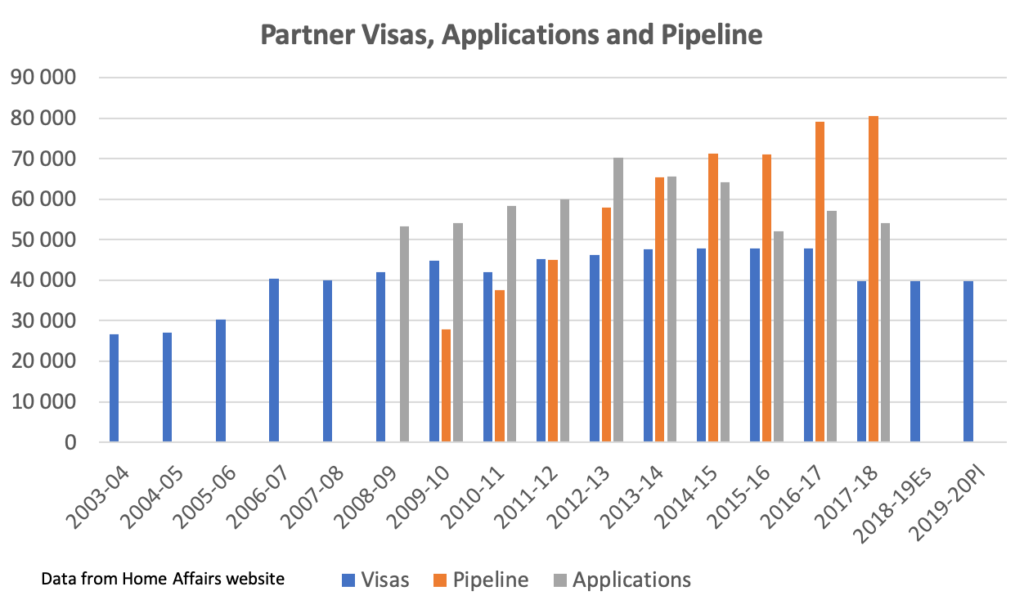 The Coalition Government has announced changes to processing of partner visas by adding a formal step of approving the Australian sponsor before the partner can lodge a visa application. However, implementation of this additional step has been postponed.
Note partner visa application fees are approaching $8,000 – well in excess of actual resources being allocated to the processing. Also note that at end March 2019, there were 5,396 active partner cases at the AAT. The set aside rate at the AAT is around 50 percent.
Home Affairs appears to be managing the informal 'queue' by delaying the allocation of processing officers to partner cases. This has led to processing times blowing out to over 2 years and many partners by-passing the off-shore partner visa process and entering Australia on a visitor visa and then applying for a partner visa onshore.
Home Affairs actions are both morally and legally indefensible. This approach does nothing to improve the integrity of the visa system and is also a wasteful way of using resources as Home Affairs staff are distracted from processing work to answering queries and criticisms for the delays.
Allowing the backlog of partner visa applications to continue to rise while restricting the number of places is unsustainable. It will eventually lead to a legal challenge.
Government must get back to processing partner visa applications efficiently, with integrity and according to law. This will require making more places available in the 2019-20 Migration Program.
Abul Rizvi was a senior official in the Department of Immigration from the early 1990s to 2007 when he left as Deputy Secretary. He was awarded the Public Service Medal and the Centenary Medal for services to development and implementation of immigration policy, including in particular the reshaping of Australia's intake to focus on skilled migration. He is currently doing a PhD on Australia's immigration policies.