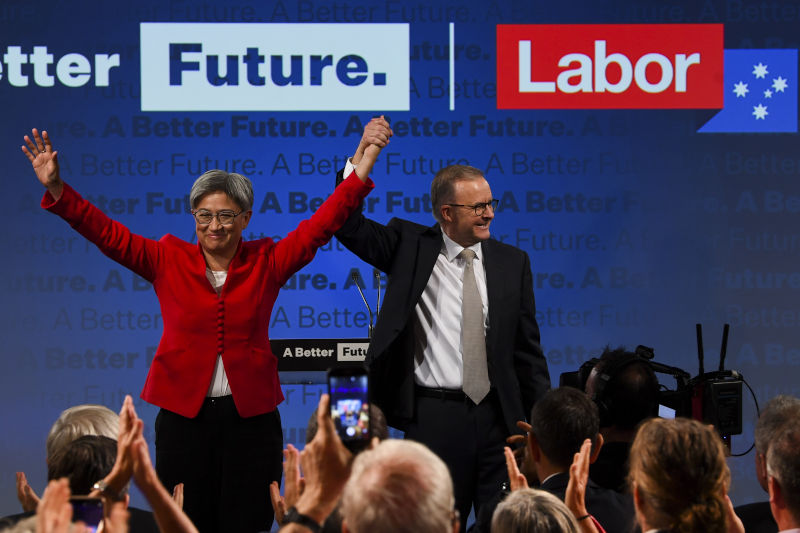 On his very first day in office, Prime Minister Albanese has seized with alacrity the opportunity to travel to Tokyo for the Quad meeting to announce his presence on the international stage.
While this demonstrates his confidence about the next few days of count in the electorates still in doubt and preliminary negotiations with the Greens and Independents in the Senate – it is not without some potential risk in the foreign policy arena.
Throughout the election campaign Albanese and his senior colleagues have striven to ensure that there was not a scintilla of difference between them and the Coalition on the key foreign policy issue of China – and the connected Quad and AUKUS. They have consistently and firmly rebutted the frenetic attempts of Morrison and Dutton to paint Labor as being "soft" on China and provided solid reassurances of their unfaltering commitment to both the Quad and AUKUS. They have announced that they will present in Tokyo their campaign commitments about the urgent need to upgrade our relations with both the South Pacific and Southeast Asia and , of course, our actions on Climate Change.
But they are heading off to the Tokyo Quad – and a first meeting with President Biden – without having had a real opportunity to review the international scene now that they are in office. After nearly 10 years of Coalition rule, Albanese and his team will need to review closely the senior echelons of the bureaucracy which have become so politicised and influenced by United States thinking. Officials undertaking the key preparatory work involved for meetings such as these will have been operating under the direction of the Coalition government – probably even through the caretaker period. Albanese and Senator Wong will be confronted today (probably on the flight to Tokyo) with a welter of detailed issues for the first time without any chance of having a fresh look before having to sign up to the agreed lengthy communique. But more of that below.
Nonetheless, the Tokyo meeting will provide an excellent opportunity for Albanese and Wong to build personal contacts with the other leaders which has become such a critical feature of modern day international relations. This will be particularly crucial for Albanese with Biden – however they may have met previously in different positions. One of the most telling pieces of Peter Hartcher's recent articles on AUKUS and the submarines was that right from the outset Biden had insisted that Albanese be on board with the submarine deal – which Morrison and Dutton were supposed also to be "clearing" with President Macron. In hindsight, one has to wonder how much then Biden was influenced by US uncertainty about Morrison's longevity in office? Morrison's failure to brief Albanese until the very last moment – on the reportedly spurious grounds that Albanese could not be trusted to hold a secret – would not have been missed by Biden.
Similarly, it will be most valuable for Albanese to meet with Prime Minister Kishida who is also a new "guy on the block" for the Quad. He has a complicated hand to play with China – with which Japan has been able to maintain a dialogue and working relationship unlike Australia. There is also some substantial bilateral matters.A first contact with Prime Minister Modi will also help Albanese's recognition in the wider region. In normal circumstances, in this environment so early in his tenure the good advice for Albanese would be focus on looking and listening rather than trying to cut a dashing new figure.
The elephant in the room in Tokyo , of course, will be China. Though specific references to it will likely be scarce in any joint communique in an attempt to refute Beijing's unsurprising attacks that the Quad is all about containment of China. The Quad partners ( and the media) obviously will be watching very closely how Albanese manages this issue in his various talks. Despite repeated references in the campaign, there is still some expectation that he will want to find a way to take some heat out of the current impasse we have without appearing to be giving in to Beijing. The "R" word ( Reset) is likely to become a sensitive one in this regard at least in the early days but probably inevitably the new Government will feel the need to find some tentative room for manoeuvre in the still very important economic relationship with China. The analysis of Chinese community voting in certain key electorates will also not be lost on Albanese.
This leads into the other key event in Tokyo this week – Biden's announcement of a new regional economic initiative – IndoPacific Economic Framework (IPEF). Long in the formulation, IPEF is being represented by the Americans as Biden's stamp on the region – "America is Back". As an alternative to the regional economic grouping from which the US under Trump withdrew (and which Biden was not keen to re-enter) it is not being received with much enthusiasm by many in the region who are concerned that its barely concealed aim is to exclude China with whom almost all regional countries have substantial trade relations. Some of the proposed new rules are patently designed to boost the US economy. This was highlighted by Biden's by visit to the Samsung semi-conductor plant in the ROK to advertise the massive semi-conductor plant Samsung is building in Texas to protect its market entry to the US. The IPEF has considerable economic implications for Australia which the incoming government will need to consider long and hard.
There also will likely be discussion of the continuing impasse with North Korea given Biden's recent visit to Seoul. The new ROK government is committed to taking a tougher stance on the North but Biden still has not shown any sign of moving beyond "strategic patience" – other than an increase in joint military exercises with the ROK. He did not pay the usual ceremonial visit to the DMZ on this latest trip. Somewhat bizarrely, the news of panic in the reportedly vaccine-deprived DPRK over a major wave of Covid19 might offer some opportunity for contacts with the US and the ROK (which both of whom have offered).