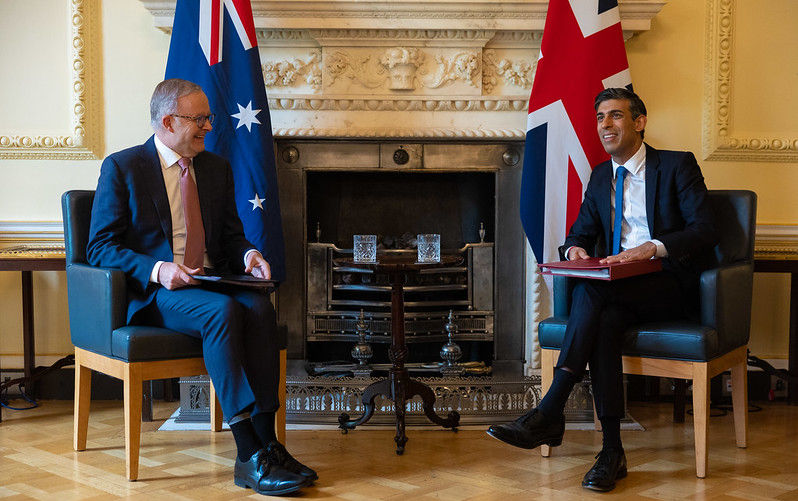 Prior to his most recent overseas trip to Jakarta, Manila, and New Delhi, Prime Minister Anthony Albanese has been abroad a dozen times. Not bad for a government that's been in office for just on eighteen months. The next few months will see him flying off again for half a dozen more summits, head to head meetings with foreign leaders, and meetings with other official and ceremonial types. His latest trip first to Jakarta was to unveil his government's policy on closer trade and security ties with the ASEAN states. How necessary are these trips? How may their success or otherwise be reliably measured?
Overseas trips by government ministers are of course welcome. However they should occur only (always) provided they clearly advance Australia's interests. There needs to be far more transparency about what ministers actually achieve when they travel abroad, what their negotiations have entailed and, even when diplomatic confidentiality is required, a broad account of what was concluded (if anything) should be made available. This information should be placed in the public domain. Underhand secrecy was the indelible hallmark of the Morrison government. Inexplicably; it's becoming a hallmark of the Albanese government too.
The revelation that Richard Marles has racked up overseas travel expenses in the millions of dollars has thrown a spotlight on what appears to be an extravagant amount of dubiously rationalised overseas travelling by the Defence Minister–mostly to the USA. One can only assume that it has mainly been to do with the handing over of vital aspects of the country's sovereignty under the awkward guise of AUKUS. Marles should be grounded for the rest of this year. And if he must travel in 2024, let it be minimal and fully and transparently accounted for.
Nonetheless, it is the Prime Minister's numerous overseas travels that need closer scrutiny. Some of them have been for downright ridiculous reasons–for example, attending the funeral of Elizabeth II and, later, to attend the coronation of Charles III. It is unconscionable for an Australian Labor Prime Minister to be present at occasions that require ceremonial obeisance before the British monarchy. For a country that should be a republic by now, this smacks of subservience under the unconvincing rationale of "paying respect." Respect for what? As Professor Jennifer Hocking has shown conclusively, both Elizabeth and Charles played deceitful roles in John Kerr's infamous dismissal of the Whitlam government. If there must be an Australian representative at such occasions, let it be the Governor-General (though please, not the present one!).
The rationalisation of the trip to Jakarta to unveil the government's policy to promote Australian trade and investment in the region is hard to fathom. Surely this important policy document should have been unveiled here in Australia. The policy highlights the weaknesses of Australian businesses in their meagre engagements with our Southeast Asian neighbours. This underlines the great Australian ignorance, especially in business circles, about the histories, cultures, languages and economic possibilities that exist in countries like Indonesia, Malaysia, Singapore, Thailand, and Vietnam for example. And it reflects the abject failure of our schools and universities to provide attractive studies of Asia in their curricula.
In hogging the limelight on trips abroad, Albanese is sidelining ministers whose portfolios should be dealing with many of the matters that the Prime Minister has decided to monopolise. The Trade Minister should have been at the forefront of the Southeast Asian policy announcement. And most glaring of all is the marginalising of the most talented Foreign Affairs Minister in a decade or more, Senator Penny Wong. One gets the uncomfortable feeling that Albanese and Marles are like little boys let loose in a lolly shop. Jumping on planes and flying hither and thither is just too exciting for them to pass up. And rubbing shoulders with the big guys "over there" is just too tempting to ignore. They should be careful: voters are already seeing this as a government with its snouts firmly planted in the trough.
Albanese should be spending every waking hour between now and 14 October, Referendum Day, arguing with passion and grace, up and down the country, why Australians should be voting Yes. And once the Voice to Parliament is either won or lost (and the fear right now is that it is heading for defeat) Albanese will be off to wine and dine in the White House, to rubber stamp the Morrison-Marles' despicable AUKUS deal-making. Senator Wong should be representing Australia at the White House dinner. She would do so with dignity. Albanese should stay home.
The one trip Albanese should allow himself is Beijing late in the year. A meeting with Xi Jinping is definitely in Australia's national interest. Cancelling the Washington visit prior to the Beijing visit, would place Albanese in a much sounder diplomatic position to press for the release of Australian citizens being held in Chinese jails, and for opening up trade with China. A visit to Washington before he goes to Beijing will only reinforce a widely held view, not only in China, that Australia is America's lackey.
Meanwhile, the Voice referendum remains, absolutely, the most important proposal for constitutional change ever to come before the Australian people. No matter what is happening on the regional or global stage right now, every effort by the Prime Minister and his colleagues should be focused on getting a majority of Australians and a majority of states to vote Yes for an outcome that would greatly enhance Australia's regional and global reputation as no ministerial or prime ministerial visit ever could. It is that important.
If the Voice referendum fails, the damage to Australia's reputation in Southeast Asia, East Asia, South Asia, and across the entire globe will be immeasurable. And the damage to Australia itself will be enormous and long-lasting.