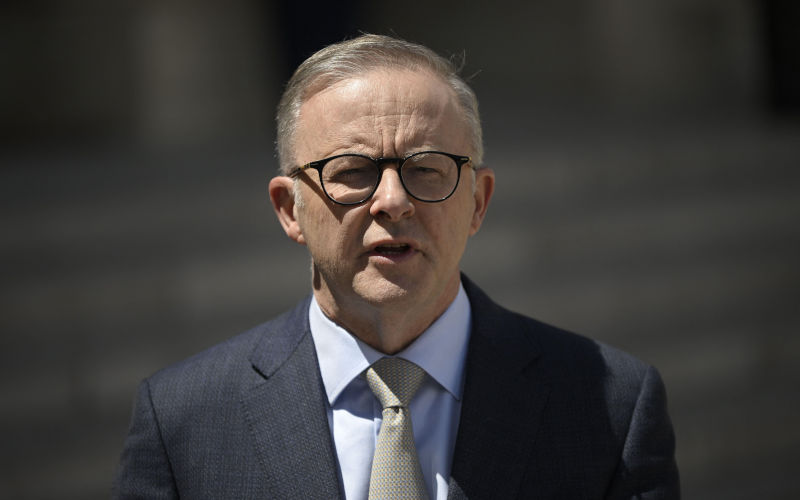 Australia's leader Anthony Albanese is responsible for much more than window dressing at the ALP National Conference. As our elected leader he is required to speak for the nation about how Australia will meet its international obligations to peace and security in our region. In order to re-assert an Australian independent middle power foreign policy advocated by Minister for Foreign Affairs Penny Wong, Albanese must tell the global community that he has not made a secret pact to follow the United States into war with China.
National ALP conferences always attract a great deal of attention when a Labor Government is in power and in 2023 Labor governments also set policy direction in five states and two territories. Many of us welcome this national opportunity for reform and innovation after some very lean years of poor governance and lost opportunity.
Australians expect Labor administrations to place a high priority on the wellbeing of its citizens and the building of social infrastructure which provides essential services. Domestically this framework is fundamental to Labor policy development so Federal and State ministers across all jurisdictions are working cooperatively to regenerate policy and programs which will offer greater equity for all.
However, there is a serious attempt to undermine this national goal, as foreign decision makers continue to pressure the Australian Government to redirect policies of national reconstruction with a defence policy that prepares Australia to join them in war.
We know the projected cost of the AUKUS commitment is $368 billion …. but only the naïve would accept that as a realistic cost of locking Australia into the unknown warfare plans of the United States and Britian for an unspecified future.
This year increased militarisation has become more obvious in several areas around Australia. The military war game Talisman Sabre, operating off the Queensland coast, Darwin and several other defence bases, is the largest combined training activity between the United States military and the Australian Defence Force.
It aims to improve the combat readiness and interoperability between the United States and other partner nations, including Fiji, France, Indonesia, Korea, New Zealand, Papua New Guinea, Tonga, United Kingdom, Canada, and Germany. Three countries, Thailand, Singapore and the Philippines attended as observers. The cost of this month-long war rehearsal is $50 million per year but we have no publicly available cost benefit analysis of this exercise.
As part of AUKUS the Australian Government announced, "an expansion of the Force Posture initiatives in the Submarine Rotational Force-West which sees US nuclear powered submarines rotate through HMAS Stirling beginning from 2027." (Richard Marles, Press Release, March 14, 2023) From March – October 2023 some 2,500 U.S Marines will be based in the Northern Territory to conduct combined training with the Australian Defence Force.
Last week in an address to the Australian American Leadership Dialogue, Republican Congressman Mike Gallagher called "for Canberra and Washington to turbo charge cooperation under the AUKUS agreement by forward-basing long range precision missiles throughout the Indo Pacific as a deterrent" (The Australian, 11th August 2023.) The language and scale of these pronouncements suggests Australia is already on a 'war footing 'and its defence policy is being directed by all the uncertainties of American politics.
Yet in the lead up to the National Labor conference in Brisbane this week significant pressure has been placed on faction leaders and trade unions to avoid any debate on AUKUS which would question government defence strategy.
Labor tacticians have recognised the considerable increased opposition to AUKUS from former Labor leaders, the trade union movement and ALP branches. A former ministerial adviser, Marcus Strom is leading a national rank and file campaign, "Labor against War." Rank and file delegates are being urged by many to insist that the government establish an independent process to assess the security, economic, social and environmental risks of AUKUS and to take back Australian control of our foreign and defence policies. Yet the ever-loyal party representatives attending ALP National Conference are determined to avoid "embarrassing" the Prime Minister!
However, many Australians are already embarrassed and anxious about the way our country is being led into an uncertain war future, which has the potential to devastate Australia and increase global instability.
Prime Minister Albanese has a responsibility for much more than "window dressing "at this week's national conference. He has the chance to clearly articulate his government's foreign policy and defence agendas as an independent middle power nation. He cannot be both reasoned diplomat and subservient ally and its time he signalled his priorities for the Australian people and reminded overseas allies that his government will control all decision making in the national interest.