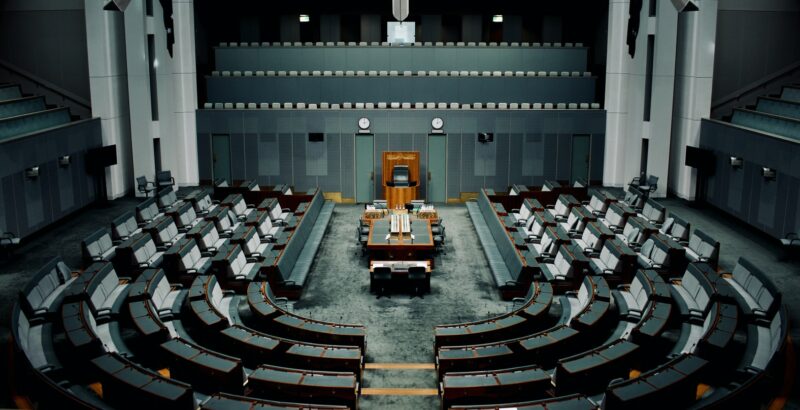 It's beginning to dawn on the Coalition that it's perilously close to losing government. Labor MPs are also terrified by the thought of failing to win government.

It is going to be nothing short of total catastrophe for whichever side falls at the ballot box. Both sides have enormous amounts to lose. The blame games will be murderous; the bloodletting will be of oceanic proportions.
Mounting hysteria in the Coalition ranks is clearly evident in the shouty bombast from the prime minister and in the verbal contortionisms of the deputy prime minister during Question Time. It is evident, too, in the hyper-sensitivity of Coalition MPs to such growing demands as ending corruption in their ranks (sports rorts, carparks, etc.), about the need for a federal integrity commission with teeth, and about their voting for Peter Dutton's overriding of the speaker's referral of Christian Porter's "blind trust" to the privileges committee. These calls are bookended by Scott Morrison's vacuous responses to climate change and his failure to acquire sufficient COVID-19 vaccines on time.
Meanwhile, Labor is desperately seeking to be a small policy target, frozen by policy timidity and bogged down in political confusion. Anthony Albanese's lack of political charisma and his inability to fire up the rank and file of Labor voters, much less the growing ranks of swinging voters, is a clear disadvantage for the Opposition. The Australia Labor Party (ALP) should have put a strong female leader in place long ago.
What does all this mean for the increasing number of voters alienated from the major political parties and from the whole political process? There are more — many more — of these people than the Murdoch mob and each of the self-deluding party machines realise. Non-partisan people in the electorate are more aware, thoughtful, and angrier than most commentators seem to understand. Their ranks will grow as the election closes in and when electorates across the country, yet again, are subjected to the same old talking points from the same old mainstream politicians bearing the same old empty promises.
The growing numbers of donors signing up to Simon Holmes à Court's Climate200 is evidence of just how deep disaffection has become among voters. This disaffection is not only about the Coalition's recalcitrance on climate change policy, but also on other issues of real concern to voters: asylum seekers, human rights, Indigenous rights, handling the pandemic more efficiently (for example, establishing built-for-purpose federal quarantine facilities), arresting the growing socio-economic inequality that is haunting contemporary Australia, the housing affordability crisis across the country, the persistent disregard of women's rights, the appalling facts of domestic violence, the exorbitant costs of childcare, the neglect of education from preschool through to the tertiary sector, mending the economy, cleaning up the mess of our foreign and defence policies. The list goes on and on…
The image of Canberra today is of a government sitting on its hands, utterly devoid of new policies, and fearful of exposure of its more dubious, devious, and flaky members (think Barnaby Joyce, George Christensen, Keith Pitt, Angus Taylor, Christian Porter, Michaelia Cash, etc.). It is an image of wagon circling and total self-absorption. Meanwhile Labor MPs mostly remain supine, seemingly terrified of being wedged by a loud-mouthed Morrison and all the other political noise emanating from the government and its puppetmasters in the media.
All of this is evidence of a devastating decline in integrity and statesmanship in contemporary Australian politics, right across the board. Politics has become monopolised by self-serving politicians pushing narrow sectoral interests. The honourable ideals of traditional conservatism have been obliterated by reactionaries, political narcissists, and loopy populists (consider: Alan Tudge, Andrew Laming, Bob Katter, Pauline Hanson). Meanwhile, the civilising ideals of democratic socialism have been all but forgotten on the Labor side of politics which has become, in effect, a Liberal-lite party (consider Richard Marles, Jim Chalmers, Joel Fitzgibbon).
However, there is light at the end of the very long dark tunnel that is contemporary Australian politics. Holmes à Court and Mike Cannon-Brookes are providing the kind of leadership this country desperately needs right now.
Cannon-Brookes is leading by example by investing billions in clean energy technologies, demonstrating how Australia could become a world leader in clean energy production, if only we had politicians with the same creativity, and vision.
Holmes à Court is leading the Climate200 organisation that will fund independent candidates in selected electorates in the forthcoming federal election. He is facilitating alternatives to the stale old candidates that the mainstream political parties are endorsing for the election.
Three particularly impressive independents already in the Parliament are Zali Steggall, MP for Warringah (NSW), Helen Haines, MP for Indi (Victoria), and Andrew Wilkie, MP for Denison (Tasmania). Each has been wonderfully outspoken in specific policy areas: Stegall on climate change, Haines on a federal integrity commission, and Wilkie on limiting the bad effects of gambling. They have also been advocates for other progressive policies. None is a member of a political party. Most are women.
Like Cannon-Brookes, Holmes à Court is also an influential voice urging the end of Australia's energy reliance on fossil fuels and their replacement with solar, wind and clean energy technologies. There could be at least six Liberal seats in which the issue of climate change could favour independent candidates, providing they can demonstrate principled commitments to improving the political culture of the parliament and by advocating for effective climate change policies, an independent and strong federal anti-corruption commission, and related issues.
There could also be Labor seats coming up for grabs by independents if sufficiently attractive, progressively minded candidates can gather community support in those seats to stand at the election. Nonetheless, it seems that the Liberals are likely to be the more vulnerable of the major parties to independents, which demonstrates just how out of touch they are with the electorate's majority views. Labor might be a little less out of touch, but it too needs to acknowledge there is a problem, especially in seats where the Greens are a real and plausible threat.
A parliament with a strong representation of principled and independent MPs would greatly improve the parliament, bringing an end to the rudeness, the apish posturing, and the mindless point scoring that we've had to endure for too long now. Australian democracy is in crisis. The country is very badly governed. Neither of the mainstream parties shows any sign of wanting to be cured. A healthy dose of independents would be just what the doctor ordered.
Bring it on Simon Holmes à Court and Climate200!