The ABC reports the Government is looking into an amnesty for undocumented workers to help address a shortage of farm workers.
Australia has not had an amnesty for overstayers and undocumented workers since the 1980s.
Agriculture Minister David Littleproud says "we'll look at this through a security lens, but we'll also look at this through a workforce lens and make sure we also try and address the exploitation of workers in this country."
The reference to 'security' is probably the usual influence of Peter Dutton and Mike Pezzullo, while trying to hide the fact most of the people Littleproud is talking about have been in Australia many years. In fact, they mostly entered on visitor visas while Dutton was Home Affairs Minister and Pezzullo the Secretary.
If these people are a security concern, have our Peter and Mike again been asleep at the wheel? They certainly have not been doing much to locate and remove these people from Australia with the number of removals plummeting in recent years (see Chart 1).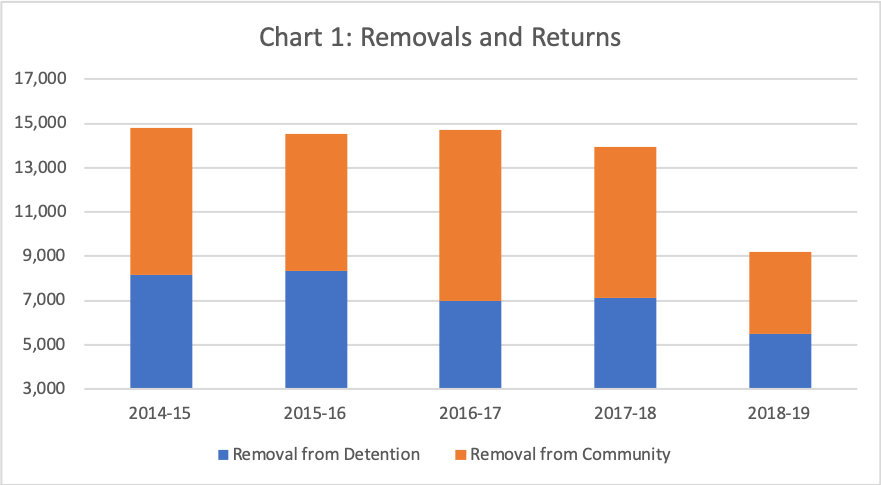 There has similarly been a sharp decline in location of undocumented workers as well as in notices given to employers for employing undocumented workers.
Was the sharp fall in removals and returns; location of undocumented workers and employer notices  in 2018-19 due to insufficient resources; insufficient detention centre space or pressure from the farm lobby for Border Force to cut down on compliance visits to farms? It certainly wasn't due to a lack of undocumented people working on farms.
It is good Littleproud says he will "also try and address the exploitation of workers in this country." But he then plays down the extent of the problem by pretending it is anything but endemic, particularly on farms and in restaurants.
Burying your head in the sand is never a sound basis for developing public policy.
Whether his Government will do anything meaningful about worker exploitation remains to be seen given the issue has been on its agenda for many years now.
Littleproud also says "he did not believe Australian agriculture stood out as a sector with excessive illegal workers". This is like Donald Trump saying the USA has had very few deaths from the coronavirus.
Undocumented workers in Australia's agriculture industry have been an ongoing issue for at least 25 years.
The number of such workers in the agriculture industry has exploded in recent years and would currently exceed the number of working holiday makers and pacific island seasonal workers combined. There are approximately 70,000 working holiday makers and less than 5,000 pacific island seasonal workers in the country. Not all the working holiday makers would be working on farms.
If the objective is to address farm labour shortages, an amnesty for people without work rights currently working on farms would not actually increase the number of such workers. It would just regularise their status.
Australia's farm lobby is keen on an amnesty not because it would increase the number of farm workers and not because it is concerned about the loss of tax revenue – after all the employers using undocumented workers would paying wages under the table with little regard for the tax law.
It wants an amnesty because it would absolve their members who have been illegally using undocumented workers for years.
How might the Amnesty work?
There are essentially four initial groups of people that may come under consideration for an amnesty:
People who just allowed their visa to expire and became unlawful – this group may total around 62,000 with a reasonable percentage working on farms but also a sizeable portion working in cities.
People who entered Australia most likely on a visitor visa in the last 5-6 years (usually organised by a labour hire company or some other sort of agent), applied for asylum, were refused (at both primary stage and at the AAT) and have remained in Australia without a visa. This group may number upwards of 23,500 and growing rapidly as the AAT deals with its backlog.
People who have been refused asylum at primary stage but are waiting for an AAT decision or some other legal process. This group is approaching 30,000 and growing.
Asylum seekers awaiting a primary decision. This group is around 37,000 but may begin to shrink over the next six months with international borders closed.
If people in one or more of the above groups were offered an amnesty, what would be the conditions of the amnesty? Would they have to show they have been working on farms and commit to continuing to do so? Would they have to come forward and apply for some sort of new temporary visa that only enables them to keep working on farms? How long would this visa be operational? What happens at the end of the visa? Do they have some sort of pathway to permanent residence?
What happens to any asylum application they have on foot? What about asylum seekers and/or undocumented people who are not working on farms? Could they come forward on the basis they promise to work on farms?
What about other people in Australia on temporary visas who would also like a pathway to permanent residence? For example, there are over 15,000 people in Australia on Temporary Protection Visas who have little prospect of ever returning home.
The Refugee Council as well as three MPs led by Julian Hill have proposed these people be provided a pathway to permanent residence if they commit to working on farms for a minimum period.
Another group the Government could consider are refugees still on Manus and Nauru. Offering these people a pathway off those islands would not only save massive taxpayer costs but also provide an immediate boost in farm labour.
And what about the 100,000 people on Temporary Graduate visas who would currently be struggling to survive if they do not have a job?
Why would they also not be offered the same opportunity, especially as they would mostly not be working on farms but may be prepared to do so?
Of course, an amnesty is essentially a reward for becoming unlawful or misusing the asylum system? Would the Govt be prepared to admit it had allowed the visa system to get so out of control?
On the other hand, it is clear the Government has no plan for how it will deal with the surge in asylum seekers who have entered Australia over the last 5-6 years. A amnesty that gets the unsuccessful asylum seekers to regularise their status gets the Government off the hook on its border protection failure.
But would people smuggling organisers in future use the amnesty as a means of selling entry to Australia? The sales pitch could be "just get a visitor visa, apply for asylum, work on a farm for a few years and the Australian Government will eventually give you permanent residence even if the asylum application is just a sham?"
Finally, an amnesty would dilute any incentives the Government is thinking about to encourage unemployed Australians to do farm work. Given the number of unskilled Australians who are currently unemployed, would that be good policy?
As Littleproud says an "amnesty was a complex idea that could not be rushed into".  He is right on that at least.