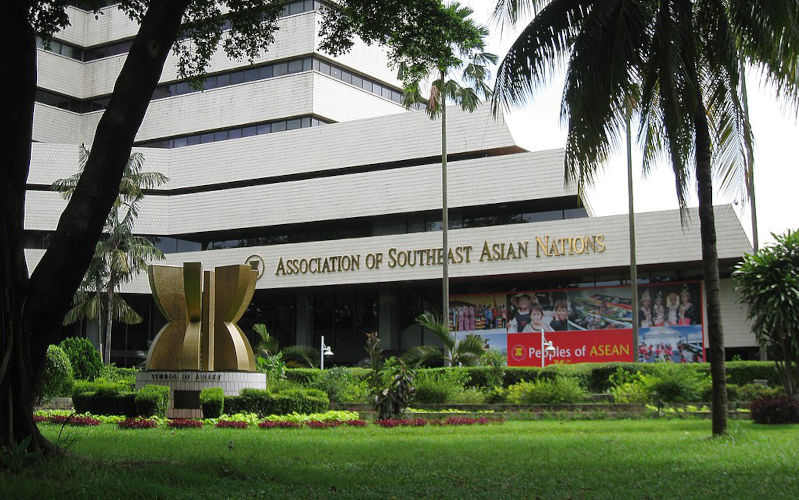 The connection between economic integration and political security has long attracted attention. Integration through intensive trade and investment relations has led to greater interdependence and made conflict more costly, helping states to maintain peace and stability. But interdependence can also increase the risk that geopolitical tensions might turn into open conflict.
The situation in East Asia and the Pacific resembles the first case. The last open conflict in Southeast Asia took place in 1979 with China's invasion of Vietnam. Despite its deep security and geopolitical fissures, Northeast Asia has been free of open conflict since the Korean armistice was signed in 1953. This peace has been built through greater trade and investment relations among economies throughout the region.
Trade among countries in Southeast Asia has been growing at an average of 11 per cent per year in the past three decades — higher than GDP growth in the region over the same period. The emergence of regional value chains in the 1980s has given rise to an investment relationship between economies in Northeast Asia, and the formation of the so-called 'Factory Asia'. This too has contributed to regional stability and security.
Two major developments in East Asia and the Pacific in the last three decades underline the dynamic of economic integration and geopolitics — the rise of China and the proliferation of regional trade agreements (RTAs). China's rapid economic and technological development has changed the power balance in the region. The integration of China into the global economy in the late 1990s served as an effective engine for regional growth but also increased geoeconomic tension as China gained competitiveness over other countries. China's demands for greater recognition and power sharing in global agendas have also brought a sense of unease to the established order.
While the rise of China has increased tensions among countries in East Asia and the Pacific, the proliferation of trade agreements has reduced the risks that stem from increasing economic interdependence. The region began its formal integration with the ASEAN Free Trade Agreement in 1993. This was followed by a series of bilateral and regional agreements with partners such as Japan, China and Australia.
These RTAs filled the gap in rulemaking and liberalisation efforts at the multilateral level. The agreements created rules for trade and investment relations and provided platforms to settle disputes. Although trade agreements do not necessarily eliminate the risks of conflict, they can insulate economic disputes from security issues.
But trade agreements in the region are limited to ASEAN countries and some of their partners. Agreements between other countries in the region — such as China and Japan, or China and Korea — were non-existent, making economic relations between them prone to greater tension.
As geopolitical and economic environments have evolved, the nexus between economic integration and security has become more complex. East Asia and the Pacific remains free from interstate conflict, but tensions are growing.
The consequence is that countries have turned to using economic and trade policies for geopolitical and security purposes. Australia, for example, is involved in trade disputes with China that started as security concerns over the activities of technology company Huawei in 2018 and intensified over prosecuting investigation into the origins of COVID-19. In Japan and South Korea, mutual export and import bans have continued to escalate since 2019 over historical disagreements stemming from the Japanese occupation of Korea more than 80 years ago.
Countries in East Asia and the Pacific need to do more to prevent economic tensions emerging from greater interdependence and refrain from using trade and investment policy for security purposes. Region-wide agreements, such as the Regional Comprehensive Economic Partnership (RCEP), offer platforms to improve policies on trade and deal with economic tensions. But these agreements need to include rules that cover a range of new issues like cross-border digital investment and intellectual property and technology acquisition. These are issues that will potentially lead to more disputes and need stronger disciplines.
Trade and economic agreements are only effective in reducing tensions that originate from economic relations. Countries also need to continue talks on political and security issues that have taken place under existing regional initiatives, such as the ASEAN Political Security Community or South China Sea code of conduct talks between ASEAN and China.
These talks should be extended to the broader East Asia and Pacific region to include other issues such as tensions over the East China Sea. Just like trade agreements, these would be managed better under a regional framework, not bilaterally. They should not aim to settle the issues, but rather to seek a common understanding on how countries in the region should refrain from flexing military power.
In the meantime, the region cannot shy away from common regional and global challenges, such as energy transition and mitigating climate change. Those require massive resource allocations that are too burdensome for individual countries to manage. Asia-Pacific countries could start to look at specific projects to undertake together. With specific common projects, greater trust will be developed to facilitate conversation on more difficult issues.
ASEAN has a potentially central role to play in these initiatives. It is the only institution with the mechanisms in place to deal with regional and global issues in both the economic and security spheres. ASEAN plus three and RCEP could be expanded to deal more purposefully with tensions arising from economic relations. Incorporating the agreements of the Comprehensive and Progressive Agreement for Trans-Pacific Partnership into RCEP might be a starting point, but that would require more inclusive implementation.
The biggest problem is the absence of leadership in ASEAN that is committed to directing the regional agenda. Indonesia needs to fulfil this role more actively. After its successful leadership of the G20 and in getting the global agenda back on track, Indonesia has an important responsibility to develop this regional agenda. Indonesia has both the moral authority and convening power to lead the discussion and come up with a concrete agenda as the Chair of ASEAN next year.
First published in EASTASIAFORUM January 12, 2023