Politics
An ugly smudge on an exceptional bike race: When bosses attacked a worker in the Vuelta a España
Sep 24, 2023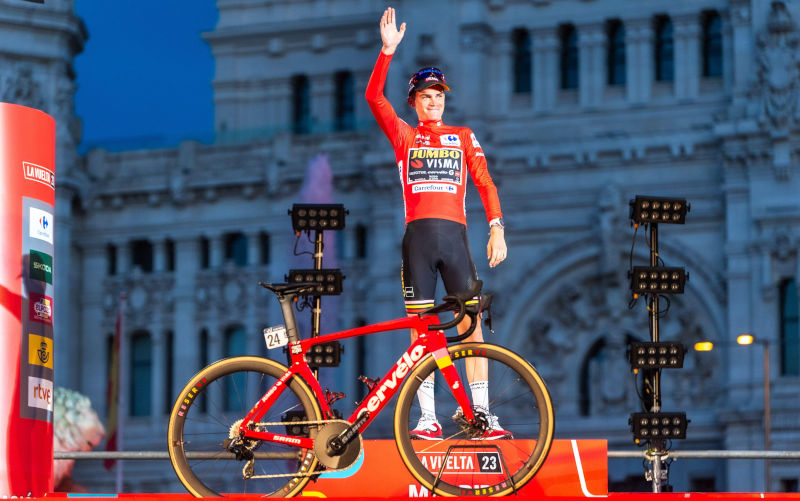 "It will be the workers, with their courage, resolution, and self-sacrifice, who will be chiefly responsible for achieving victory. The petty bourgeoisie will hesitate as long as possible and remain fearful, irresolute and inactive; but when victory is certain it will claim it for itself and will call upon the workers to behave in an orderly fashion, and it will exclude the proletariat from the fruits of victory." Karl Marx, 1850, Address of the Central Committee to the Communist League
During the last few weeks American cyclist Sepp Kuss captured the attention of fans around the world as he dominated the annual Vuelta a España three-week bicycle race, and yesterday the drama he led culminated with him winning the race. Long recognised as one of the greatest contemporary support riders, during the last few years Sepp Kuss's gruelling work made possible a series of incredible grand tour victories for his team, Yumbo-Visma, but he was never a rider designated to win such a race as this, which makes this all the more significant an accomplishment.
One thing about professional cycling's grand tours that isn't obvious if you don't follow bike racing is just how much it is a team sport. There are three grand tours, the Giro de Italia, the Tour de France, and the Vuelta aEspaña. These three-week races cover around 2,000 miles on terrain that presses riders to the limit in ways that force them to depend on whole teams of riders who support them. These team leaders are less concerned about winning a single stage (one day) of the race and are focused on having the shortest overall time for the entire three-week race. These are the General Classification (GC) riders, most teams have one GC rider, and some other riders with specialties (like time trialing—where riders ride against the clock, one rider at a time; or descending, or climbing) but they are essentially there to support their team's GC rider.
These riders are servants of the team's leader—and are referred to as domestiques (best said mimicking Pepé Le Pew's exaggerated French accent), and they make it possible for a winner to win by doing things like slowing down from a peloton cruising at 35 mph to gather a half dozen bottles or food from a support car or roadside team staff member placed at strategic places, then racing forward and distributing these to team members back up towards the front of the race. They ride in front of team leaders for hundreds or thousands of kilometres during a ground tour, which can save 30% of the energy used by those behind them. When GC leaders crash or have mechanical failures, domestiques drop back and assist them and then ride in front of them to pace them back up to the peloton. In many circumstances when they are capable of winning an individual stage they forego these opportunities to stay with their team leader. Sometimes they give their bikes to the GC leader during a mechanical mishap, and then wait for a support car to arrive with a new bike.
The most powerful team in bike racing today is Jumbo-Visma, and they have now accomplished the nearly impossible by winning all three of the grand tours in a single year. Primož Roglič won the Giro d'Italia in May, Jonas Vingegaard  won the Tour de France in July, and for the two weeks their star workhorse domestique has found himself in the surprising position of being the race leader after an incredible stage win on stage six, then surprising everyone with a strong time trial performance, that might otherwise have eliminated him, establishing that it was actually possible for him to retain the jersey and win that he could win the whole race.
Soon Kuss's team, Jumbo-Visma, held first, second, and third place overall in the tour—with Kuss maintaining the leader's red jersey beginning with stage 6, after he'd left the rest of the riders far behind on a grueling mountain stage. For most of the week after this he had a comfortable lead until members of his own team, Jonas Vingegaard and Primož Roglič, began attacking his lead instead of supporting him. Rather than devoting their focus and energy into supporting Sepp Kuss as their leader, his team instead chose to unleash the riders in second and third place, which meant they closed time gaps in ways that they began to position Jonas Vingegaard, to take the leaders jersey off of Kuss's back. While Vingegaard claimed he supported Kuss, instead of helping him on the final stretch of the long climb of Altu de L'Angliru on September 13th (Sepp Kuss's birthday), in the last kilometers he ditched Kuss and sprinted towards the finish, bringing him within 8 seconds of taking the leader's jersey (Roglič had also abandoned him, but with results less immediately threatening Kuss' lead).
This is Sepp Kuss's seventh grand tour, having provided key support for his team's general classification leaders in these previous six tours. His support of his teammate Jonas Vingegaard in the last two Tour de France races provided key support allowing Vingegaard to win these tours. In the most recent Tour de France, international cycling journalists voted Kuss the most valuable domestique for all the work he did for Vingegaard—including forgoing trying to win mountain stages and dropping back and supporting Vingegaardby helping drag him uphill and keeping him from losing time to rivals.
As Vingegaard attacked Kuss, in interviews and press releases the team insisted there was no ill will between these riders, with claims that Vingegaard's attacks on Kuss were not attacks. It's difficult to explain to someone not following cycling what it means that Jumbo-Visma refused to send riders to defend Kuss and his leader's jersey during crucial mountains stages; and while some of the subtleties might be hard to follow, it should fundamentally be understood as a disrespect of a loyal worker whose years of labor made the victories of those attacking him possible. The coaching staff of Vumbo-Visma tried to tell the press that this was a welcome development of all involved, and Vingegaard and Roglič insisted they supported Kuss even as they attacked him. There are traditions of respecting the leader's jersey that Vingegaard disregarded apparently so he could accomplish the extremely difficult task of winning two grand tours in a single year—he would only be the eleventh rider in history to accomplish this (Eddy Merckx did it four times), so the temptation is obvious. Yet there was something unseemly about the way this played out, even though these team leaders eventually backed-off.
Back in 1986, there was a famous Tour de France battle between fellow teammates Bernard Hinault and Greg LeMond after Hinault reneged on promises to support LeMond, but the dynamic of French support for Hinault and LeMond being seen as an outsider created a very different public battle from this. One significant difference is how widely respected Kuss is, and his reputation for modesty and devotion to the riders he supports. Press interviews of professional cyclists tend to be the exact opposite of those with WWF wrestlers, with modesty, honesty and frank comments on one's own shortcomings being the rule; and Kuss has always shied away from anything close to bragging.
During these attacks on the road by his teammates, social media lit up supporting Kuss and shaming Vingegaard and Roglič. The great retired Irish cyclist Sean Kelly (1988 Vuelta champion) harshly criticized Vingegaard and Roglič for abandoning Kuss calling the move "very unfair" and describing it as a betrayal. The huge backlash from the fans, journalists, and other riders impacted the team leadership's decision to finally do the right thing and stop attacking Kuss, but it's hard not to conclude the team only did the right thing after trying everything else. There's already the start of a retroactive continuity campaign trying to create a revisionist history claiming Vingegaard and Roglič hadn't really attacking the man who'd made their past grand tour victories possible, but anyone watching the race saw what really happened.
It's hard to not bring workplace class analysis to all this, with the loyal worker on whom the bosses built their glorious success being trounced instead of supported just when it appears time for their rare glory. While Sepp Kuss, ever the upbeat supportive personality, isn't complaining about how this went down, plenty of cycling fans are. There's something unseemly about Jonas Vingegaard and Primož Roglič being so tempted to try and win two grand tours in a single year instead of supporting their teammate's likely only chance to ever win a grand tour. It is unlikely Roglič would have won the Giro this year without Kuss's support, support which included Kuss riding with covid while supporting Roglič, and the same can be said for Vingegaard in the Tour de France, where Kuss held back plenty of accelerations on climbs to help drag him up mountains.The problem here isn't just Vingegaard and Roglič's lack of gratitude, it's that their actions proclaim they seem to think the Pharaohs themselves built the pyramids.
Jumbo-Visma is an incredibly rich team, they have the best equipment, training, coaches, mechanics, medical team, nutritionists, staff, and support, and they have built a team capable of producing three top GC contenders, and with this wealth they just won first, second, and third place in one of the most difficult bike races on earth. But they've also uncomfortably revealed just how difficult it is to give a worker their due, and in denying Kuss the support he deserves they revealed a familiar workplace dynamic where bosses believe they are responsible for successes built on the backs of others. It is a disrespect of a worker. Completely dominating the podium at the end of the tour already flirts with the sort of dynastic hoggishness that can make fans have second thoughts, but the team's first inclination to not support victory for the worker on whose back the last few years of remarkable successes been built was unseemly.
Sepp Kuss's win was great to watch. It was a rare type of victory for a worker who seldom gets the glory they deserve. A victory won with less support than any other tour I can remember watching, a victory won despite his bosses' efforts to not help him the way he's helped them for years.
First published in COUNTER PUNCH September 19, 2023