Health
ANNE DUGGAN. The second Atlas of Healthcare Variation – a guide to better practice
Jul 7, 2017
The recently-released second Australian Atlas of Healthcare Variation reveals marked variations in the rates of common procedures across the country. It's a valuable source of data to guide better allocation of health care resources through more appropriate, equitable and patient-centred care.
When most people think about improvements in health care, they often assume that such improvements can result from either of two things: new and better treatments (hence the media's appetite for "breakthroughs"), or increased funding, whether from the government or elsewhere. But that is missing the main game. Effectiveness improvements – getting a better result from what we do – are where the main gains can be made, but they get much less attention.
The recent launch of a landmark report exploring healthcare variation in Australia shows the scale of the improvement opportunities – in terms of more appropriate, equitable and patient-centred care – that can be unlocked through the study of current practices.
The Australian Commission on Safety and Quality in Health Care's Second Australian Atlas of Healthcare Variation shows there are marked variations in the rates of common procedures such as cataract surgery, hysterectomy, endometrial ablation and knee replacement across the country. Rates of these hospitalisations can be as much as 21 times as high in one local area in Australia compared with another.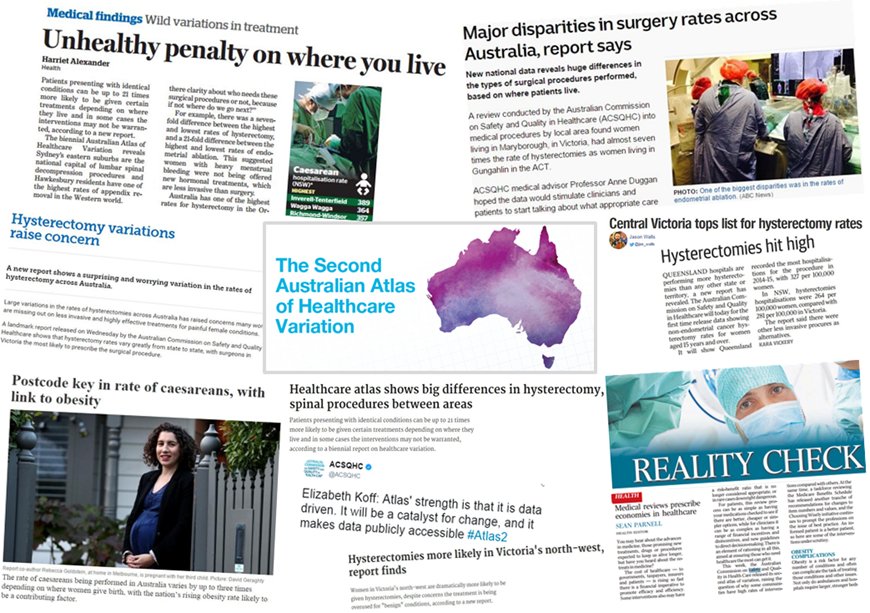 The second Atlas also reveals large variation in rates of potentially preventable hospitalisation for chronic obstructive pulmonary (lung) disease, heart failure, cellulitis, kidney and urinary tract infections and diabetes complications across the country. These five conditions accounted for almost half (47%) of the 634,300 potentially preventable hospitalisations in Australia in 2014–15.
As with the first Atlas, which was published in November 2015 focusing on a different set of topics and indicators, the second Atlas is a large document with many individual story threads. One, which has drawn much media attention, focuses on women's health and the very large variation in the local area rates of women receiving hysterectomy and endometrial ablation Hysterectomy is becoming less common in developed countries as more women with heavy menstrual bleeding opt for newer and less invasive treatment options, of which endometrial ablation is an example. Yet the fact that the hysterectomy rate can be 6.6 times as high in one area compared with another suggests many women may not be aware endometrial ablation – let alone pharmaceutical treatments that avoid the need for surgery altogether in up to 80% of women – even exist.
Similarly, while some variation in the rate of potentially preventable hospitalisations must be expected, the scale of the differences strongly suggest part of the variation seen across the country can and must be reduced. Rates of hospitalisations for diabetes complications and cellulitis vary by up to 12-fold, while rates for chronic obstructive pulmonary disease (COPD) vary by up to 16-fold. These differences were found despite the results having been standardised for age and sex, which means the variations cannot be the result of the population in one area being older than another or having a different gender balance.
The Atlas also paints a detailed picture of the extra health challenges Aboriginal and Torres Strait Islander Australians face, both in terms of the background health risks and also the difficulties in accessing appropriate health care. Aboriginal and Torres Strait Islander Australians have much higher hospitalisation rates for many of the chronic conditions specified in the Atlas – nearly five times as high as other Australians for COPD, and 4.1 times as high for diabetes complications. They also have lower rates of surgical or maternity procedures (such as a 17% lower rate for cataract surgery, a 30% lower rate for endometrial ablation and a 33% lower rate for knee replacement compared to other Australians). The lower rate for cataract surgery is despite the fact that loss of vision due to unoperated cataract is 12 times as high among Aboriginal and Torres Strait Islander people compared with other Australians.
But the Atlas is not simply a collection of intriguing and challenging new findings. The Atlas contains another element that distinguishes it from most other statistical health reports: detailed recommendations for action.
There are 49 recommendations in the Atlas, which offer an appropriately holistic focus by inviting action from right across the healthcare system – including from Primary Health Networks, Local Hospital Networks, Aboriginal Community Controlled Health Services, the Australian Government, state and territory health departments, the Medicare Benefits Schedule Review Taskforce, medical colleges, and relevant peak bodies, data and statistical agencies, as well as the Commission itself.
The recommendations range from the high-level (such as a shift to a better-integrated primary care system modelled on the Health Care Home model) to the specific (such as for colleges to include particular procedures and education in their vocational training programs, and for the MBS Review Taskforce to align MBS item descriptors with best-practice care).
The Commission itself is contributing to the response: it has already produced one clinical care standard, on heavy menstrual bleeding, as a result of the findings of the first Atlas. The second Atlas includes recommendations for the Commission to prepare two more clinical care standards: one on atrial fibrillation, and the other on perineal care during vaginal birth.
The goal in all of this work is securing better and more integrated care for patients. There are two sides to this coin.
Helping consumers to be more active in their own care is one essential component. The Atlas itself will contribute to that by assisting members of the public to be more engaged and informed, to know more about their treatment options and to have a better sense of the questions they can usefully ask to make decisions that are best for them.
The other side of the coin is the engagement required from clinicians in local areas, and indeed the health system more generally at the community level, to interrogate the findings to find out if there is anything clinicians or managers can usefully do to better match services to patient needs.
Buy-in from right across the health system – incorporating patients, clinicians, managers, and from state and territory health departments as well as the Australian Government – is essential for the Atlas to have the desired effect of driving improvements. The Commission invested much effort to ensure this occurs: over 150 clinicians, researchers, policy experts and consumer representatives were consulted in the development of the second Atlas. Early signs are that this inclusive and consultative approach is paying off.
Launching the report in Canberra on 7 June, the Secretary of the Australian Government Department of Health, Martin Bowles, said the Atlas "has shown how population data and 'big data' can be used to identify opportunities for improving the delivery of appropriate care". NSW Health Secretary Elizabeth Koff, who also spoke at the launch, said the Atlas "has the potential to start conversations with the community to understand the nature of the clinical care they are provided with and to commence a dialogue to what options for treatment they have – but most importantly what outcomes of care they expect".
By themselves, statistics cannot change systems. But they are powerful nevertheless: statistics can provide the impetus for change, and show what changes are most needed, and where. And that represents an important step towards the gains we all know are waiting to be made.
Professor Anne Duggan is a Senior Medical Advisor for the Australian Commission on Safety and Quality in Health Care, and chair of the Commission's Atlas Advisory Group.
This article was first posted in Croakey on June 29 2017