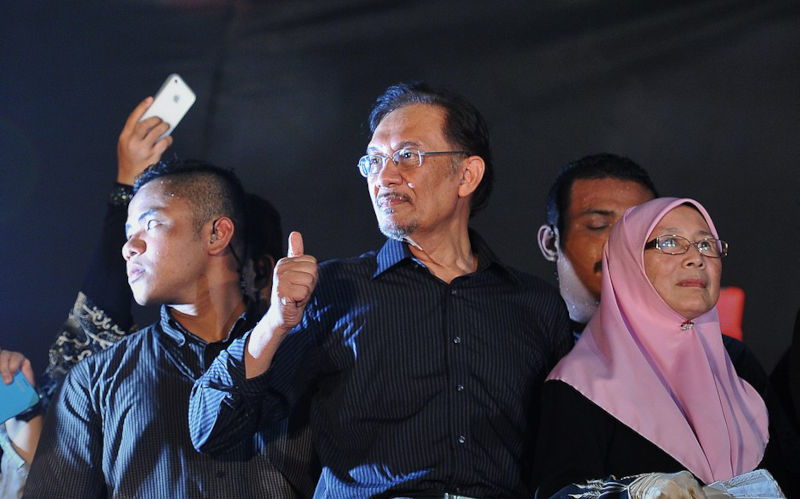 "Yah, man … but how long laaa?" A Malaysian friend told me yesterday when I asked him about the news that Anwar Ibrahim had been sworn in as Malaysia's 10th Prime Minister.
His wry comment seems to be the underlying concern of Malaysians as Anwar's Pakatan Harapan (Alliance of Hope) coalition managed to cobble together a working majority in the Dewan Rakyat (Lower House of Parliament), in the wake of last Saturday's election.
Last weekend's election results resulted in a hung Parliament – with no party reaching the required number of 112 seats to command a simple majority in the Dewan Rakyat.
As I predicted in last week's article, Anwar Ibrahim's Pakatan Harapan (PH) and former PM Muhyiddin Yassin's Perikatan Nasional (PN) coalitions won the most number of seats – with 82 and 73 respectively.
And as expected, the electorate's open dislike for UMNO boss Zahid Hamidi translated into protest votes and decimated the Barisan Nasional (BN) coalition of former PM Ismail Sabri –winning only 30 seats, its worst performance since 1957.
The other big loser was 97-year-old former PM Mahathir Mohamad, who's motley Gerakan Tanah Air (Homeland Movement) group was hammered in the polls, not winning a single seat. The old warhorse even lost his own seat – finally leaving the Malaysian political scene with only a whimper.
The surprise winner and ultimately kingmakers in the post-election washup was the Gabungan Parti Sarawak (Sarawak Parties Alliance), an East Malaysia based coalition of former BN component parties. Extremely popular with the Indigenous communities of Sarawak as well as the main ethnic groups – GPS won 23 seats. Their leader Abang Johari Openg confirmed on Thursday that GPS had thrown its support behind Anwar – delivering Government, and it is rumoured that he is the frontrunner for the Deputy Prime Minister's position.
There were also some high-profile scalps in Saturday's outcome. Apart from Dr Mahathir and his son Mukhriz Mahathir, high-profile BN Health Minister Khairy Jamaluddin, Anwar Ibrahim's daughter Nurul Izzah Anwar, Sheraton Move instigator Azmin Ali, and Malaysian Indian Congress President Vigneswaran all lost their seats.
The MIC loss was expected, as Malaysian Indians have well and truly shifted their allegiances to Anwar's PH, but the losses of Mukhriz, Khairy, Nurul Izzah and Azmin was surprising. All four were rising stars and have been previously touted as potential future PMs.
As soon as the results were declared, the jockeying for Putrajaya (the Malaysian PM's office) began.
Anwar's Pakatan, a coalition of centre-left, reformist, multi-ethnic parties, with the greatest number of seats and votes was on one side, with Muhyiddin's Perikatan, a grouping of Malay-based conservative parties including the hard-line Islamic party PAS – on the other.
And waiting in the wings to be the kingmakers were GPS and BN, as well as 13 Independent and minor party newly elected MPs.
His Royal Highness, Sultan Abdullah, the King of Malaysia – also released a couple of tactically-timed pronouncements urging the parties to negotiate a PH-PN unity government for the sake of the nation.
Muhyiddin flatly refused this – saying PN could not work with PH. This was obviously due to pan-Islamic PAS not supporting Anwar's reformist agenda, leaving Anwar open to negotiate with GPS and with BN.
Sources I spoke to at the start of this week said that GPS was always open to supporting PH, as its member parties were reformist parties, while BN were basically touting themselves to anyone who would listen – basically seeking to remain relevant after last weekend's drubbing.
This posed a conundrum for Anwar. Even with GPS support of 23 seats he would still need the support of all 13 minor party/Independent MPs as well as BN to secure a majority. However, the ranks of the BN MPs are littered with disgraced former PM Najib Razak's cronies, and this could alienate some PH members – who want to see these people prosecuted for alleged corruption.
Anwar would have also baulked at having to look to PN as a partner in government, given that PH voters have rejected PN member party PAS's hard-line Islamic platform.
Then on Thursday 24 November, the King proclaimed that he was confident that Anwar Ibrahim's coalition had a majority in the Dewan Rakyat and Anwar was duly sworn-in as Malaysia's 10th Prime Minister.
Anwar also announced that his 'unity government' would involve GPS, BN, as well as Independents and minor party lawmakers. While I am yet to confirm exact numbers, it looks like the Pakatan government will have at least 137 seats in the 222 seat Dewan Rakyat.
This leaves Perikatan as the Opposition. Muhyiddin has already been complaining that he does not believe Anwar has the numbers – Anwar has already called his bluff and said his first order of business will be to test his majority on the floor of Parliament when it sits on 19 December.
Anwar has yet to announce his Cabinet and Ministry – how he will reward his coalition partners, and who he will appoint to key portfolios including Deputy Prime Minister, Foreign Affairs and Trade, Health, Education, and Economic Development.
Malaysians are also keen to see what he will do about minority rights, Malay privilege, women, the LGBTQI+ community, and promised stance to stamp out corruption. He has also said that he will honour his election commitment of not drawing a Prime Ministerial salary – a move that sources tell me has gone down extremely well. I will write more on this as details come to light and what Australia can expect from an Anwar-led government.
Ending off with a comment on my Malaysian friend's wry observation about the longevity of the Malaysian government. It is interesting – what with BN, who overthrew Muhyiddin's government in 2021, now partners with Pakatan. It is something that Malaysians have cynically come to expect – that the governments they elect are removed not at the ballot box, but in backroom deals.
It is early days yet, and with more machinations to come, laaaaa!