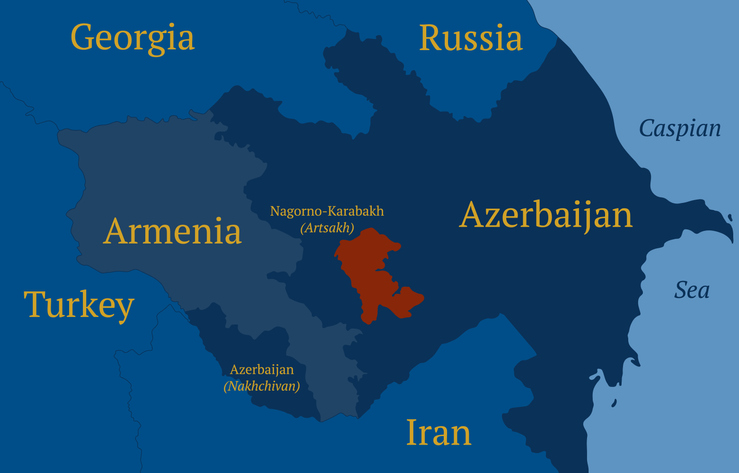 A campaign of ethnic cleansing, or what the former Chief Prosecutor of the International Criminal Court, Luis Moreno Ocampo, has warned may qualify as 'Genocide', is currently taking place against the 120,000 indigenous Christian Armenian population of Artsakh (aka Nagorno Karabakh). A historic Christian Armenian enclave within the borders of today's Azerbaijan, its Armenian population has been subjected to a nine month blockade and a subsequent brutal military assault that has left hundreds killed and tens of thousands as refugees.
Families are fleeing Nagorno Karabakh as we write this. They are fleeing without possessions, without anywhere to go, and without hope. They are innocent victims of racial hatred combined with Great Power geopolitics in a region that, though far from Australia, has a special place in our history. Because in the early twentieth century, Australians took a stand against the Armenian genocide—drawing international attention to the plight of persecuted Armenians and providing much needed humanitarian support.
We are asking the Australian public for their help again.
Just over a century ago Armenia's plight became a major cause in Australia. The Anzac landing at Gallipoli on 25 April 1915 coincided with systematic massacres and deportations of the Ottoman Empire's Armenian population—an event known today as the Armenian genocide. Over one million Armenians perished and more than half-a-million became refugees—scattered across the Caucasus and the Middle East. Some Anzac soldiers witnessed the genocide while they were prisoners in Turkish captivity. Others, such as the Anzac Light Horsemen, helped to liberate survivors during the allied advance on the Palestine/Syria front in 1918.
Today, in Australian newspapers, you will read more about a fuel station explosion in Nagorno Karabakh than ethnic cleansing. But in the early 1900s, the Australian media covered the genocide with great regularity and the story of Armenian suffering evoked a strong humanitarian response. The sympathy of ordinary Australians led to the establishment of the Armenian Relief Fund in 1915, which continued its work for over a decade. Then prime minister, Billy Hughes, provided free transport of relief supplies for Armenian refugees aboard the new Commonwealth Government Line of Steamers.
The relief movement culminated in the establishment of an Australian-run orphanage for some 1700 Armenian orphans in Beirut, Lebanon. It's a story that Prof. Peter Stanley and Vicken Babkenian tell for the first time in their book 'Armenia, Australia and the Great War' (NewSouth 2016).
The humanitarian movement, sparked by outrage at the treatment of Armenian families, transcended politics. It mobilised the sympathy of a broad spectrum of Australian religious, civic and political leaders, from ardent nationalists and patriots to pacifists and indigenous rights activists. The display of interdenominational solidarity prompted the Roman Catholic Archbishop of South Australia, Dr Robert Spence to remark in 1922, "Thank God here is something upon which we can all unite."
Australian relief committees worked closely with their British and American counterparts, forming a humanitarian alliance a century before AUKUS. And it was particularly Australian women who responded to the plight of the Armenians. Leading Australian feminists and intellectuals such as Marguerite Dale, Jessie Webb and Eleanor Mackinnon, were the first women delegates of any British Dominion or Colony to the League of Nations General Assembly, and the suffering of the Armenian people was upper most on their minds.
Mackinnon, a prominent Australian Red Cross leader during the war, and an executive member of the National Council of Women, was among the most active supporters of the Armenian Relief Fund. On 25 September 1925, Mackinnon addressed the General Assembly. Standing before the representatives of fifty-odd countries (mostly men), she delivered an impassioned discourse about a cause, "dear to her heart." Mackinnon stated that the Armenians had "lived in such a state of misery, persecution and suffering and have been subjugated to such atrocities as might well freeze our blood even to hear of them. I do not wish to harrow your feelings, but I would ask you whether we are not indebted to this people."
Fast forward a century, and the Armenians are again being persecuted and displaced from their ancient homeland by an oil rich authoritarian regime. You may struggle to find comprehensive news coverage of the massacres that are occurring in Nagorno Karabakh as you read this. Political and capital interests seem to be preventing major world powers from intervening to stop the tragedy, or even reporting on its scale.
We are urging the Australian government and people to provide relief to as many of the survivors as possible. Families are crossing out of Nagorno Karabakh with no food or water, and with nowhere to go. They are traumatised, frightened and in danger.
Your support honours the legacy of our humanitarian forebears, those who, a century ago, helped shape the infant Commonwealth into the Australia of today. Our culture was built on the idea of helping the underdog, of never leaving a mate behind. In 1923, Dr Alexander Leeper, master of Trinity College at the University of Melbourne and a leader of the Armenian Relief Fund, put it this way, "all good Australians should regard it as a privilege that theirs, the youngest of nations, should have the opportunity to save and restore members of the oldest of the nations."