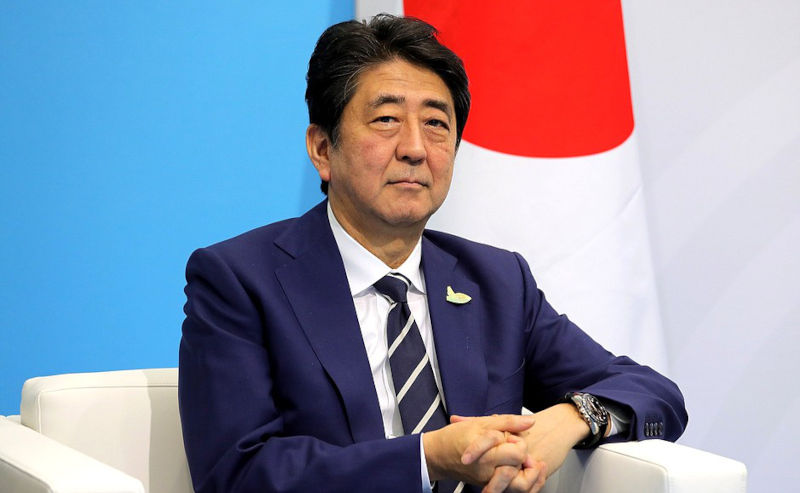 In Asia media this week: Abe's key Indo Pacific role; rules-based order questioned; Thailand-Myanmar military links; no end to Sri Lanka turmoil; China talks about trade issues.
The shock of Shinzo Abe's assassination was felt around the world but nowhere more acutely, Japan aside, than in India, where Prime Minister Narendra Modi immediately declared a national day of mourning.
At the same time, Modi wrote a blog post, printed in The Hindu newspaper, under the title My Friend, Abe San. "Shinzo Abe – an outstanding leader of Japan, a towering global statesman, and a great champion of India-Japan friendship – is not among us anymore," Modi wrote. "Japan and the world have lost a great visionary. And I have lost a dear friend."
Starting in 2007, Modi said, Abe had laid the ground for the emergence of the Indo Pacific as a contemporary political, strategic and economic reality. "Quietly and without fanfare, and overcoming hesitation at home and skepticism abroad, he transformed Japan's strategic engagement…across the Indo Pacific region."
The inside story of Abe's role in developing the concept of the Indo Pacific was told in Singapore's The Straits Times. Ravi Velloor, an associate editor of the paper and former South Asian bureau chief, wrote of how in 2006 Abe, then a relatively junior minister– "a mere calf in the old-boy herd of Liberal-Democratic Party (LDP) elephants" – managed to arrange a meeting with India's then-prime minister Manmohan Singh.
Abe returned to New Delhi the next year as prime minister of Japan and laid out his vision for the "confluence of the two seas".
In South Korea, a country once colonised by Japan, Abe's death brought a somber response. President Yoon Suk-yeol visited the Japanese Embassy in Seoul to pay his respects.
The Korea Herald dubbed Yoon's public sorrow "condolence diplomacy." Expectations had been cautiously raised that Abe's death might give momentum to the Yoon administration's efforts to improve Korea-Japan relations, the paper said. The outlook, however, remained uncertain.
In China, the official Global Times website noted in an opinion piece that different people viewed Abe's legacy differently. "It's impossible to expect Chinese media and netizens to forget this when commenting on Abe's death," it said.
Why should the West still make the rules?
Andrew Sheng, a respected Chinese banker, financial regulator and policy adviser, raises the question of who decides what the international rules-based order should be.
Writing in Hong Kong's South China Morning Post, Sheng says: "Every day we are told we must defend the rules-based order. But whose order? What rules? Why should we defend a system if we had no say in shaping it."
SCMP describes Sheng, now a distinguished fellow at the Asia Global Institute at Hong Kong University, as a writer on global issues from an Asian perspective.
His opinion piece carries the headline: "Whose world? Whose order? Time has passed for the West to call the shots."
The article gives an interesting historical account of the evolving answer to the question: whose order?
"The unstable European security architecture was settled decisively by the US in two world wars because of its overwhelming military, economic and industrial power," Sheng writes.
"But in today's multi-polar situation, who decides on the rules of the international order? If both sides accuse the other of being evil and illegitimate, what decides it other than the use of arms?
"If we truly believe in democracy, can all 8 billion people in the world vote on the rules-based order, or do we still leave it to the Group of 7?
"No order is stable without true legitimacy based on democratic principles. How to achieve that order remains a truly open question."
Thailand and Myanmar – comrades in arms
Almost two weeks ago, a Myanmar MiG-29 fighter flew into Thai airspace in pursuit of junta opponents who had crossed into Thailand – potentially endangering Thai civilians. Yet Thai prime minister Prayut Chan-o-cha dismissed the incursion as no big deal.
But Bangkok Post columnist Thitinan Pongsudhirak regards it as a very big deal indeed. "Viral social media VDOs have shown Thai villagers and schoolchildren  along the Myanmar border in Tak province running for their lives," he wrote.
Thitinan, director of the Institute of Security and International Studies at Chulalongkorn University, said by dismissing the incursion the Thai government became complicit in helping the Tatmadaw (the Myanmar military) terrorise its own people.
"Letting Myanmar's air force attack an opposition group from Thai territory is indefensible," he wrote.
The Myanmar junta wanted to copy Thailand's 2014 coup makers by introducing a military-backed constitution followed by an election under its rules. "It looks like Myanmar's military is taking its cue from the Thai side, intent on taking over power by force and rigging rules to stay in office indefinitely," he said.
"The message is clear enough. If Myanmar's military government can become more like Thailand's with a crooked constitution and bogus polls, then Thailand's military-backed regime can be more like Myanmar's Tatmadaw by manipulating and robbing its own people of their vote, if that is what it takes to hold on to power."
Sri Lanka roadmap an empty page
The devastating political, economic and social turmoil in Sri Lanka continues without let-up and the way to even the beginning of a road ahead remains confused and uncertain. The plan is an empty page.
President Gotabaya Rajapaksa fled the country, courtesy of the air force, in an austere, Soviet-era Antonov AN-32 military aircraft – but without resigning his post, as he had promised.
Instead, he asked the Speaker to appoint Prime Minister Ranil Wickremesinghe as acting president, sparking even more anger among anti-government protesters. Wickremesinghe ordered a state of emergency and a curfew, which demonstrators ignored. According to ucanews.com, the Catholic Asian website, at least one person has been killed by the military and 126 admitted to hospital.
India's The Hindu newspaper said in an editorial the next few days were crucial for the country. "[They] will show whether the political class can rise above its differences and put in place an alternative regime that can steer the country," the paper said.
But as the week went on there were no signs of the country's elite agreeing on how to restore order and bring in a semblance of governance.
Sri Lanka's Daily Mirror Online quoted the country's third party, Janatha Vimukthi Peramuna, as saying parliament should elect a new president, as allowed by the constitution.
But ucanews.com reported that MPs were scrambling to put together an all-party government.
And India's The Statesman said political parties were threatening a vote of no-confidence in Wickremesinghe. Opposition parties had said he should resign immediately and Parliament should be recalled.
To add to the uncertainty, Ravi Velloor in Singapore's The Straits Times, reported the fleeing president Rajapaksa did not want to end up too far from home.
Velloor, the paper's South Asia expert, said Rajapaksa had asked India for refuge in the nearby southern state of Kerala – but India had refused.
"Even in the worst setback the family has suffered in their political history, they harbour visions of making a comeback," he said.
Two sides to China-trade story
Australia's trade with China remains strong but it is slipping. Latest figures show that in the first half of 2022, bilateral trade slumped by 3.1 per cent, year on year. In that time, China's overall foreign trade grew by 10.3 per cent.
"The underperformance of bilateral trade certainly adds to the frustration among both the Chinese and Australian business communities," China's official Global Times website commented, in an article labelled "GT Voice."
Foreign Ministers Wang Yi and Penny Wong had met at the G20 foreign ministers' meeting – the first such dialogue in three years. "Yet Australian Prime Minister Anthony Albanese's response after the meeting indicated that Australia's internal voice towards China remains complicated," the article said. "And the complexity will only make it harder to resolve trade issues between the two countries."
Global Times listed issues that concerned China, such as the banning of Huawei from providing 5G equipment, the ban on products from Xinjiang, and anti-dumping and anti-subsidy investigations against Chinese exporters.
"Indeed, there are increasing positive signals foreboding the possibility of easing trade tensions between the two countries," the piece said. "But the question is: to what extent can the positive signals be translated into actual improvement?
"If Australia is really sincere about resolving some trade issues, it cannot just talk about its concerns and ignore China's."