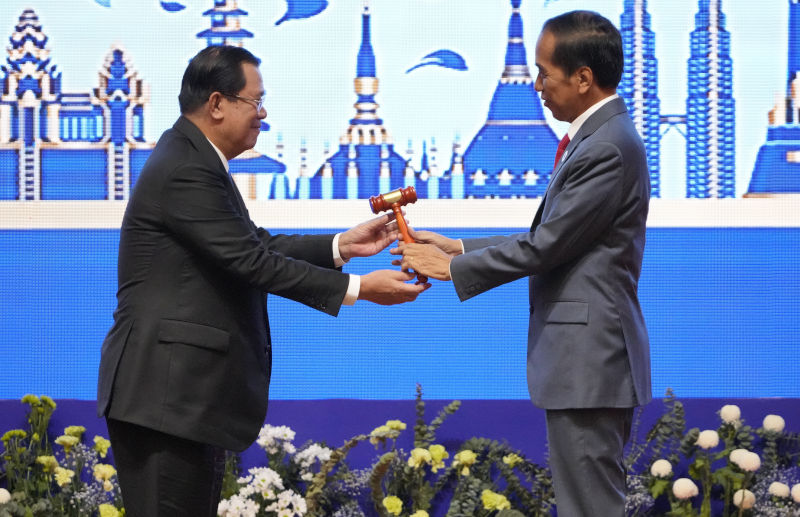 In Asian media this week – Indonesia to be an active ASEAN chair. Plus – South Korea's global aspirations; Western and Asian views of the West; Anwar pledges to crack down on corruption; Softer tones in Taiwan rhetoric; Kishida's diminishing political capital.
Indonesia this year is the chair of ASEAN and The Jakarta Post lists five big challenges confronting the organisation and its 2023 leader, Indonesian President Joko "Jokowi" Widodo.
The first, the paper said in a commentary, is to navigate the strategic rivalry between the US and China.
The paper said: "As the chair, Indonesia must continuously emphasise ASEAN's strategic interests, which are that the grouping wants neither a pax-Americana nor a pax-Sinica in the region."
Other challenges were: post-pandemic economic recovery; regional co-operation (especially on the issue of the South China Sea); the continued defiance of the Myanmar junta; and strengthening ASEAN as an institution.
The paper noted the Myanmar question was a problem more than a challenge. "Since the coup in February, 2021 there has been no progress on the resolution of this problem," it said.
ASEAN secretary-general Lim Jock Hoi, also writing in The Jakarta Post, said the region has recovered from the most severe phase of the COVID pandemic but new shocks had emerged – global economic slowdown, higher food and energy prices, climate disasters and continued trade tensions.
The region's resilience would help counter the possible far-reaching damage of these shocks.
"The region's policy space, built over the years of successfully navigating the previous economic crises, will ensure that both monetary and fiscal policies remain responsive and flexible to deal with the spillovers," he said.
In the Bangkok Post, regional affairs columnist Kavi Chongkittavorn said "Jokowi" would promote the relevance of ASEAN and its importance as a hub of economic growth.
Kavi said the Indonesian president's stature had gone up several notches following his success as chair of the G20 in 2022.
"Indonesia's new global profile cannot afford to allow the ASEAN chair to be benign and non-productive," he said.
Indo-Pacific strategy a step towards global role
South Korea is widening its diplomatic reach beyond North-east Asia and Korea-US links by adopting a new Indo-Pacific strategy – a step towards a stronger global role.
The Korea Herald reported that Foreign Minister Park Jin said while unveiling the strategy that the country had to do its part to promote freedom and prosperity in the region so it could take the next leap to expand its global imprint.
"Without a doubt, we are living in an era of a burgeoning Indo-Pacific, home to 65 percent of the world's population, 62 percent of the world's gross domestic product and 46 percent of international trade," Park said.
Commentator Song Kyung-jin said in an article in The Korea Times a peaceful and prosperous Indo-Pacific was particularly important for South Korea.
Song, executive director of the Innovative Economy Forum, said the new strategy was a sign of national confidence, providing building blocks for South Korea's aspiration to be a global pivotal state.
Former diplomat Kim Won-soo said the main factor behind the emerging Indo-Pacific concept was the rise of Asia, particularly China, in world politics.
Kim, also writing in The Korea Times, said it also reflected the growing competition between the US and China camps.
"Both camps are trying hard to attract the countries that are on the fence," he wrote. "So far, Indo-Pacific strategies have emerged largely among the countries within the close to the American camp.
"China is watching this development closely and becoming increasingly wary that it might find itself encircled by US allies and partners."
Different ways of assessing the strength of the West
Hong Kong's South China Morning Post has published two recaps of 2022 that show the differences between Western and Asian views of the world and its affairs.
One was written by Robert Delaney, the Post's North America bureau chief. The gist is that 2022 brought Western democracies together.
The other was written by Wang Wen, a professor at Beijing's Renmin University of China. Its theme is that 2022 was the year of what he termed 'de-Westernisation'.
Delaney gave examples of setbacks for authoritarian countries – Putin's diminished position after his failures in Ukraine; China's about-face, under popular pressure, on its strict COVID containment measures; Iran's turmoil over the government's atrocious treatment of women.
"Is it too early to predict that 2022 was the beginning of the end of the democratic recession that US Secretary of State Anthony Blinken keeps warning us about?" he asked. "Was it the year that autocracy began to collapse under its own weight?
"Blinken and his boss, President Joe Biden, must be heading into 2023 with more hope than they had at any point in the year."
Wang said the global significance of 2022 may be comparable to that of 1991, when the Cold War ended. "If there's a keyword, it's de-Westernisation," he wrote.
He said non-Western countries were rising up against the established order in search of a more independent stance.
The re-election of Luiz Inacio Lula da Silva as president in Brazil meant that 80 per cent of Latin America was now controlled by Left wing governments.
ASEAN had carefully kept the same distance from China as it had from the US, strengthening its neutral position.
Nations of Central Asia signed important documents, including a treaty of friendship and co-operation. They were keeping an equal distance from Russia, the US and Europe, entering a new stage of regional integration.
In the Middle East, 22 countries of the Arab world were focusing on their independent development.
Wang said: "Western media tends to focus in the G2 scenario of US-China competition when the world is presenting a dual-track scenario of Western hegemony vs a de-Westernised and more independent development.
"The West cannot stop this trend."
Anwar hopes for corruption repentance (or else)
Malaysia has a wretched history of corruption so it is not surprising that new Prime Minister Anwar Ibrahim used his New Year message to warn bureaucrats he would not tolerate old practices – and to offer reassurance to foreign investors.
The New Straits Times reported Anwar as saying he would guarantee good governance and a corruption-free Malaysia.
He said he would not allow public servants and enforcement bodies to ask for kickback and impose extra costs on businesses.
"I will not tolerate this negligence that has destroyed the country all this time," he said.
"Hopefully there will be repentance. Otherwise strong and harsh action must be taken."
The paper said in an editorial corruption had plagued the country since independence. It was alive and (un)well.
"Corruption is a slithering snake pit in every government's dark underbelly," the paper said.
"How did it originate in our civil service? Observe the food chain of the bosses, their big bosses and their bigger bosses."
Soothing words but hard reality remains
Verbal warfare between China and Taiwan calmed down over the New Year.
China's President Xi Jinping, in his New Year address, made only a brief reference to Taiwan and it was friendly. People on both sides of the Taiwan Strait were members of the same family, he said.
And Song Tao, the Communist Party's new senior official on Taiwan affairs, wrote a conciliatory message. Global Times, an official English-language newspaper, noted in the 1800-word message, Song used the word "peace" seven times.
And the Taipei Times reported Taiwan's President Tsai Ing-wen used her message to urge Beijing to resume talks to help maintain stability in the region.
"War is never an option for solving a problem," she said.
But the softer tones were not much more than window dressing.
Global Times also ran a threatening article attacking Taiwan's "secessionists".
"The Chinese mainland's military power is overwhelmingly superior to that of Taiwan island," Global Times said. "Colluding with the US will only put the island's secessionists in an increasingly dangerous position."
And Tsai's call for new talks came only days after she restored the period of military conscription for young men from four months to one year.
Taipei Times said the new conscription system was part of an updated national defence plan.
Incalculable damage: China would have nothing to gain and everything to lose if it attacked Taiwan, according to an analytical piece in India's The Statesman newspaper.
International affairs commentator Rajaram Panda says China has acquired greater military muscle but it is still not a match for US might.
"If China becomes adventurous and militarily attacks Taiwan, the US most likely would intervene," he says. "If such a situation unfolds it would cause incalculable damage to China's military, economy and civilian infrastructure and result in China's total isolation from the global economy and international organisations."
Kishida safer as opponents are divided
Japanese Prime Minister Fumio Kishida has endured a rough 2022 and faces a difficult year ahead. The Japan Times uses a Japanese proverb to describe his political plight: "One inch ahead is darkness."
A commentary by staff writer Kanako Takahara says Kishida starts the new year with diminished political capital.
Rows over the Unification Church, the late Shinzo Abe's state funeral and ways of funding an unprecedented doubling of defence spending are some of the factors that have led members of his party to question his leadership.
His poll ratings have almost halved, showing voters are also unhappy.
Kishida might well be able to survive 2023, the writer says. But that is not because of his ability as prime minister. Rather, it is because of divisions among those in his party who oppose him.
The article quotes Katsuyuki Yakushiji, a political science professor at Toyo University as saying there is no group within the Liberal Democratic Party with the power to oust Kishida.
"There is no viable candidate who can replace him."