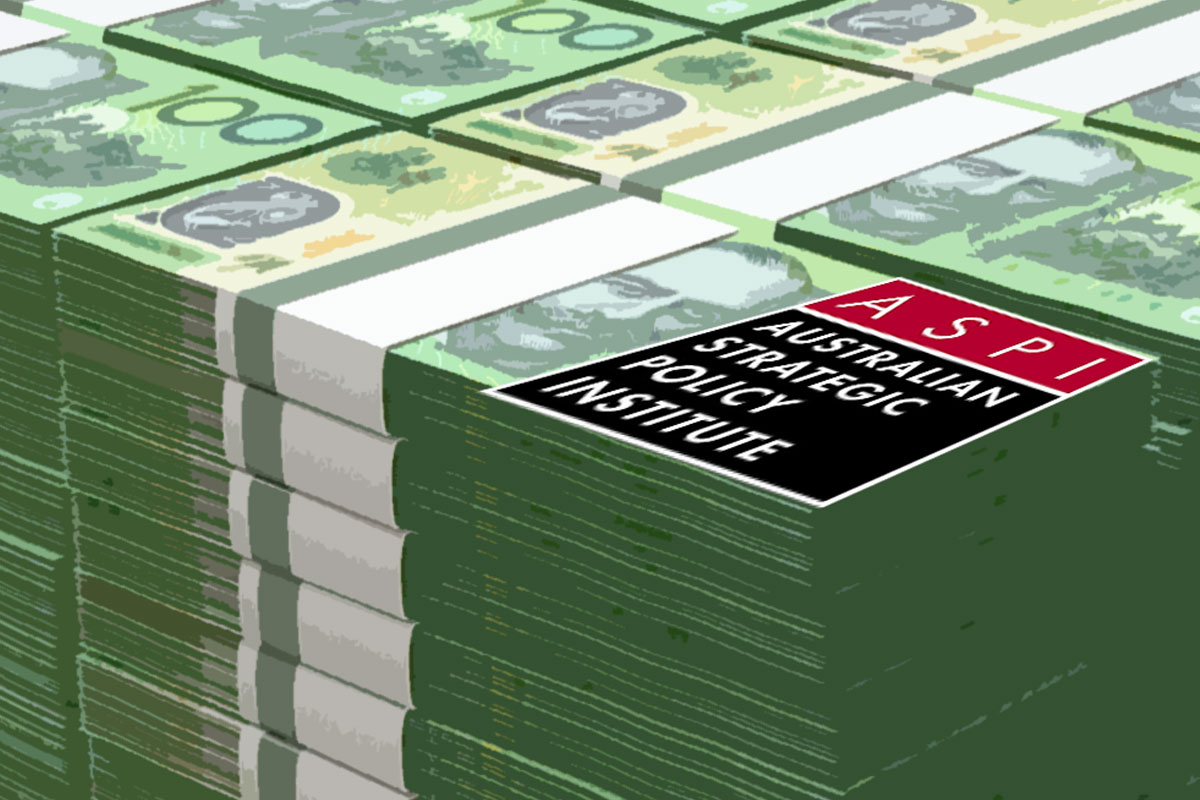 Scott Morrison's latest billion-dollar missile spend was leaked to the media and then talked up by ASPI whose sponsors have raked in $51 billion in Defence Department contracts whilst doling cash to the highly-conflicted "think-tank"
Analysis of Department of Finance figures shows that the Australian Strategic Policy Institute's (ASPI) 12 weapons manufacturing sponsors have collected more than $51 billion in government contracts since the think-tank was formed in 2001.
When current ASPI Executive Director Peter Jennings took up his position in 2011, the think tank generated around $500,000 in revenue over and above the $3.5 million annual grant it received from the government.
Last year ASPI collected nearly $7 million in sponsorship and commercial revenue, a 1,400% increase in less than ten years. A significant amount has come from the US government which has commissioned ASPI to write research reports attacking China.
However, for ASPI's commercial and weapons sponsors it would appear their patronage is getting them access to senior military personnel and senior politicians.
In the last full year before the impact of COVID-19, ASPI hosted 142 events bringing together defence decision makers and defence suppliers. One of those events, the War in 2025 conference was sponsored by Thales, Northrop Grumman and Lockheed Martin; and the then Defence Minister Linda Reynolds was a keynote speaker.
In its 2018-19 annual report, ASPI said participants at that conference were given the opportunity to have "closed-door discussions with government departments and agencies."
Closed doors and open cheque books
Among ASPI sponsors, Boeing tops the list having collected $10.2 billion in Defence contracts since ASPI's formation. Last month ASPI wrote a report recommending the government purchase a fleet of unmanned submarines from Boeing at a cost of $70 million each.
French company Thales has been awarded $8.4 billion in contracts, with $8.1 billion to British company BAE Systems and $4.7 billion to US missile maker Raytheon. Nine out of 12 weapons makers listed as ASPI backers have each collected over a billion dollars in government contracts.  
Yesterday Prime Minister Scott Morrison announced the government would spend $1 billion on a new missile system to be built in Australia. The decision of which company will get that contract has not been made but the prime minister made his announcement at a South Australian facility owned by Raytheon.   
Media in on the missile promotion      
More than 12 hours before the prime minister announced to the nation that Australia was going to build its own missile systems, Greg Sheridan from The Australian had the scoop—along with The Age/SMH, Nine Newspapers stablemate Australian Financial Review and the ABC.
And with military precision, they all fired off their online reports at 10:30 pm… to be more precise at 22:30 hrs. 
The Age and Sydney Morning Herald both quoted ASPI in their coverage as did The Conversation, along with others, they listed potential weapons maker partners for this homegrown missile mission.
Apart from the fact none of these companies are Australian, most were listed by ASPI in a report it published last year. Of the five potential partner companies being touted by mainstream media — Raytheon (USA), Lockheed Martin (USA), Kongsberg (Norway), Rafeal (Israel) and BAE Systems (UK) — all but one is a long-term financial backer of ASPI. 
Commercialised comment
Since ASPI's foundation in 2001, when it was created to challenge the policy direction of Defence, it has become more and more commercialised.
This fact was highlighted by ASPI's founding Executive Director, Professor Hugh White who wrote on the 15th anniversary of its foundation, "The quality of defence policy slumped … [and] ASPI's focus inevitably swung round to contributing to public debates not government policy-making."
Under Professor White's leadership, ASPI preserved a great deal of independence and only took an average of $28,000 per year in commercial revenue.
In the last financial year, under the leadership of (former Howard Government adviser) Peter Jennings, ASPI raked in $6,953,000 in commercial revenue. Yet it maintains its façade of independence of outside influence.
ASPI sponsor, French-owned Naval Group was awarded the contract for Australia's controversial $80 billion future submarine project. It has been in the headlines recently after an independent report released in March found the project was "dangerously off track".
In 2016, when the contract was awarded, Jennings wrote a glowing opinion piece about his sponsor under the headline 'Vive Australia's choice of a French submarine'.
The Future Submarines Report was very critical of the entire project and there were suggestions from highly credentialed defence strategists that Australia should walk away from the deal.
In response, ASPI wrote a report saying that not only should Naval Group keeps its contract but the Royal Australian Navy should commission un-maned Orca submarines whilst waiting decades for the French submarines order to be fulfilled. The $70 million Orcas are made by ASPI backer Boeing.
This comes after revelations in March that ASPI had been commissioned to write a report critical of the federal government's awarding of cloud computing contracts to Australian company Canberra Data Centres (CDC).
Last October, ASPI's Peter Jennings told the ABC, "ASPI's work as a think tank is genuinely independent" and suggestions it was controlled by sponsors were "frankly nonsense".
Massive payoff for ASPI backers
ASPI is not an independent organisation, it is a Commonwealth Company which reports to the parliament through the Defence Minister. In its latest annual report, ASPI singled out the then Defence Minister for her "continuing close personal engagement and support". In her first speech as Defence Minister, Linda Reynolds boasted of her close friendship with ASPI's Peter Jennings.
ASPI's boss and his board, which is chaired by former Chief of the Army, Lt Gen (Ret'd) Kenneth Gillespie and includes former Liberal Party Defence Minister Brendan Nelson, have access to the highest levels of government and the Defence Department.
ASPI's 12 weapons-making sponsors have been awarded 9,423 Defence Department contracts since 2001, with a total value of $51.2 billion.
This does not include another 49 ASPI sponsors who do not manufacture weapons, which Finance Department data reveals have benefitted from more than $30 billion in defence contracts since 2001.
This article has been republished from APAC News 1 April 2021. Click here to read the original article.