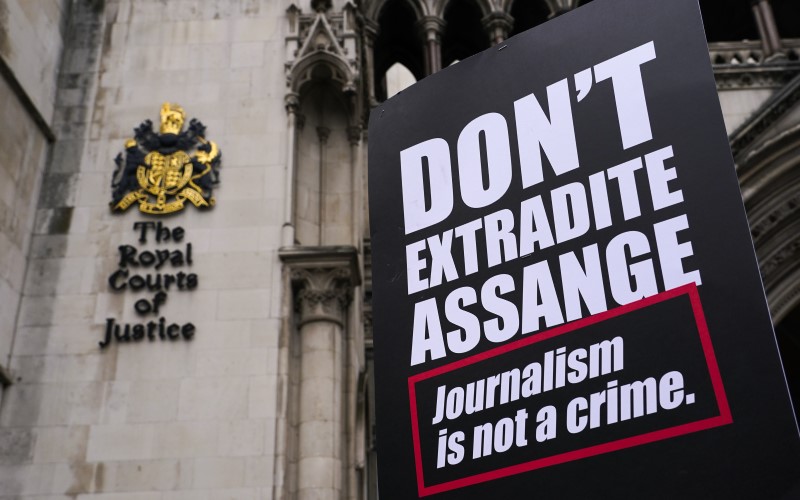 The secretary-general of Reporters Without Borders called on the US and UK governments to "stop to this more than decade-long persecution once and for all".
A chorus of international human rights and press freedom groups roundly condemned a British court's Friday ruling that WikiLeaks founder and publisher Julian Assange can be extradited to the United States where he could face torturous conditions and life in prison.
"This is a travesty of justice," said Nils Muižnieks, Europe director for Amnesty International.
Muižnieks was part of a chorus of condemnation that swiftly followed the High Court decision, which blocks a lower court's January ruling rejecting the US government's attempt at extradition because it would be "oppressive by reason of Assange's mental health" and create "substantial" risk of him dying by suicide.
The new ruling marks in a win for the US government — which has charged Assange with 17 counts of violating the Espionage Act related to his publication of classified documents exposing American war crimes. Critics like Reporters Without Borders (RSF), however, say the ruling represents a far-reaching and alarming attack on journalistic freedoms.
"We condemn today's decision, which will prove historic for all the wrong reasons," said RSF Secretary-General Christophe Deloire.
"We fully believe that Julian Assange has been targeted for his contributions to journalism, and we defend this case because of its dangerous implications for the future of journalism and press freedom around the world," Deloire said. He also called for "a stop to this more than decade-long persecution once and for all".
The Committee to Protect Journalists drew attention to ruling coinciding with the close of President Joe Biden's Summit for Democracy and the awarding of Nobel prizes to journalists Maria Ressa and Dmitry Muratov.
Robert Mahoney, the group's deputy executive director said, "The US Justice Department's dogged pursuit of the WikiLeaks founder has set a harmful legal precedent for prosecuting reporters simply for interacting with their sources."
"The Biden administration pledged at its Summit for Democracy this week to support journalism," said Mahoney. It could begin "by removing the threat of prosecution under the Espionage Act now hanging over the heads of investigative journalists everywhere."
RSF director of international campaigns Rebecca Vincent similarly said the ruling represents "a bleak moment for journalists and journalism around the world, on the very day when we should be celebrating the awarding of the Nobel Peace Prize to two journalists and urging states to uphold the commitments to media freedom they have just reaffirmed at the US-led Summit for Democracy."
The US, she added, should "truly lead by example and close this case now before further damage is done. Julian Assange should be immediately released, and steps taken to ensure no journalist, publisher, or source can ever be targeted in this way again."
Muižnieks — who rejected as "deeply flawed" US assurances to the court that Assange wouldn't be held in solitary — likewise warned of wide reverberations of the attack on Assange.
"The US government's indictment poses a grave threat to press freedom both in the United States and abroad," he said. "If upheld, it would undermine the key role of journalists and publishers in scrutinizing governments and exposing their misdeeds would leave journalists everywhere looking over their shoulders."
The legal team for Assange, who's been jailed at the UK high-security Belmarsh Prison since 2019, has vowed to appeal.
Warning of "deeply concerning implications for press freedom," Daniel Gorman, director of English PEN, said the decision "must be reviewed by the Supreme Court."
"The legal charges filed against Julian Assange contain activities that are central to the work of investigative journalists," he said, "and his extradition could therefore set a devastating precedent for journalists worldwide. We continue to call on U.S. authorities to drop these deeply problematic charges and call on the Home Secretary to block this extradition."
This article was first published by Common Dreams and is reproduced under a Creative Commons licence.