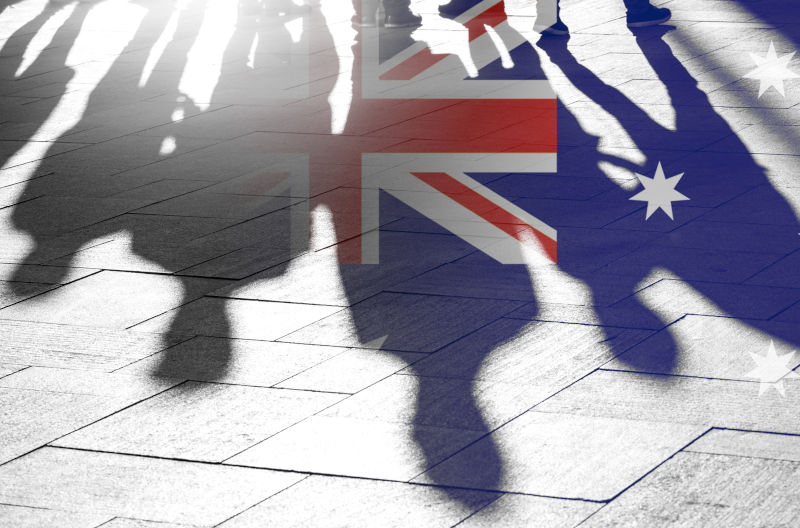 One of the most complex and controversial issues the Albanese Government will deal with during the current budget process will be asylum seeker policy.
With around 130,000 asylum seekers in widely varying legal situations currently in Australia, the Government faces a wicked policy challenge of Gordian Knot proportions – but there will be no Alexander the Great who can easily cut through this.
The caseload is in two broad parts. Firstly, the legacy boat arrival caseload of around 31,000 people, the vast bulk of whom are living in the community in Australia. And secondly, just under 100,000 asylum seekers who have arrived subsequently by air.
Legacy boat arrival caseload
There are just over 200 asylum seekers still on either Manus or Nauru. The Government's approach to this group is to take up the New Zealand Government offer to re-settle these people.
The key issue with this group, as is almost always the case with asylum seeker caseloads, is that the easier to re-settle portion has already been re-settled in the USA and elsewhere.
Unfortunately, amongst the difficult to re-settle group will be people who have received an adverse security assessment or they have some other character issue.
Resolving these issues inevitably takes time. Understandably, New Zealand will be reluctant to accept people with an adverse security assessment. The Australian Government will need to find a way to resolve the remaining cases after New Zealand has re-settled the bulk of the 200.
The Government has made an unequivocal commitment to provide a pathway to permanent residence for some 19,000 people who have been granted either a Temporary Protection Visa or a Safe Haven Enterprise Visa.
To do so, the Government will need to develop regulations to establish this pathway; resolve any budget issues associated with grant of permanent residence; find places for these people either in the Humanitarian Program or the Migration Program; and address issues such as systems changes; public information; application forms (which should be relatively simple); staff training; etc.
The Government will also need to manage the inevitable attack that grant of permanent residence to this group will re-start boat arrivals. These attacks tend to last a few weeks. When no boats actually arrive due to turn-back policy, these attacks die down. But in the interim, the attack will be particularly hysterical from Opposition Leader Peter Dutton.
The more difficult part of this legacy caseload will be boat arrivals:
whose applications have not been finalised (around 2,000);
who have had their applications refused (around 9,000); or
who are in detention, most likely due to a character issue or an adverse security assessment (around 200).
A possible option for this group, other than those with an adverse security assessment, will be to find a way to re-consider their original asylum applications as there is little chance of these people being returned to their country of origin. Once again, this may require new regulations, additional funding for processing; places in the Humanitarian or Migration Programs, etc.
Managing the politics of this will be even more difficult. This raises the issue of whether the Government wants to deal with the whole legacy caseload in one announcement or in progressive announcements.
Other asylum seekers
There are currently just under 100,000 other asylum seekers in Australia – a situation Australia has never before encountered.
The vast bulk of these asylum seekers are being refused but are not departing Australia. They would mainly be working on farms around Australia but without the protection of work rights. They effectively live in the shadows of Australian society, vulnerable to extreme exploitation.
Locating, detaining and removing such a huge number of unsuccessful asylum seekers is logistically, politically and financially impossible.
The situation started with a labour trafficking scam out of Malaysia and China. The size of the backlog and the slow processing times, including at the AAT where there are over 38,000 asylum applications for review, have subsequently created a honeypot for others to also apply for asylum. In 2017, there were only 5,000 asylum cases at the AAT.
The average monthly primary asylum application rate prior to the pandemic had reached around 2,500 per month. During the pandemic, with international borders closed, the application rate fell to as low as 618 in February 2022.
But the application is now rising again (see Chart 1).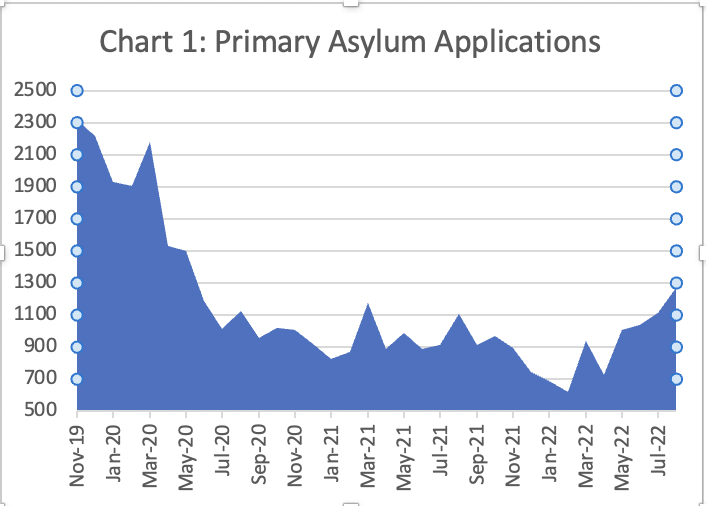 Source: DHA Onshore Protection Visa Processing Report
In May 2022, there were 1,005 asylum applications; June 1,040 applications; July 1,116 applications and in August, 1,272 applications. This upwards trend will continue, especially while the Australian labour market remains strong. The return on investment for labour traffickers is significant and the chances of being caught and prosecuted are minimal. Part of the recent rise in asylum applications is from nationals of Pacific Island nations and East Timor (see Chart 2). This would be associated with the Pacific Australia Labour Mobility (PALM) Scheme.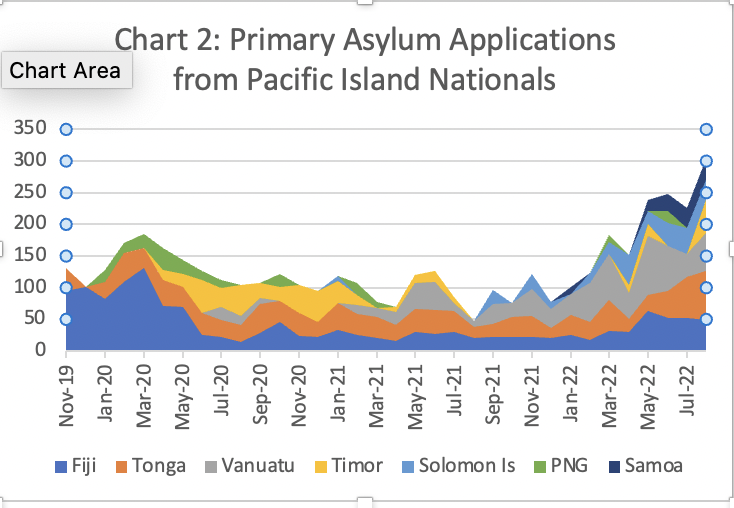 Source: DHA Monthly Asylum Report and AAT
As the PALM Scheme has ramped up following the re-opening of international borders, asylum applications from Pacific Island nations have steadily increased from a low of under 50 in August 2021 to 304 in August 2022.
In fact there were more asylum applications in August 2022 from Pacific Island nationals than from Chinese and Indian nationals combined.
Most of the Pacific Island nationals applying for asylum would be running away from their Australian employers and looking for better job opportunities. Applying for asylum maintains the lawful status of these people and potentially gives them work rights while they are on a bridging visa.
There is an urgent need to reform the PALM Scheme and better integrating it with the broader visa system rather than having DFAT run its own separate visa arrangements.
In addition, the Albanese Government will need to find a way to both reducing the flow of unmeritorious asylum applications as well as dealing with those already in the country.
While some may argue that should involve locating, detaining and removing those who have been refused, the logistics, costs and politics of that are just about impossible.
Another way will need to be found.