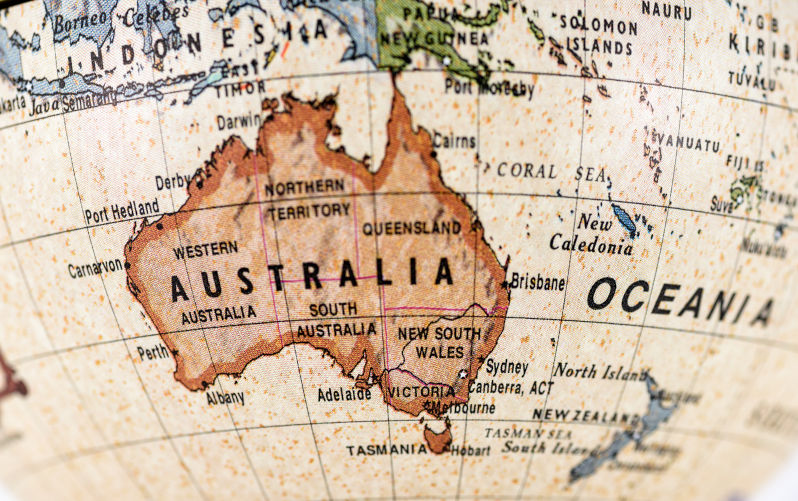 In August 2023, there was another sharp increase in asylum applications from Pacific Island nationals (including Timor-Leste) to over 390. That is more asylum applications in August than from Chinese nationals (215) and Indian nationals (214) despite there being far more Chinese and Indian temporary entrants in Australia.
Asylum applications generally, and from Pacific Island nationals in particular, have been rising steadily since international borders re-opened (see Chart 1). This is linked to increasing reliance on the Pacific Australia Labour Mobility (PALM) scheme, mainly to supply farm labour, being ramped up as part of Australia's objective to increase engagement with the Pacific.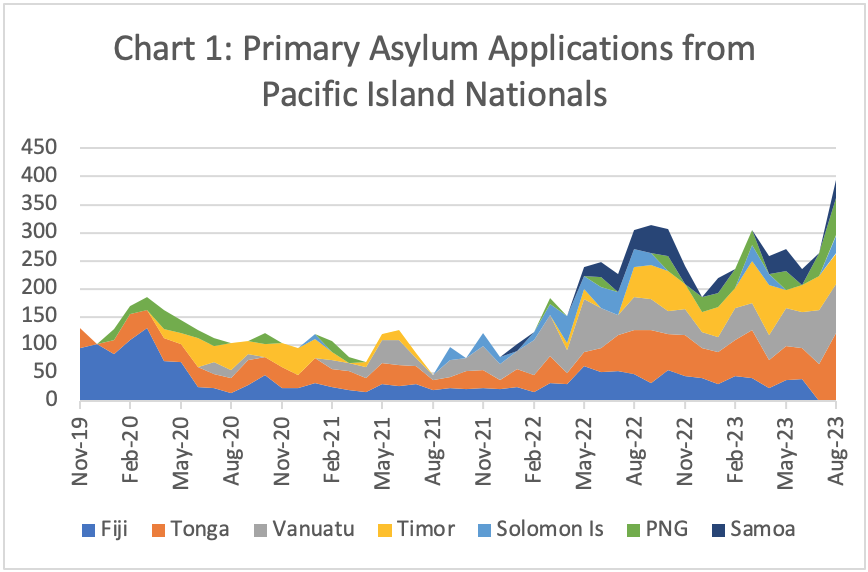 Since November 2019, there have been over 7,700 primary asylum applications from Pacific Island nationals (most likely over 8,000 as only top 20 asylum nationalities are publicly reported every month). These are flowing through to the Administrative Appeals Tribunal (AAT) as the primary refusal rate for asylum applications from the Pacific are very high (generally over 99% in most months).
The refusal rate at the AAT is also very high, leading to large numbers of Pacific Island nationals living in the community with no visa, no work rights, and no access to social support or Medicare. They would be extremely vulnerable to exploitation, especially if the labour market weakens.
While few of these applicants would expect a positive outcome from their asylum application, they would know the huge asylum backlogs at both the primary and AAT stages would enable them to remain in Australia for a number of years, often with work rights.
Removal of unsuccessful asylum seekers is very low. In most months less than 15 unsuccessful asylum applicants from all nations put together are removed. There is no publicly available data on how many unsuccessful asylum seekers from the Pacific are being removed.
The objective of improving relations with the Pacific is laudable. Current arrangements for the PALM Scheme, however, are delivering very poor public policy outcomes – DFAT and ANU Development Policy Centre arguments to the contrary notwithstanding.
Pacific Island governments are unlikely to be happy about such a large number of their citizens applying for asylum in Australia arguing a genuine fear of persecution if they return home. At the same time, Pacific Island governments want visa free travel arrangements with Australia. Have they considered what might happen to the asylum application rate if visa free travel was provided to Pacific Island nationals, especially if that was without work rights?
The very high asylum application rate from Pacific Island nationals tends to confirm reports that PALM Scheme workers are not happy about their treatment by Australian employers. The negative reaction from Australian farmers to the Albanese Government's proposal that PALM Scheme workers be given guaranteed work of 30 hours per week at minimum rates of pay, suggests many PALM workers would be understandably unhappy with their circumstances. There seems little appreciation amongst farmers that PALM Scheme workers would mostly have very few savings to fall back on if they don't get sufficient hours of work.
With skyrocketing rents and rising cost of living in Australia, many PALM Scheme workers who do get 30 hours of work per week would still be struggling to survive. Not surprising many are running away from their farm-based employers and looking for better opportunities.
The Albanese Government has developed a permanent resident visa specifically for Pacific Island nationals – it's a lottery-based visa called the Pacific Engagement Visa (PEV). Leaving aside the silliness of using a lottery to select permanent residents, this visa will exacerbate the frustrations of PALM visa holders as very few of them will get a PEV.
A better approach would be to encourage and assist PALM visa holders to develop higher level skills as a pathway to permanent residence, especially skills relevant to the regional communities in which they are currently working.
That would ensure they have little interest in applying for asylum but focus on skills development, better paying jobs and a more certain pathway to permanent residence.