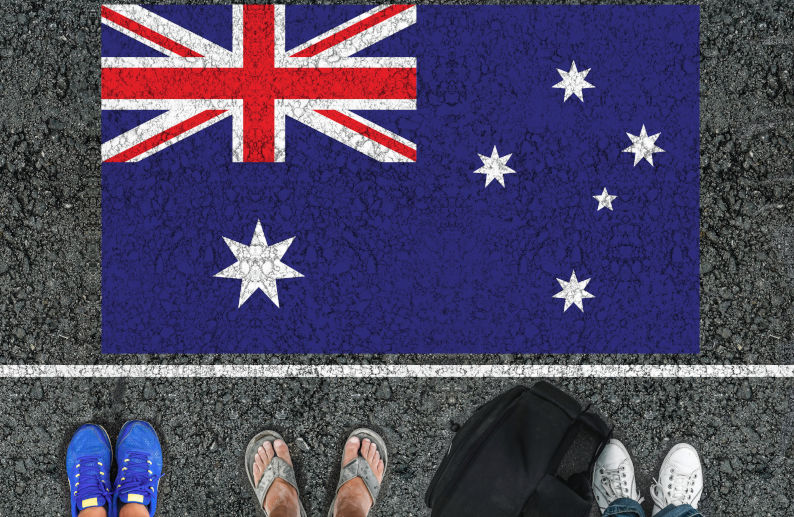 While the boom in unsuccessful on-shore (ie non-boat) asylum applications started in 2015 when Peter Dutton was Home Affairs Minister, as time goes by it will be Dutton and the Murdoch press that will try to make it Labor's Achillies heel.
In May 2023, primary asylum applications were 1,896, the highest monthly level since international borders re-opened. 1,091 primary applications were finalised and 1,065 were refused, a very high refusal rate of over 97 percent (see Chart 1).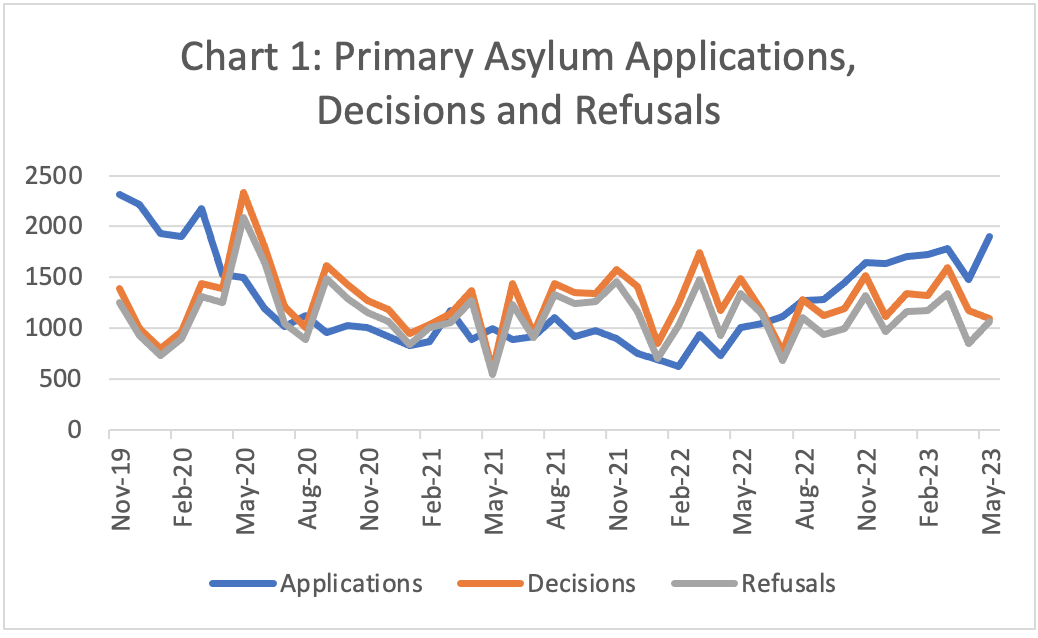 Total primary asylum applications in 2022-23 are likely to be over 19,000. While still well below the record 27,931 under Dutton in 2017-18, the upwards trend since international borders re-opened will be Dutton's focus of criticism, as will the overall size of the primary backlog of asylum applications which is now over 28,000. The backlog of asylum applications at the Administrative Appeals Tribunal (AAT) which is now just under 40,000 and the almost 74,000 asylum applicants who have been refused at the primary stage but have not departed, will be another focus.
What is Labor's strategy?
While Labor has not announced a strategy to address the situation of asylum seekers explicitly, there are a number of actions it is taking which may help stabilise the situation by the time of the next Election.
Firstly, the Labor Government has announced additional visa processing resources which should enable faster processing of primary asylum claims. From 2023-24 onwards, it may need to process over 2,000 applications per month just to prevent the primary backlog from growing. That will require hiring and training a very large increase in visa processing officers who can become specialists in processing asylum claims quickly, particularly those likely to be refused but also those with strong claims for approval. High quality decision-making is essential.
Similar actions will need to be taken at the AAT. Attorney-General Dreyfus has abolished the old AAT which will hopefully be replaced by a body that includes members well trained in efficient and legal decision-making, especially in the asylum area, and not just political hacks. The new AAT will also need sufficient resources to process almost 1,000 asylum applications per month just to stop the asylum backlog at the AAT from growing further. In the last 6-7 years, the AAT had struggled on average to make 500 asylum decisions per month and hence its backlog grew steadily (see Chart 2).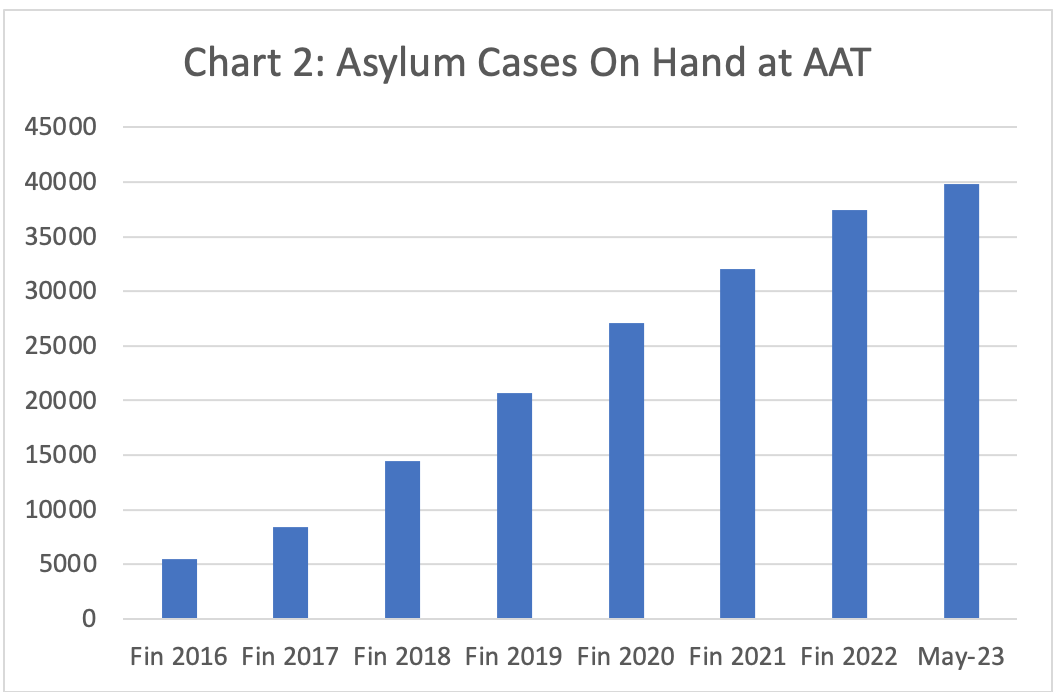 Secondly, the Government will need to put resources into locating, detaining and removing refused asylum seekers who no longer have any legal basis for remaining in Australia. Despite its visa integrity rhetoric, the Coalition steadily reduced immigration compliance activity that meant very few unsuccessful asylum seekers were ever located and removed. Chart 3 shows that it is rare for more than 10 unsuccessful asylum seekers to be removed in a month. Most of those who are removed, depart voluntarily after being located.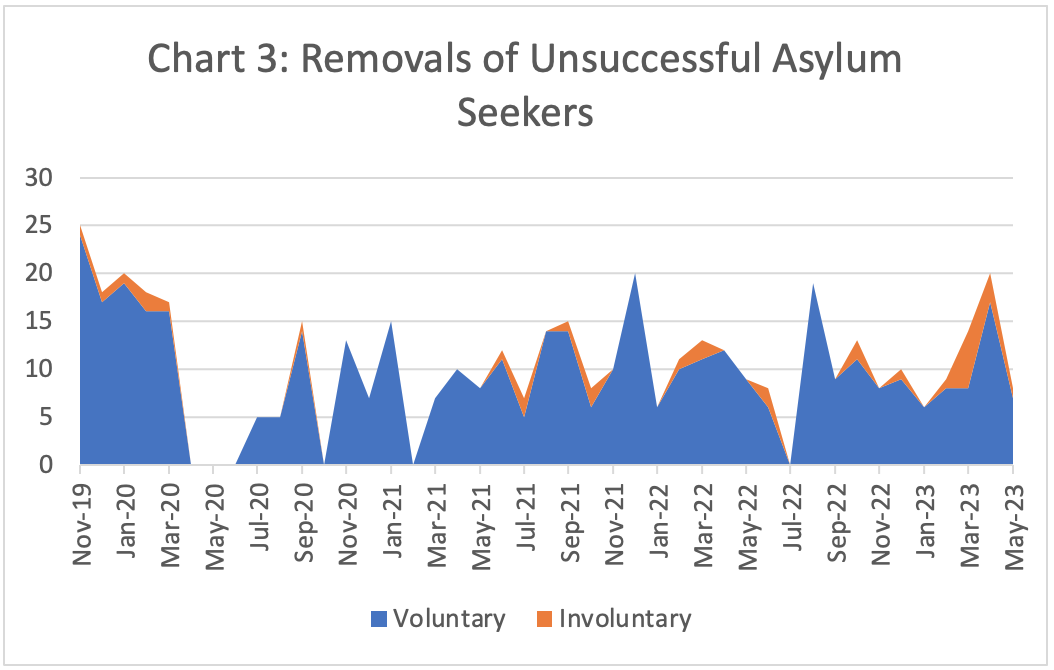 The Government has in the 2023-24 Budget announced an additional $50 million over four years for immigration compliance. As this is coming off a very low base, and the immigration compliance challenge is so large, this is likely to be a tiny amount of money compared to what is required.
While large scale removal of unsuccessful asylum seekers is impossible, it is important to send a message to people applying for asylum opportunistically that their asylum applications will be processed quickly and that if unsuccessful, there is some chance they will be located and removed with little opportunity of return.
Thirdly, an important part of discouraging unmeritorious asylum applications is to target agents and organisers involved. The portion of registered migration agents putting their names to asylum applications has fallen significantly since the scam started in 2015 (see Chart 4).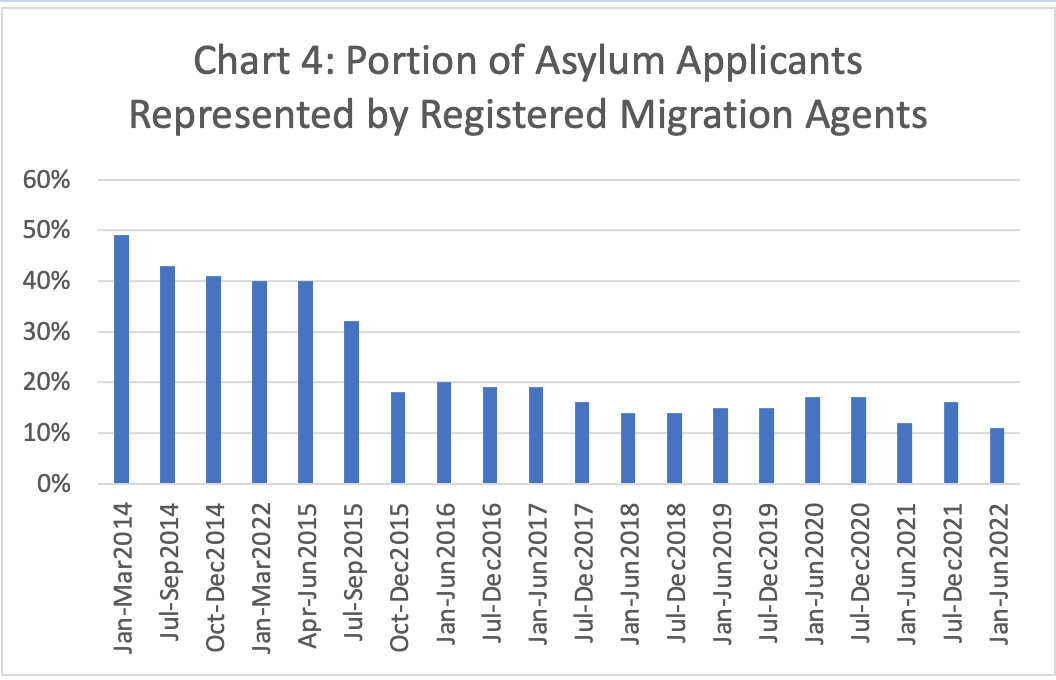 This suggests that an increasing portion of asylum applications are being organised by unregistered agents or that registered agents are not putting their names to applications they have organised. Either way, a key to reducing unmeritorious asylum applications is to target the unscrupulous agents involved. There is some indication that the Government is intending to go down this path but until there are more high-profile prosecutions of agents organising unmeritorious asylum applications, the impact may be negligible.
The Government's strategy to reduce migrant worker exploitation is also relevant in this space, especially measures to encourage exploited workers to report exploitation to authorities without negative consequences for their visa status. But it is not clear if the proposed incentives for unsuccessful asylum seekers to come forward to authorities will be sufficient. Something more targeted to this cohort is likely to be required.
An example of this is the new Pacific Engagement Visa (PEV) which provides a pathway to permanent residence for temporary workers in Australia on a Pacific Australia Labour Mobility (PALM) visa. Since November 2019, over 6,800 asylum applications have been lodged by nationals from Pacific Islands and Timor-Leste (see Chart 5).
More asylum applications are now being lodged by Pacific Island nationals than from India, China or Malaysia. Almost all of these applications are being refused.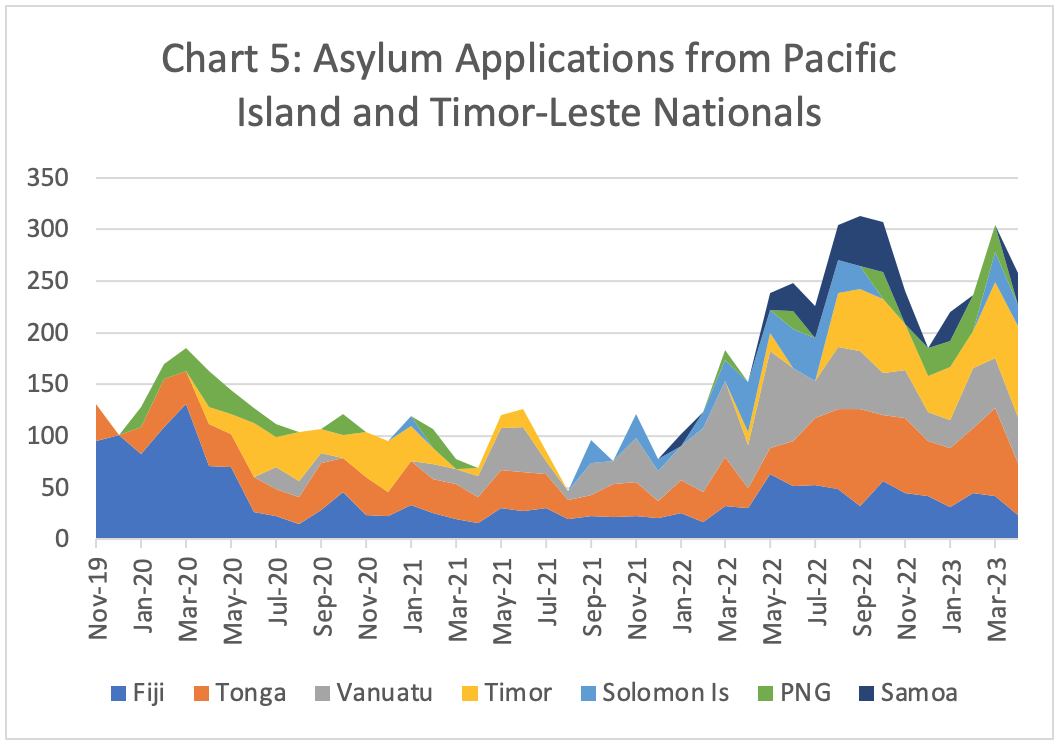 An incidental objective of establishing the PEV pathway to permanent residence for PALM workers may be to discourage them from running away from their employers and applying for asylum. But the nature of the pathway (a lottery system) and the number of places available may be insufficient to be effective.
Finally, the Government will need to start planning for a substantially weaker labour market as forecast by Treasury. A much weaker labour market will have a severe impact on unsuccessful asylum seekers in particular but also on:
almost 600,000 overseas students currently in Australia all of whom will have their work rights restricted to 48 hours per fortnight from 1 July 2023
around 200,000 temporary graduates
around 160,000 working holiday makers and
over 100,000 on the special covid visa which will begin to expire over the next 12 months
A weaker labour market will make it harder for these groups to stay in a job and especially difficult to secure a skilled job that gives them a pathway to permanent residence.
Some will seek to undertake short Certificate III courses in aged/disability care or nursing support in order to secure a visa under the new aged care labour agreement. And despite the current severe shortages in these occupations, it would not take long before supply could overtake the number of jobs aged care providers are prepared to offer.
If processing times for asylum remain lengthy, a portion of these temporary entrants will consider they have no choice but to apply for asylum. If just five percent of these cohorts apply for asylum, the system would be overwhelmed.
It is good the Albanese Government has started down the path of addressing asylum seeker policy after almost a decade of the Coalition trying to avoid talking about this. However, there is clearly a long way to go and a lot of careful planning will be needed.