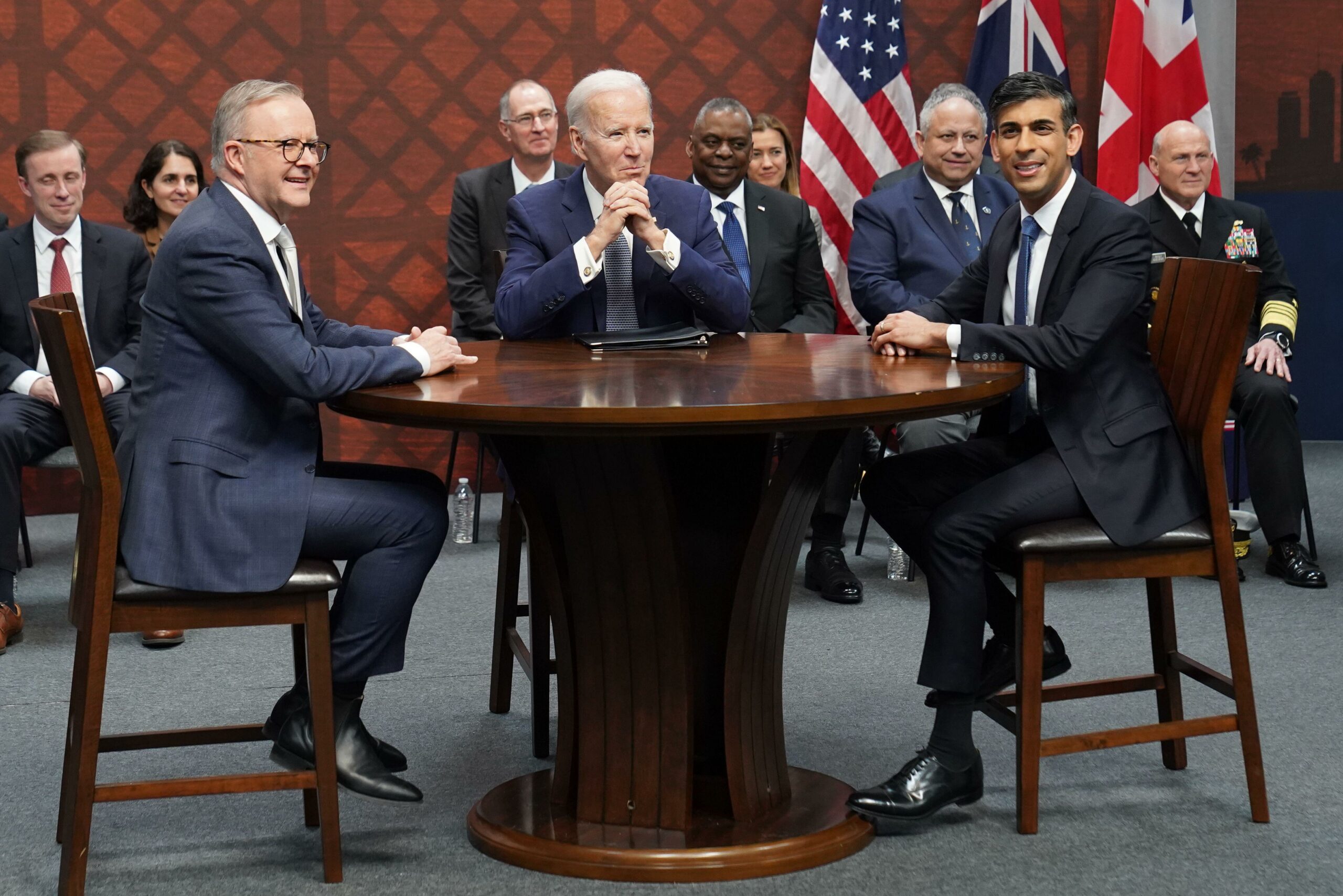 There are many cogent arguments against AUKUS, and Pearls and Irritations has featured most of them. For me the most galling is the re-emergence of the images of the Anglosphere, and the photos of Australian Prime Ministers beaming between the US President and the UK Prime Minister, as if nothing had changed since Sir Robert Menzies invoked our great and powerful friends.
AUKUS is symbolic of a more general cultural cringe, the assumption that Australia can only define itself in relation to London and Washington, rather than take pride in our own Indigenous history and geographic position. The 'cultural cringe', is a term usually associated with the Australian writer, critic and teacher A.A. Phillips, who first used the term in a 1950 Meanjin article.
A few years ago, speaking of his autobiography, playwright David Williamson observed that "we've retreated back to the same safe formula of English/American hit plays", and the same is even more true today of film and television.
The ABC's prime talk show, Q and A, regularly features a visitor from the Atlantic world, who will often sound strained as they try to find a parallel in their experience to current topics in Australian politics. [No: the referendum on the Voice is not similar to the vote on Brexit.] SBS, which has the most extensive non-English programming, seems to have never come across a documentary on the British Royals it doesn't put to air, often several times.
We immerse ourselves uncritically in Anglo-American culture, as any examination of hit musicals and theatre will show. Agatha Christie's The Mousetrap—an inferior play by her own standards—was first produced in London in 1950 and finally made it to Australia this year, perhaps the slowest example of cultural cringe around.
For republicans the continued existence of the British Crown is a constant reminder of our status, although I am more bothered by the Australian flag than I am by the pretence that Charles III is somehow our head of state. To retain the Union Jack on our national emblem is a constant reminder that we were a British colony, settled by invasion and peopled by the rejects of the motherland. But the delusion that Britain can play a significant role in the Indo-Pacific is a more substantial concern than either the nonsense of royalty or the flag.
There was a moment, during the Keating government, when it felt Australia was asserting itself as part of our region of the world, and in the three decades since our population has changed dramatically to look more like part of Asia/Pacific. But despite Penny Wong's assiduous travels and Anthony Albanese's visits to the region, the impression remains that we are an Atlantic outpost which sees Asia in primarily economic and strategic terms.
Certainly the past year has seen a flurry of activity within in the Pacific, prompted by bizarre fantasies of Chinese fleets apparently threatening us from Micronesian naval bases. Despite the rhetoric about the Indo-Pacific there is a remarkable absence of interest in either Latin America or Africa, in both of which Australia's diplomatic presence is very limited. It is revealing that Albanese chose to attend a NATO meeting rather than the Commonwealth Heads of Government last year—Richard Marles was sent to Rwanda, although both Boris Johnson and Justin Trudeau was among the 28 heads of government who managed the trip to Kigali. [They were also at the NATO meeting in Madrid.]
Australia's cultural cringe is facilitated by a national laziness about learning languages; while several million of us speak a language other than English at home, serious study of anything other than a family language is declining. It's hard to get accurate figures, but there has been a dramatic collapse of language teaching in universities over the past decade, with some phasing them out altogether.
Most troubling is the decline of Indonesian, the language of our most significant neighbour, now taught in less than half of Australia's Universities, and apparently declining within schools. Indonesia has a presidential election next year; it is doubtful if our media gives it even ten percent of the attention devoted to following every outburst of Donald Trump.
We are constantly told that we live in dangerous times and face more threats to our security than at any time since World War II. Whether or not this is true, the effect of these warnings is to reinforce the tendency to look to the Anglosphere to somehow insulate ourselves from the greater world. Support for AUKUS is as much due to deep cultural anxieties as it is to a rational assessment of what sort of defence establishment makes sense for Australia.
The underlying symbolism of AUKUS reflects something deep in the psyche of many Australians, namely a continuing need to identify with the leading powers of the Atlantic alliance as a counterbalance to potentially hostile developments closer to home. In time the foray into nuclear submarines may prove to be the most expensive piece of symbolism yet entered into by an Australian government.