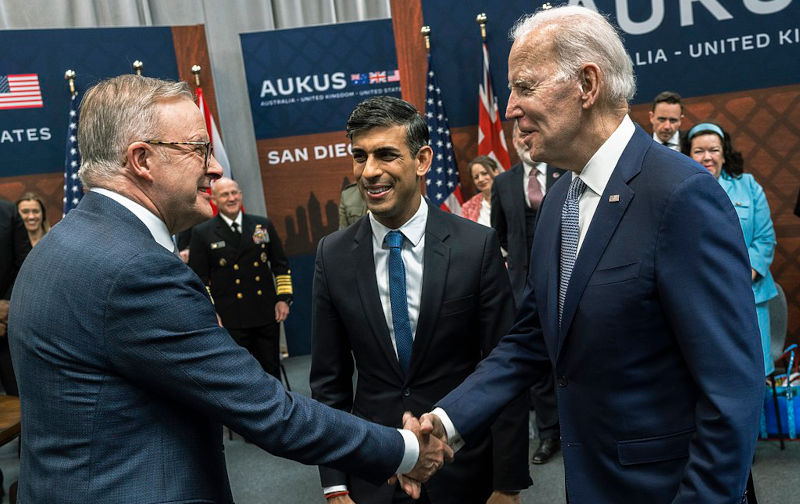 When Anthony Albanese addressed his federal electoral council on July 6 he rebutted criticism of AUKUS by saying Labor governments always have to prove themselves on national security.
This was an explanation for Labor acquiescing in the Scott Morrison plan in 2021. It was the justification for not reopening the issue eight months later when Labor won government.
This instinct that Labor must always underline its national security credentials was on display in parody version at Labor's national conference in Brisbane. Pat Conroy, Minister for Defence Industry, branded AUKUS doubters "appeasers". It was language that might have been lifted from Bob Santamaria's TV broadcasts during the Vietnam War. But it's not working.
The right in Australia has withdrawn its goodwill towards the Albanese government on national security. Linking Labor and AUKUS won't cut it. In any case, the bicephalous US political system makes it unwise to talk up the three-nation deal. It is now risky to boast about it.
Three days after the conference there were reports of a congressional research paper that concluded AUKUS could worsen the US Navy's shortfall of nuclear-powered subs. This report decisively strengthened the hand of the US Republicans who commissioned it and who are threatening to block the sale of subs to Australia. This will feed into local scepticism eroding the Canberra consensus about AUKUS and its grandiose reach.
That scepticism was captured last week in a seminal article by foreign editor Greg Sheridan in which he effectively withdrew support for Defence Minister Richard Marles – unfairly, because all his defence imbroglios have been inherited. But it reframed the AUKUS debate: "There's every chance AUKUS could turn out to be the enemy of Australian defence self-reliance, or of any defence capability at all. Worse, it could ultimately go the way of the French submarines. People will lose faith in it because it's not remotely on track to deliver anything at all in a meaningful time frame."
Over 40 years Sheridan has been the vanguard of US-aligned commentary in Australia. But he is now saying the symbolism of AUKUS subs won't buy the government dominance in the national security space. His argument that we are the only country to adopt nuclear subs without increasing defence spending is difficult to answer.
An article appearing the same day in the Australian Financial Review, by former ASPI director Michael Shoebridge, confirms this withdrawal of support for Labor from supporters of US-Australia strategic integration. Shoebridge confirmed the US congressional resistance now has to be taken seriously. He writes: "US congress continues to debate Pentagon plans to transfer US Virginia-class submarines to Australia in the early 2030s, as America's own domestic debate about its military capabilities and its submarine industrial base challenges gathers momentum."
It probably won't be Joe Biden but his successor who will make the decision whether to sell us Virginia-class subs or preserve them for American's own order of battle. He or she will take office, Shoebridge says, "…with fresh eyes about America's own defence and what value AUKUS brings to the US, at what costs and pains."
The US Navy will then have its lowest number of attack submarines, 46 instead of 66. That's when the AUKUS deal has the US handing over at least two to Australia.
It might not even be a decision for the next president but the president inaugurated on January 20, 2029. Donald Trump junior? Vivek Ramaswamy? Gretchen Whitmer? Gavin Newsom? Each capable of being persuaded old Joe got it wrong when he promised US assets to a far-off ally.
Shoebridge frets about what Americans could think of us when they realise we've put little towards the package. This anxiety is an Australian pathology. But the US embassy must be aware federal Labor has told Labor figures in the Illawarra that any decision about an east coast submarine base at Port Kembla won't be started till the 2030s and take 10 years anyway. Selecting a site for the storage of highly enriched uranium could take more than a decade. A nuclear-waste repository in South Australia was as emphatically rejected by Liberals as Labor.
There was another signal that the right of Australian politics is now dissenting from the AUKUS consensus. It came from Sharri Markson on Sky, who may have collected insights from senior figures in the Coalition and right-wing US circles. On September 19 she said there are politicians in Washington "jeopardising the AUKUS deal".
That "jeopardising" is as far as anyone has gone in assessing congressional grumpiness over the prospect of selling precious subs to Australia. Yet when Speaker Kevin McCarthy's caucus is rebellious on other fronts, it might be a correct reading. Pat Conroy's "appeasers" have bobbed up behind the lines.
Markson said this was one reason the US ambassador Caroline Kennedy was in the US so often. When Biden, Rishi Sunak and Albanese solemnised AUKUS in San Diego with hands on hearts, there had been no hint of wobbles in Washington.
Committing to Morrison's AUKUS is the most consequential decision of the Albanese government. The Parliamentary Budget Office estimates it will cost $50bn between 2027 and 2033 alone. Our navy, already under-resourced, will have to make painful savings. Other defence platforms will be "cannibalised". The verb is Sheridan's.
Splintering a bottle of champagne over the snout of an Attack-class French sub in the early 2030s would plainly have been a simpler option with less stress for other defence assets. The whole fleet would have been a bargain at a trifling $90bn compared with the half-trillion-dollar price tag for the Loch Ness monster alternative arriving in the 2050s.
And waving off HMAS Attack from the Adelaide dock to plough its deterrent firepower in our northern reaches would have been a lethal statement about our regional strength, and easily enough to have baptised Labor with the national security good housekeeping seal of approval.
First published in THE AUSTRALIAN on September 25, 2023