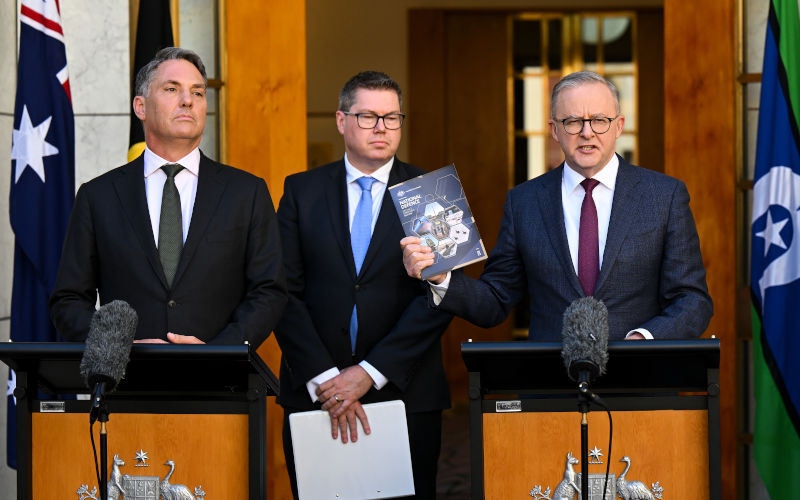 Over twenty ALP branches around Australia have now passed anti-AUKUS resolutions and the list is growing by the day.
Many of the branches are calling on the Albanese government to withdraw from the pact while others want a parliamentary inquiry into the $368 Billion deal.
AWPR supports the call for a full and open inquiry which was suggested by The Australia Institute and others in May.
The grassroots revolt within the ALP is being pushed along by a new informal group called "Labor Against War" which is headed by former Labor staffer and journalist Marcus Strom.
Speaking at a recent public meeting in Sydney, Strom said the group is part of a long tradition within Labor that opposed unjust wars, including the Vietnam war and the Iraq invasion.
The opposition among Labor members appears to be growing strongly. In some places like Tanya Plibersek's electorate of Sydney multiple branches are demanding a change in policy. Four branches in her electorate managed to get the whole Federal electorate council to pass this resolution:
'(Sydney FEC) calls on the Australian Government to withdraw from the AUKUS alliance and cease any program in pursuit of the acquisition of nuclear submarines'
A similar motion was passed by the Electorate Councils in the South Australian seats of Mayo and Boothby.
Some of the resolutions have expressed dismay that the Albanese government has proceeded with a policy that was conceived and implemented by Scott Morrison.
One of the motions read: "It was conceived by Scott Morrison, without proper process or debate, as a desperate election ploy".
Several of the branches have also given their backing to War Powers Reform: "after the experience of Iraq, Federal Labor should commit to a policy that any decision to send Australian troops abroad will only be made by debate in the Australian parliament."
The internal dissent has been spurred on by a growing number of senior Labor figures who have publicly criticised AUKUS. The list includes Bob Carr, Paul Keating, Gareth Evans, Peter Garrett, Carmen Lawrence and Doug Cameron.
But can this internal backlash turn around such a massive foreign policy, which saw Anthony Albanese shaking hands and signing an agreement in San Diego with President Biden and UK PM Rishi Sunak?
Even public polling shows little support for the decision to pay so much money for a handful of nuclear submarines. The most recent Lowy Institute poll found that 47 per cent of people didn't think the spending was worth it, and only 27 per cent support the expenditure.
Mr Albanese and some of his key ministers appear to be somewhat rattled by the membership revolt. Several articles have appeared in recent weeks with ministers trying to play down the issue, which will come to a head at the ALP national conference in Brisbane in a few weeks.
Some reports point out that the progressive wing of the party have the numbers for the first time in a long time. But others say a deal will be done ahead of the meeting that ensures Mr Albanese will "not be embarrassed" by the final outcome.
Even if that occurs it's hard to see the genuine community concern about AUKUS going away. In particular the longer term decisions about where to set up a nuclear submarine base on the east coast and how the resulting nuclear waste will be dealt with are highly contentious matters.
First published by AUSTRALIANS FOR WAR POWERS REFORM July 31, 2023
Editor's Note: Pearls and Irritations has grown in reach and is an important independent voice in Australia's media landscape, supported solely by our readers. If you would like to support our growth you might consider a monthly payment or one-off donation. Visit our Contributions page.