From the late 1970s until the 1990s, US-Japan trade relations were marred by regular bouts of economic friction. These periods often peaked in tandem with rises in the United States' trade deficit with Japan and ended in 'voluntary' Japanese concessions to US pressure.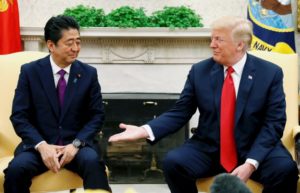 Given US President Donald Trump's obsession with trade deficits, his targeting of the United States' top five trade deficit partners is no surprise. Japan is number three on this list after China and Mexico, so Tokyo could expect to find itself in the crosshairs for tariff hikes.
Still, it was a shock for Japan to be put on Trump's 'hit list' for steel and aluminium tariffs. Japanese Prime Minister Shinzo Abe thought he had the inside track with the President. After all, numerous visits, phone calls, golf games, fish-feeding and shared burgers must count for something. This was backed up by Abe's stock argument that Japan is 'vastly contributing to the US economy by creating jobs' with 75 per cent of Japanese brand cars sold in the United States actually manufactured there. Japan also argued that it should be exemptedfrom the steel and aluminium tariffs on alliance-related grounds, only to be rebuffed again. To Trump, the United States has a trade deficit with Japan. That's all that matters.
The US administration announced that it is considering a steep rise in tariffs on imported vehicles and auto parts from the current 2.5 per cent to 25 per cent because of the possible threat they may pose to national security. Vehicle and auto parts tariffs would inflict far greater damage to the Japanese economy than the steel and aluminium tariffs. The value of Japan's auto exports to the United States is more than four times the value of its steel and aluminium exports, which are worth 220 billion yen (US$2 billion).
In fact, the United States is Japan's biggest market for auto exports, with Japan exporting 1.74 million four-wheeled vehicles to the United States in 2017. Autos make up 30 per cent of Japan's total exports to the United States by value and 40 per cent of Japanese automakers' total exports.
The total cost of the proposed tariff hike on Japanese autos has been estimated at almost 1 trillion yen (US$10 billion), or about 22 per cent of the total value of Japan's exports to the United States and 15 per cent of the total annual value of Japan's exports. This figure would rise even higher if exports of auto parts to the United States were added in, which are worth 900 billion yen (US$9 billion).
Auto tariffs would have a dramatic effect on the sale prices of Japanese cars in the United States and inevitably lead to a drop in sales and a decline in the profits of Japanese automakers. Given that the auto industry is one of the most important drivers of the Japanese economy, the increase in US auto tariffs could shake Japan to its economic foundations. Predictions are that it would lower Japan's GDP by 0.1 per cent. US tariffs on Japan's metal exports have already resulted in a 40 per cent decline in the volume of Japanese steel shipments to the United States.
Clearly Trump is not waiting for the new US–Japan 'free, fair and reciprocal' (FFR) bilateral trade talks in July. His approach is one where the United States gets its retaliation in first and represents an entirely new type of bargaining tactic aimed at generating leverage by 'softening up' trade partners in advance of negotiations.
This is not 'the art of the deal'. It is the art of simultaneously endangering historically strong trading relationships and alienating allies. Abe condemned the proposed car tariffs as 'unwarranted and offensive' and as an 'incomprehensible and unacceptable' way to treat an ally. Domestically, Trump's tactics have put Abe in a difficult position: having to choose between his business backers in the auto industry and his political base in the countryside.
To avoid such a stark choice, the Abe administration has a number of options and possible countermeasures. Should the 25 per cent car tariffs eventuate, Japan's punitive options would include responding in kind with matching tariffs on US imports that target key Trump constituencies, which is unlikely. Japan could also respondin concert with other countries such as EU nations or through the WTO. The WTO route also opens up the option of legitimate retaliation under WTO rules and has the advantage of keeping trade and security issues on separate tracks.
Given Trump's Japan-focussed pressure and a raft of urgent security and diplomatic considerations, Japan will probably opt for the non-punitive option: investing more in US manufacturing and buying more US products, like weapons and energy, in the hope that these moves will placate Trump. This process may be managed through the FFR talks scheduled for July.
In the meantime, Abe will be wondering whether Trump will give weight to Japan's priorities when it comes to a deal with their North Korean counterpart, Kim Jong-un. Abe has already learned that personal and alliance relationships count for little in Trump's deal making on issues that are vital to US national security.
This article was published by The East Asia Forum on the 13th of June 2018.
Aurelia George Mulgan is a Professor at the University of New South Wales, Canberra.