On Sunday afternoon, the Ministers for Foreign Affairs and Defence departed Canberra aboard a RAAF A-330 on their pilgrimage to Washington DC for the annual Australia-US Ministerial (AUSMIN) talks.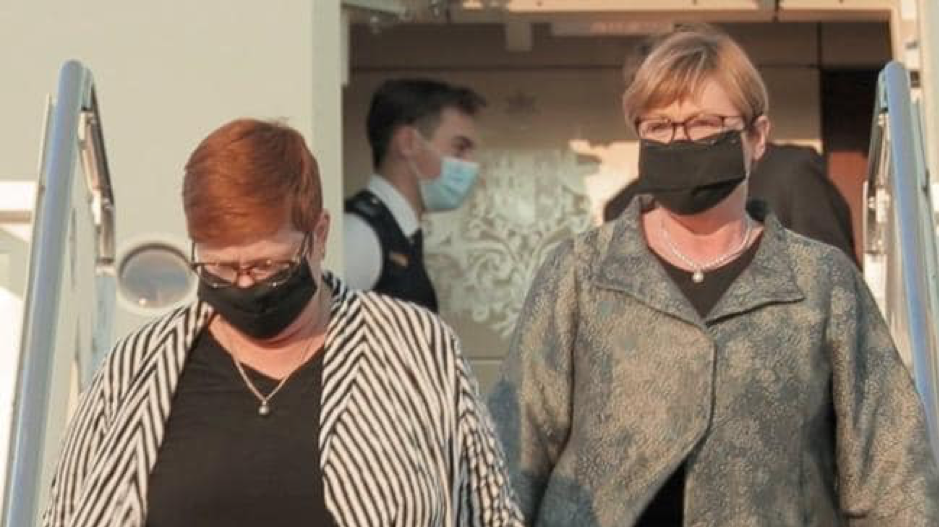 You might find the timing curious: with less than 100 days to go until the Presidential election, our Ministers seem oblivious to the fact that Pompeo and Esper may not last beyond January 2021, if US polls are to be believed.
You might find the agenda even more curious. Three times as many US citizens have died from the coronavirus as died during the Vietnam War, and 63 times as many as have died in Afghanistan. The economies of both the US and Australia are in deep trouble. President Trump has trashed the strategic and moral authority of the US.
Yet our two Ministers will renew their support for US adventurism, its needless and dangerous confrontation with China, and our general subservience to "the global power that has served as an anchor of the regional rules-based order" where Australia "more than holds up its end". Both clauses are nonsense: overstatement supported by hubris. Their joint media statement, titled "Australia's enduring ties with the US are a strong union of shared values" inspires little confidence that they're quite ready for the task of securing Australia's strategic future, or of moderating the Trump administration's Sinophobia, its disdain for the "international rules-based order" and its rejection of global institutions such as the World Health Organisation.
Unfortunately, neither Payne nor Reynolds have the portfolio responsibilities or status to address the issues that are threatening the security of people everywhere. The coronavirus and its catastrophic economic consequences are already threatening the lives and livelihoods of hundreds of millions. And when climate change is added to the mix, as it is in Texas right now, the global community faces a double whammy that will demand every bit of imagination and perseverance if it is to emerge safe, secure and prosperous. These are health and treasury matters that go to the heart of national security in disrupted times.
AUSMIN doubtless serves the useful purpose of aligning Australian and US defence thinking. As a foreign policy exercise, however, it is of marginal significance. Australia's interests are much more local than those of the US, and US exceptionalism provides a poor model for Australia to emulate. Secretary Pompeo's chest-beating on China may play well to the US Republican base, but it does nothing to assist Australia in navigating a changing and difficult relationship.
Like the ANZUS Treaty, the shrine at which the Australian Ministers pay obeisance and their US counterparts lip service, AUSMIN has become a gesture in search of meaning. It is relevant to a world that no longer exists, a world where human security issues transcend traditional concerns about the security of the state. Defence is undoubtedly a principal responsibility of government, but it is a responsibility that is unlikely to be invoked, even in the disrupted world in which we now live.
For the US, the lives of millions of its citizens are in peril, and the livelihoods of millions more at risk. While Australians may currently be less threatened by the coronavirus, the picture on both sides of the Pacific is sombre. It is a picture made all the bleaker by the fact that large parts of the global community are struggling to protect their citizens and their economies. These are global problems that are not amenable to bilateral solutions. Indeed, they become even more intractable when individual countries are singled out for blame and when the capacities of global institutions are disparaged.
Yet the Morrison government wants to invest its diplomatic coin in a bilateral conversation that will not make any difference to the problems now facing humanity. These problems demand sustained international effort and in that every nation, including China, has a role to play.
When it was negotiated, ANZUS brought comfort to an Australia that was fearful of a 'soft' peace treaty with Japan. A US security 'guarantee' – little more than a promise to consult – bought our agreement. The treaty is an artefact of our security history with little residual relevance. AUSMIN, which first convened in 1985, was itself the product of an Australian need for reassurance as it edged slowly towards a defence policy of "self-reliance within the framework of the alliance", whatever that might have meant.
The DFAT Fact Sheet still describes AUSMIN as "the principal forum for bilateral consultations with the United States". Given the depth and complexity of our relationship with the US, AUSMIN is as much an anachronism as ANZUS.
A Biden Presidency, should that eventuate, might provide a timely opportunity for a more contemporary rubric by which to represent a relationship that extends far beyond defence and intelligence arrangements. In a world in which both Australia and the US have global interests, but only the US has global reach, an annual bilateral conversation makes sense. But it needs to be much more comprehensive, and it needs to engage Cabinet's heavy hitters. It needs to matter.
Let's wish our two Ministers the best of health in a country that has been hit hard by the coronavirus, and hope that they find the next couple of weeks' quarantine a worthwhile price to pay for their devotion to ANZUS and AUSMIN.
Allan Behm is head of The Australia Institute's International and security Affairs Program. His recently released discussion paper ANZUS and Australia's Security is to be found at https://www.tai.org.au/content/anzus-and-australia-s-security