The Government's July Economic Statement forecasts net overseas migration in 2020-21 will be around 31,000 – the lowest since 1975-76 and a dramatic contrast to the fanciful levels of net overseas migration forecast in the 2019 Budget. 
But even 31,000 may be optimistic as it relies on international borders opening in January and a significant surge in overseas student arrivals.
At 31,000, the revised Government forecast of net overseas migration is approximately 240,000 less than the level forecast in the 2019 Budget (by averaging the forecast for 2020 and 2021).
The Government will be hoping the anticipated surge in overseas student arrivals is sufficient to support universities suffering severely from a loss of revenue from overseas student fees and the Government's decision to deny universities access to Job Keeper. Even the forecast surge in overseas students, however, will not be sufficient to avoid massive job losses in Australia's universities and in the businesses around university precincts that rely on the spending of overseas students.
If international borders do not re-open from January, net overseas migration may reflect the level of people movement in the three months to June 2020 (see Chart 1).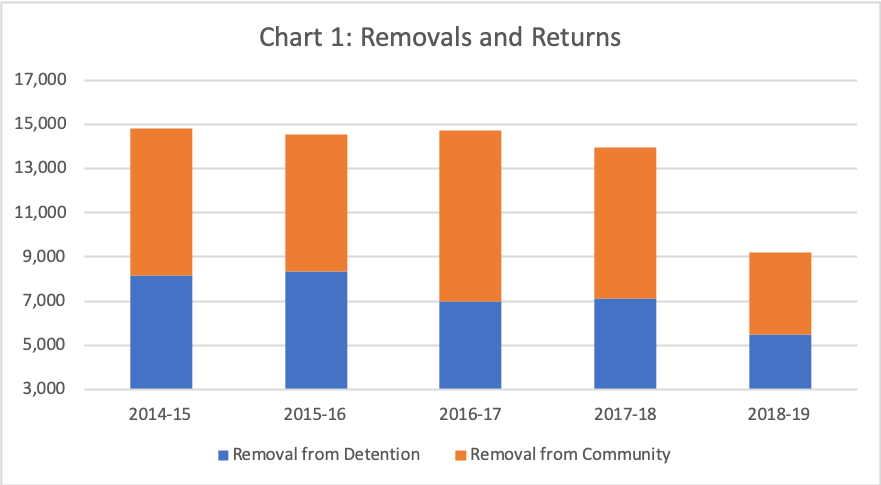 Over the 3 months to June 2020, aggregate net movements were negative 72,310. That includes a substantial net increase in returning Australian citizens and permanent residents.
While not all of these movements would have impacted net overseas migration because they did not meet the 12 months out of 16 months rule, the movements in later months will have increasingly impacted net overseas migration as students complete their studies and leave Australia if they are unable to secure a post-study job and have limited means of survival.
This negative net movement trend will likely continue at least until international borders are re-opened as more and more unemployed temporary entrants find they are unable to survive on charity. That is of course assuming they can find enough money for the air fare home.
In addition we have the 4,000 per week cap on arrivals. This will mean that net overseas migration over the six months to December 2020 may also be a significant negative.
In the forthcoming Australian summer, we will not see the usual surge in international visitors that deliver substantial customers for tourism businesses, particularly in Queensland and in the major capital cities. In recent years, international visitors who stay on in Australia have delivered over 20 percent of net overseas migration.
We also wont see the surge in Working Holiday Makers who also tend to arrive ahead of the Australian summer. In fact, we may see Working Holiday Makers who are currently in Australia departing in large numbers if they are unable or unwilling to extend stay in Australia by working on farms.
Another factor will be a substantial portion of the 600,000 overseas students currently in Australia completing their studies in November 2020 and then not seeking a post-study visa because of the difficulties of securing a job in Australia. Students from China will also be influenced by rising diplomatic tension, warnings from their Government about alleged racist attacks and job opportunities associated with a Chinese economy that appears to be pulling out of the Covid recession.
Other factors that would drive net overseas migration down in 2020-21 include:
the temporary suspension of the newly arrived migrant waiting period for social security which has now been extended to December 2021 is not again extended. Given the level of unemployment the government is forecasting for 2021, we may see a substantial exodus of permanent residents if the temporary suspension is not extended further;
treatment of NZ citizens in terms of access to Job Keeper and Job Seeker is tightened. This may lead to a large exodus of NZ citizens; and
the migration and humanitarian programs in 2020-21 focus almost entirely on onshore applicants with very few visas for offshore applicants.
Given the above factors, the possibility of a negative net overseas migration outcome in 2020-21 remains a possibility. That would be the first such outcome since the 1930s and 1940s.
In the longer-term, net overseas migration will recover but will not reach the extraordinary levels forecast in the 2019 Budget. On my calculations, net overseas migration is unlikely to reach much above 175,000 per annum. That is around 100,000 per annum less than forecast in the 2019 Budget.
Combined with declining fertility, which at last the Treasury has been prepared to reluctantly acknowledge, that means Australia's population will age much more rapidly than the assumptions in the 2019 Budget would have delivered. The population assumptions in the 2019 Budget were amongst the dodgiest I have ever seen as I wrote in this April 2019 article in the Sydney Morning Herald.
As the experience of Japan shows, more rapid population ageing has long-term economic and budget costs which suggest talk of 'repaying government debt' is just a fantasy as is the Prime Minister's aspiration of annual real economic growth of 3.75 percent.
References in The Australian and in the Australian Financial Review to Australia 'going for growth' to repay government debt as we did after WW11 studiously avoids the fact population growth in the 1950s averaged 2.4 percent per annum and in the 1960s averaged 1.9 percent per annum.
We are never again going to experience those rates of population growth.