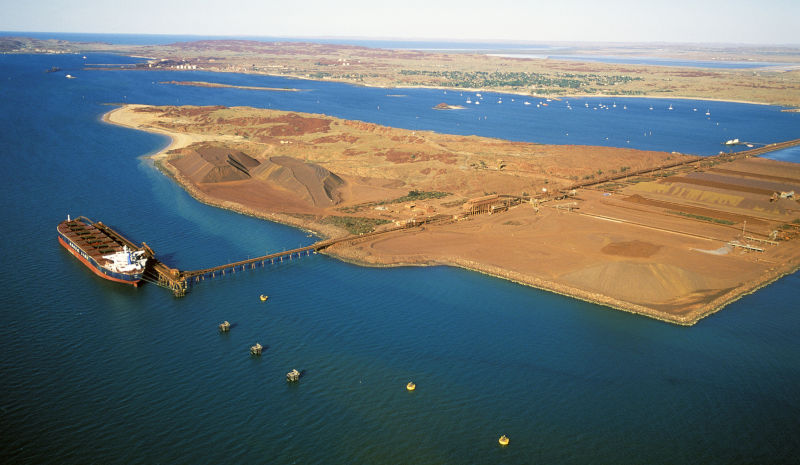 Australia has no business playing the victim when the lines between strategy and economic interests have become increasingly blurred.
Beijing should treat with caution renewed efforts to get relations back on track, and avoid rewarding Canberra for its coercive behaviour.
Representatives from the Australian government embarked on a trip to Beijing last week, signalling the end of three years of strained diplomatic relations.
This trip is an ongoing attempt to fully restore ties before the eventual visit by Australian Prime Minister Anthony Albanese, expected to be in October, coinciding with the anniversary of the historic visit by prime minister Gough Whitlam in 1973.
It is unclear what environment Canberra wishes to create from these talks for his visit. The increasingly negative attitude towards Beijing, especially in Australia's media, has alienated the goodwill between citizens of the two countries.
In a poll by the Lowy Institute, 42 per cent of Chinese Australians felt the media reporting on China was too negative, with 78 per cent of Chinese respondents to a different survey believing Australia's media lacked balance, depth and independence when reporting on Chinese-Australian communities. Seven in 10 respondents believed the media portrayed Chinese communities with suspicion and a risk to Australia's national security.
The lines between strategy and economic interests, which have been a main characteristic of Sino-Australian relations, have increasingly blurred for Canberra. Kurt Campbell, the US National Security Council's Coordinator for Indo-Pacific Affairs, reportedly told European Union officials that the Aukus agreement "gets Australia off the fence and locks it in for the next 40 years".
The current high-level visit has been building up since last year, when Foreign Minister Penny Wong visited China to mark the 50th anniversary of the two countries establishing diplomatic relations. That visit and this one are by no means a reset or a restart in relations.
Wong makes a point of not using the word "normalise" when speaking about relations with China. "I don't use the word normalise, I don't use the word reset because the reality is neither country is going back to where we were 15 years ago," she said. Instead, she said she prefers the term "stabilise".
On one hand, Australia is urging China to remove its tariffs on a wide range of Australian commodities, something expected to be a key topic at the upcoming meeting. On the other, it maintains that the effects of those tariffs have barely affected the Australian economy. A recent report on Australia's wine sector – which is still subject to Chinese tariffs – found that the industry would need four years to return to balance if the tariffs remain in place until 2026.
China's economic sanctions against Australia cost the latter an estimated A$6.6 billion (US$4.3 billion) between July 2020 and February 2021. Australia-China trade shrank by an estimated 23 per cent in 2020 with iron ore exports removed from the equation, with the figure growing to 48 per cent if non-iron ore merchandise exports between January and March 2021 are compared with those for April-June 2020.
If Australia was prevented from exporting its key commodities – including coal, beef, timber, wine, barley, cotton and copper – to China for a full year, it would cost the Australian economy an estimated A$23 billion. As a result, there has been a consistent flurry of Australian diplomatic activity trying to ease tensions with China. The combination of geopolitical concerns and the global economic downturn, to which even China is not immune, means Australia's economy is under pressure.
Australia has managed to find new markets for many of its commodities. Barley is one success story, though reports suggest it is being sold to Saudi Arabia, Vietnam and the Philippines at rates lower than exporters received from China before the tariffs were enacted. Coal is another example of a diversification attempt falling short of what it replaced, with countries such as India buying Australian coal less for the quality and more for the discounted price.
The Foreign Interference Bill, which was passed by the Australian legislature in 2018 and is aimed at containing Chinese influence in the country, has been accused of creating the foundations of hostility between the countries today. The bill did not explicitly mention China but was justified at the time by "disturbing reports about Chinese influence", only adding to tensions.
Australia is also seen as taking a leading role in promoting US interests in the region. This has taken the form of expanding the presence of US military personnel on Australian soil, trying to persuade other countries not to use Huawei-based systems, calling for an independent investigation into the origins of the Covid-19 pandemic, and more.
Australia has made its decision and cannot play the victim. Its Chinese-dependent economy is increasingly at odds with the carefully manufactured threat from China, failing to serve its people and interests at the behest of siding in a zero-sum game with the United States.
China should approach the upcoming meeting with caution as Australia will seek the same preferential rates it enjoyed before the imposition of tariffs. Australia has transformed its relationship with the US due to its objectives of containing China's peaceful rise.
China should avoid trying to isolate Australia from the US. Instead, it should evaluate its relationship with Canberra based on the merits of its current activities and coercive policies created by Washington.
As Wong has said, "neither country is going back to where we were 15 years ago". This gives China more of a reason to not give preferential rates to countries that are not interested in fostering peace between its citizens, economies and the region as a whole.
First published in The South China Morning Post September 8, 2023