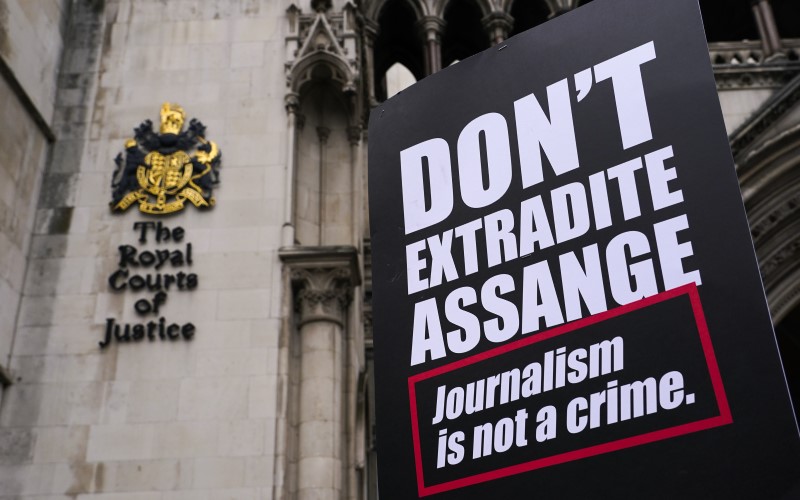 When Australia allows the US's pursuit of Julian Assange to continue, it tells Australians that it does not care about a free press.
The pursuit of Australian citizen Julian Assange must end here.
While the UK High Court has on Friday reversed the January decision to refuse extradition of Assange this question must be asked: What possible public interest is there in a nation such as the United States which purports to uphold the rule of law, continuing to seek an effective death sentence of 170 years imprisonment for a man who revealed uncontradicted evidence of war crimes committed by that nation in Iraq and Afghanistan?
The answer is there is none. And this is why, yet again, one has to call on the Australian government to intervene with its closest ally and do what former Foreign Minister Bob Carr has suggested be done. That is, to say to Washington, as our most loyal ally globally, let alone in the Asia Pacific region where we act as its proxy in the showdown with China, this Australian citizen must be allowed to come home.
An observation on the High Court decision.
It accepted, it seems, the US legal team's assurances that Assange would not be tortured if extradited there. But how realistic is this acceptance? Not very, given the track record of that nation in thumbing its nose at the rulings of overseas courts and it's notions of legal exceptionalism. The US has never been fond of overseas courts and their rulings and or is it particularly interested in international human rights conventions on the treatment of prisoners.
But back to the politics and human rights aspects.
For the Australian government to allow the US to continue the Assange obsession is to say to media in this country that it would not protect any of their number who, if they published material emanating from the United States government about say US military movements in the South China Sea, would find themselves arrested on a Sydney street and hauled before a court with the United States seeking their extradition. This is no exaggeration, it is a reality. The Assange case, if successful, will mean that any journalist anywhere in the world can be prosecuted under the US espionage legislation despite having no link to the jurisdiction.
For the Australian media this might seem farfetched but it is not because once a precedent like the Assange case is set, why not use it again to close down scrutiny of the security and defence establishments activities? The more sage members of the Australian media and political class get this point.
But leave to one side these legal and policy issues and focus instead on a man who has been hunted for over a decade. Assange was forced into the Ecuadorean embassy in 2012 because the Swedes, with a poor track record when it comes to standing up to the US, would have shipped Assange off once they finished questioning him over sexual relationship allegations which eventually went nowhere. His legitimate claim for asylum was accepted by that country until its presidency changed hands and Lenin Moreno, who succeeded president Rafael Correa, cut a deal with the US for aid money in exchange for revoking Assange's citizenship. So we saw the unsightly scene in 2019 of Assange dragged from the Ecuadorean embassy, neat Harrods, into the clutches of the UK jail system where he remains to this day.
Assange is detained in the notorious Belmarsh prison in London. Despite him having the presumption of innocence he is kept in hellish conditions which flout the international rules concerning the treatment of prisoners. His health deteriorates and his partner Stella Moris and his two young sons along with his father John Shipton, anguish over the psychological and physical damage being done to their loved partner, father and son.
Is there no humanity on the part of the Australian government?
Is there no heeding the calls from Amnesty International, a bevy of Australian and international legal and media groups which have rightly campaigned for some time against this egregious attack on democracy by the US security and defence establishment?
With an election looming in this country it is incumbent on us to ask both parties what they will do to rescue this Australian citizen. Barnaby Joyce as deputy prime minister is well placed to tell his cabinet colleagues to support Assange. As a backbencher he was a member of independent Andrew Wilkie's group backing the WikiLeaks founder. On the Labor side those who would be foreign minister and attorney–general, Penny Wong and Mark Dreyfus respectively, need to be lobbied and briefed on how they can stand up for media freedom and free speech values as soon as they hit the Treasury benches.
The High Court's decision on Friday is a blow to Assange but as we know extraditions are often political at the end of the day and this one particularly so.