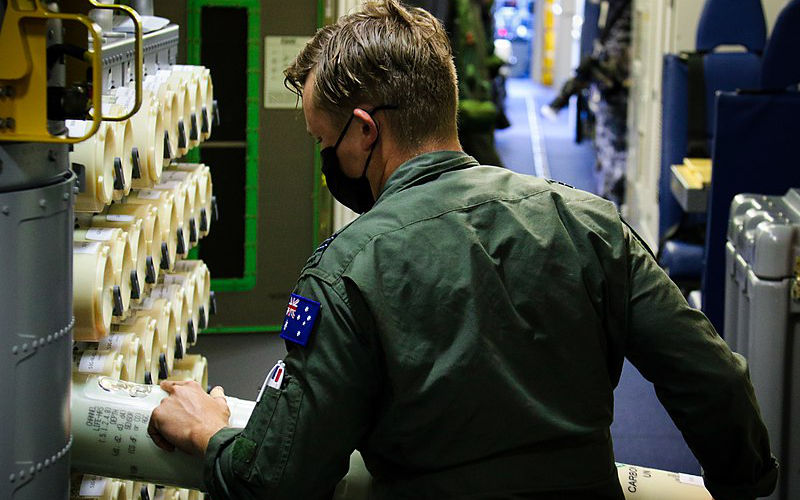 The mainstream media has once more tried to generate alarm about the presence of two relatively innocuous Chinese electronic spy ships in international waters during the latest biennial Talisman Sabre military exercise spread across the Australian mainland and offshore oceans. It involves 30,000 troops from 13 countries. Although the Indian prime minister Narendra Modi had publicly assured his Australian counterpart Anthony Albanese that his country would attend, India did not turn up.
The unnamed enemy is China. A London based journalist reported from Townsville that the latest exercise was occurring against a "changing security landscape in which China grows evermore belligerent". Apparently, he didn't see any need to give evidence for this dubious claim. The defence minister, Richard Marles said Talisman Sabre provided an opportunity to practice "high-end" warfare. Just how participants such as PNG, Tonga and Fiji can do this is not clear. In a war, their role would be to let the US operate from their territory.
During the last exercise, the ABC's national television news each night ran a video of the spy ships across the top of the screen. It hasn't gone that far this time, but has given extensive coverage to the spy ships without explaining what harm they might be doing.
The participants don't seem alarmed. During the last exercise, an ABC journalist asked an American soldier on an amphibious ship if he was worried about the presence of Chinese spy ships. He replied, "No, we do it to them and they do it to us". An Australian military spokesman said this time that it had taken the appropriate precautions to ensure the spy ships don't cause any harm. A core reason is that all signals traffic is encrypted. The reality is that the US and its allies conduct electronic intelligence gathering on a much greater scale than China can. The Pine Gap satellite ground station in central Australia, for example, generates billions of pieces of intelligence every day. This did not stop the ABC defence correspondent Andrew Green commenting on the activities of one Chinese spy ship, "If knowledge is power, China has just become more powerful".
The RAAF's P8A Poseidon electronic spy planes pose an aggressive threat to China by dropping sonar buoys in the South China Sea where its submarines are based on Hainan island close to the mainland. The small buoys contain an underwater microphone to pick up the sounds from submarines and relay the data to the spy planes conducting surveillance for potential military use.
Australia's behaviour in the South China Sea is the same as if Chinese planes dropped sonar buoys outside the Fremantle base for Australian and US submarines. But the Chinese planes don't do this. That's another sign that its main military focus is on defending the approaches to its own territory. That constitutes no threat to Australia let alone America. Perhaps they will acquire a long range surveillance capability in future and patrol outside Freemantle.Perhaps they won't. No one knows.
Clinton Fernandes, professor of international and political studies at the University of NSW's Canberra campus, says, "Australia and the US airdrop sonar buoys in the South China Sea by the thousands to detect submarines". He says, "Our goal is to enable US hunter-killer submarines to trail and sink Chinese vessels at the outbreak of hostilities". Fernandes explains that tensions are high because the US insists it is entitled to conduct military and intelligence collection activities within other countries' Exclusive Economic Zones (EEZs). These zones extend for 200 nautical miles from their coastline. International law does not stop coastal states from establishing Air Defence Identification Zones for security reasons within their EEZs.
Coastal states also have the right to regulate activities such as fishing and petroleum exploration within their EEZs. The US accepts it should not go within 12 nautical miles of the coast, but demands the right to do what it likes inside the EEZs. India, Indonesia, Malaysia, Vietnam, Brazil, Portugal and Pakistan are among the countries that agree with China that they are entitled to stop war ships from engaging in military and intelligence gathering activities within their EEZ's. Indonesia and Vietnam go further, making submarines surface to go through some or all of their waters.
Unsurprisingly, tensions can run high. In May this year, the Eurasian Times, an Indian-Canadian publication, noted that in a previously unreported incident three US military aircraft in early 2021 "embarked on an unusual submarine hunt conducting operations remarkably close to China's shoreline." The South China Morning Post reported that the intensity of the situation "prompted the US to destroy its floating sonars to prevent them falling into Beijing's hands".
In June last year, Marles complained that a RAAF P8 was conducting "routine" surveillance in international airspace above the South China Sea, when it was intercepted by a Chinese J-16 fighter plane which released small pieces of aluminium "chaff", some of which could have been sucked into the plane's engines. However, the plane landed safely. It was one of two Australian planes flying surveillance missions out of Clarke airbase in the Philippines. Defence did not release a map of the plane's flight path over the South China Sea, nor explain whether it was dropping sonar buoys as is normally the case. The latter could be regarded as provocative rather than routine, although not necessarily illegal. Certainly, Australian media would consider it provocative if China developed a long-range air capability and dropped sonar buoys off the submarine base at Fremantle. Albanese portrays the co-operation between the US and Australia to conduct potentially aggressive military activities in the South China Sea as part of the struggle between autocracies and democracy. Unfortunately, the draconian nature of some of Australia's national security laws, deprive Australia of the right to call itself a liberal democracy.
Similar problems arise with Albanese's iron grip on the Labor party's federal conference in Brisbane on August 17-19. Although he describes Labor as a democratic party, he has effectively banned any parliamentarians attending the conference from supporting motions in favour of scrapping the AUKUS pact or the acquisition of nuclear submarines. Albanese has also banned any parliamentarian from supporting the existing conference policy of making it a priority to recognise of Palestine as a state.
Editors' note: If you enjoyed reading this article, please consider financially supporting P&I by visiting our contributions page.
A growing string of Pearls and just as many Irritations: P&I needs your support