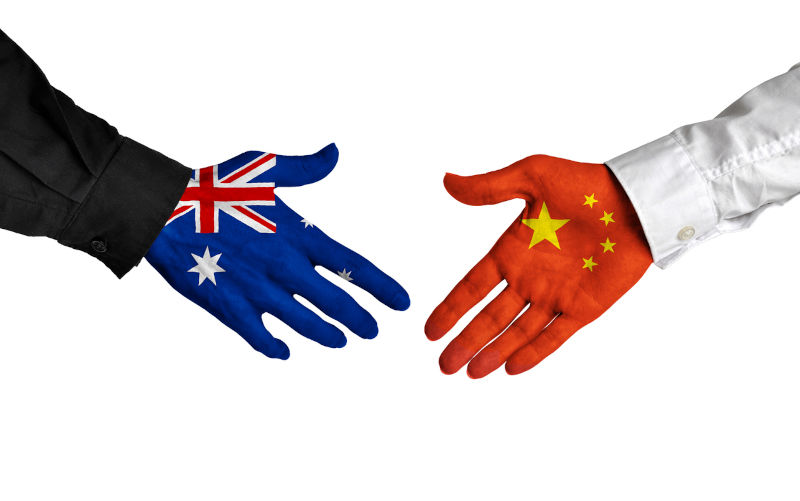 Former Australian Trade Minister Andrew Robb, in an exclusive interview with People's Daily Online, said he viewed the upcoming visit of Prime Minister Anthony Albanese to China as another step toward normalising political relations.
Albanese is scheduled to visit China from November 4 to 7, 2023, during which he will participate in the sixth China International Import Expo in Shanghai, as announced by China's Ministry of Foreign Affairs. This visit marks the first time an Australian prime minister has traveled to China since 2016.
Architect of ChAFTA
Robb anticipated significant benefits from a mutual agreement to review the China-Australia Free Trade Agreement (ChAFTA) during the visit. "It's time we had it. It's been working hugely successfully, but we can take it further," he said.
As the former Australian federal minister for trade and investment from 2013 to 2016, Robb signed ChAFTA on behalf of the Australian government in 2015. ChAFTA officially took effect on Dec. 20, 2015, and has since been recognised as a substantial achievement, with former Australian Prime Minister Tony Abbott hailing it as "history-making" for both countries.
Speaking of ChAFTA, Robb couldn't hide his pride. Gesturing upward, he highlighted that from 2015 to 2022, over the seven years following the signing, bilateral trade between the two countries saw an impressive nearly 150-percent surge.
Robb has every reason to take pride in that accomplishment, as sealing a deal was no small feat. On Oct. 29, 2023, talks regarding a free trade agreement between the European Union and Australia collapsed, with the Albanese government saying a deal is now unlikely within the current parliamentary term. It had been five years since the negotiations began in 2018.
'Put yourself in the shoes of the other country'
Ten years were also spent on free trade negotiations between Australia and China. During the talks, Robb vividly recalled facing skepticism from European trade organisations, as well as the U.N. and the World Trade Organisation. Doubts were expressed, with statements like, "You're wasting your time, Andrew. China is just going to walk all over you. You won't get anything." But they were taken aback when he returned to Europe after successfully completing the negotiations. Robb playfully imitated their surprised looks and exclaimed, "What happened?"
The key to successful negotiations, Robb said, lies in figuring out what you do best and then trying to put yourself in the shoes of the other country. This philosophy aligns seamlessly with the wisdom of "knowing oneself and knowing the enemy, a hundred battles, a hundred victories," as the Chinese proverb goes.
Robb knows China well, having visited the country about 50 times since 1984. Over the years, he witnessed China's progression from bicycles to scooters to cars. Establishing connections with numerous Chinese businesspeople keen to see bilateral trade take off, Robb gained valuable insights into Chinese politics, history, and the rationale behind certain reservations.
Robb often turned to his network of Chinese business contacts for advice, asking questions like, "Minister Gao (Hucheng) seems to be uncomfortable with this. What am I missing? What's going on?" In response, they would offer insights, advising on considerations such as the necessity for a gradual transition rather than an abrupt change, among other perspectives.
"You've got to know the best way to get a deal done—a good deal that everyone's happy about. You won't do a successful deal if the other side isn't happy," Robb said.
China and Australia's reciprocal trade relationship
"Of all the agreements that I did with nearly 20 countries, I think China was the one that was so complementary," Robb said. "In other words, what Australia is good at, China needs, and what China is good at, Australia needs."
According to the official website of Australia's Department of Foreign Affairs and Trade, China stands as Australia's largest two-way trading partner in goods and services. In an exclusive interview with Daily Mail Australia in 2020, Robb said Australia's post-COVID economic recovery would need to rely on China.
However, Australia's heavy reliance on China has sparked concerns among some of its citizens. In response to these concerns, Robb stressed the significance of avoiding "putting all your eggs in one basket." Yet, he also acknowledged China's enduring competitiveness, highlighting not only its competitive pricing but also the efficiency and quality of product delivery and smooth customs processes.
Robb noted that Chinese and Australian businesspeople like doing business with each other. He asked Australian businesspeople what made doing business with China different from doing business with other nations, and he got answers like "Once you've done a deal, once you shake hands on the deal, that's it; the deal's done, it doesn't change." He further noted the efficiency of the Chinese in facilitating smooth operations post-purchase, including getting the product, loading it onto ships, and delivering it to clients.
Prospects of AU-CN commercial relationship amid stabilised politics
Robb expressed admiration for China's remarkable achievement in lifting 800 million people out of poverty, describing it as an "unbelievable job." He also commended China for its substantial contribution to global growth.
He foresaw China's continuous growth, both in size and strength. "So, I think the Albanese government is to be commended for the way in which they've been handling things on the security side, without rubbing China's nose in it," he added.
He said that geographically, China and Australia are like neighbours. Just like residents on the same street, everyone has their own thoughts, and both countries have unique cultures and perspectives. Therefore, the differences between China and Australia are normal. With each nation having distinct political systems, environments, and population sizes, mutual respect is crucial in their interactions.
Robb believes that there is currently a solid foundation of trust between the two countries, which he sees as the cornerstone of all strong relationships. He envisions building upon this trust to further enhance cooperation, especially in the services sector, and to expand existing robust deals. Expressing confidence in exploring new territories such as e-commerce, digital technologies, and artificial intelligence, he chuckled, "We are a strong first-world country, but we're not big. So, we can be almost like a laboratory for China."
At the end of the interview, Robb conveyed optimism for the future with a smile, stating, "If we can stabilise the politics, the commercial relationship is just going to grow and grow and grow."
First published By People's Daily Online November 2, 2023