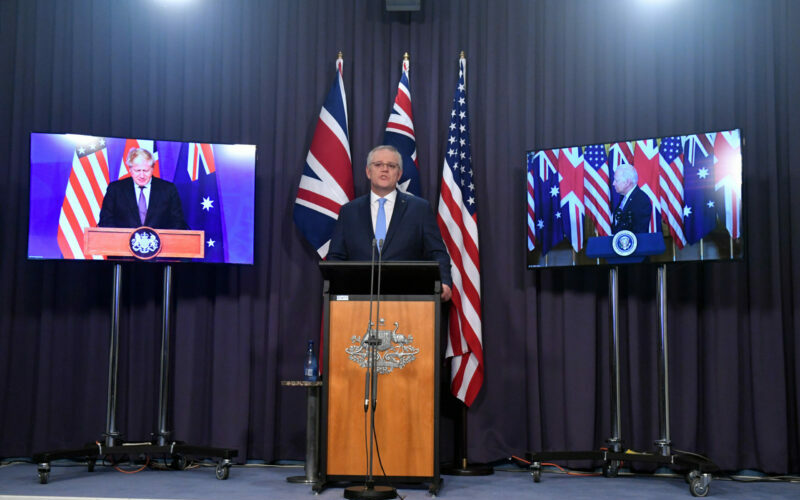 Obsessed with demonising China, the Morrison government appears to exult in its destruction of one of Australia's most valuable relationships.
Australia is retreating from Asia, especially China, so fast that it is, as John Menadue noted, becoming a rout. The Anglosphere revival is obvious in AUKUS, while the mainstream media provides a solid, though flawed, ideological basis.
In the most recent sign, Australia obediently followed the US in declaring, on December 8, a "diplomatic boycott" of the Beijing Winter Olympics in February. I regard this move as a major further step in Australia's retreat from Asia. What was striking to me about this announcement was the nonchalant and bumptious tone of Scott Morrison as he announced this boycott. It would, he said, be "unacceptable" if China were to take economic measures against Australia, but we have to have a diplomatic boycott because China is a place that practises serious human rights abuses against Uyghur Muslims.
He went on to say that the deterioration of relations with China was a reason for imposing a diplomatic boycott. It's apparently fine for us to insult a country like China, because they are the enemy and a nasty place. But for them to react would be immoral. Morrison struck me as a like a self-righteous schoolboy so sure that his superiors will back him that he doesn't need to worry about retaliation. Respect others? Yes, but not a bad place like China.
The most important point is that Morrison apparently no longer wants to improve relations with China. He thinks it's fine and in Australia's national interests to keep relations bad and China the enemy, as long as they don't take measures against Australia. His whole attitude seems to me condescending in the extreme, and unwise to the extent of verging on asinine.
Morrison himself has lost moral and other authority at home over various matters like his inability to control right-wing extremists such as George Christensen or to react properly to the Jenkins report charging serious sexual harassment in Parliament. What he has done is to follow the master in Washington, where the Biden administration had decided on a diplomatic boycott only a day before. When Joe Biden's press secretary Jen Psaki announced the boycott, the first reason mentioned was "genocide" against the Uyghurs. Fortunately, Morrison left out reference to "genocide".
As it happened, on December 9 an unofficial tribunal in the United Kingdom came out with a report with much discussion of whether there has been genocide among the Uyghurs. I take the report seriously but do not regard it as final. In the end it found only one definite reason for finding China guilty of genocide, namely the enforcement of sterilisation and birth control among the Uighurs. I don't defend either of those but I couldn't helping reminding myself that for decades there was a one-child-per-couple policy among the Han, while most Uighurs, as an ethnic minority, were allowed to have an additional child.
The report actually made no recommendations, in particular none about diplomatic boycotts of the Games. As Binoy Kampmark pointed out, history suggests these boycotts make no practical difference. China's spokesman Wang Wenbin pointed out caustically that Australia had not been invited to send officials or diplomats to the Games and their absence would not be noticed. Unfortunately, Morrison's gesture was grandstanding and against the spirit of the Olympic Games. New Zealand's approach was not to send government ministers, due mainly to COVID-19 and logistic reasons, but to allow diplomats to attend.
It hasn't got as much attention in the mainstream media as it should, but on December 2 the United Nations General Assembly voted by consensus for a truce in international conflict during the Winter Olympics. Of the total of 193 countries, 173 cooperated to adopt the resolution, while the US dissociated itself and 19 others, including Australia, followed. What it tells me is that international opinion would like to see the Games go ahead without disruption and function to serve peace and international harmony. That is what sport and the Olympics have been supposed to do since ancient times. Jen Psaki said she thought human rights were in the American DNA. It doesn't look like that to me. What the US is doing is stoking conflict.
These are signs of our retreat from Asia and move back towards the Anglosphere. Of course, they are not the only ones. The recent AUKUS agreement was another sign. Morrison is so insensitive that he can't even see that breaking off an expensive deal with France, and then lying about it, as French President Emmanuel Macron was convinced was the case, was not only insulting but also dishonest.
Then we add the way the defence people, especially Defence Minister Peter Dutton, are fanning the flames of war with China, especially over Taiwan, and we see a very dangerous situation made worse by the Australian government.
Will China under Xi Jinping make a move to reabsorb Taiwan, which the international community recognises as part of one China? Probably not. It is true that Xi has referred to taking "decisive measures" against Taiwan independence groups, but China's position is for peaceful, not military, reunification. The trouble is that recently the US and its allies have been strengthening their diplomatic ties with Taiwan on the grounds that it a democracy, whereas China is not. Biden said on December 8, admittedly in the context of the Russians and Ukraine but not making any caveats, that he doesn't care about anybody's red lines. And Biden invited Taiwan to his "democracy forum". To China this must seem extremely provocative, and I wonder how much longer China will be prepared to cop it.
My point is that I doubt China will make a move on Taiwan, but even if it does, that shows nothing about China being a threat to Australia. China doesn't claim Australia as part of its territory, or as a tribute state. It does claim Taiwan as part of China, and the international community has always recognised it as such.
Labor has not been very helpful. I really can't understand why deputy leader Richard Marles was immediately prepared to back Morrison's diplomatic boycott of the Olympic Games, supported a little later by Anthony Albanese. It's true that the Australian Labor Party (ALP) has been more vocal in opposing Dutton's war provocations, but it does not seem in any particular hurry to repair relations with China.
The one big exception is Paul Keating, Labor prime minister from the end of 1991 to March 1996. On November 10 this year he was interviewed by Laura Tingle for the National Press Club. He made several interesting and important points. He said Australia had lost its way in Asia and was looking for "security from Asia rather than in Asia". I think that sums up neatly the extent to which we have abandoned the policy of deeper engagement with Asia.
Paul Keating's speech is a teaching moment in a fraught relationship with China
This applies especially to China. Keating was very forthright that China's rise was perfectly legitimate and that China did not want to dominate the region or the world. He was equally forthright that Taiwan was not a vital interest for Australia, which formally recognises the island as part of China and not as an independent state. Of course, the mainstream media, the government and even the ALP heaped blame on Keating — shouldn't we support a budding democracy? — but he was right all the same.
Mention of the mainstream media brings me to considering one of the main forces supporting our retreat from Asia. I won't dwell on this, as there has been much discussion of it in Pearls and Irritations. I'll say only that I agree with a comment made by the excellent researcher Sun Wanning that "over the past couple of years, there has been a shift from so-called "objective" journalism to what I call "adversarial" journalism", with China becoming designated as an enemy. It's my strong impression that she's right when she comments that "since the West sees communism as patently evil, there's no need to make any effort to understand it". This makes our mainstream journalism tend strongly to be an instrument of demonising China rather than understanding it.
There is not much good news. In the economic sphere, Chinese investment is in sharp decline as the Australian government actively seeks to "diversify" away from China. In trade, there have been hiccups, too well known to discuss here. But there has also been a bit of good news. We know that China remains Australia's top trading partner. In an Australia-China Relations Institute report issued in early December, Glenda Korporaal suggested that despite the obstacles placed by politics, "this report documents that Australian executives are still keen on doing business with China and fully intend to continue to do so". Noting that many business people are willing to continue trying to do business with China, she points out the strength and needs of an obviously growing and very important middle class, which can only form a magnificent clientele. The picture does not look too rosy at present, but if the government can only overcome it obsession with a threat from China, Korporaal's report gives grounds for thinking the situation could be revived .
In 2012 John Menadue wrote an article fearing the consequences of an Australian retreat from Asia. Since then, the situation has worsened considerably. Although the Coalition government has been the main culprit, the ALP doesn't seem to care much either, and the revival of Sinophobia as an election issue is a toxic and scary sign. Most of the mainstream media is happy to go along with this trend or even provide it with an ideological basis. There are a few positive signs but not many, and Morrison seems to exult in having destroyed a valuable and important relationship. The retreat from Asia is currently worsening and tending towards becoming a rout. This is flatly contrary to Australia's interests.