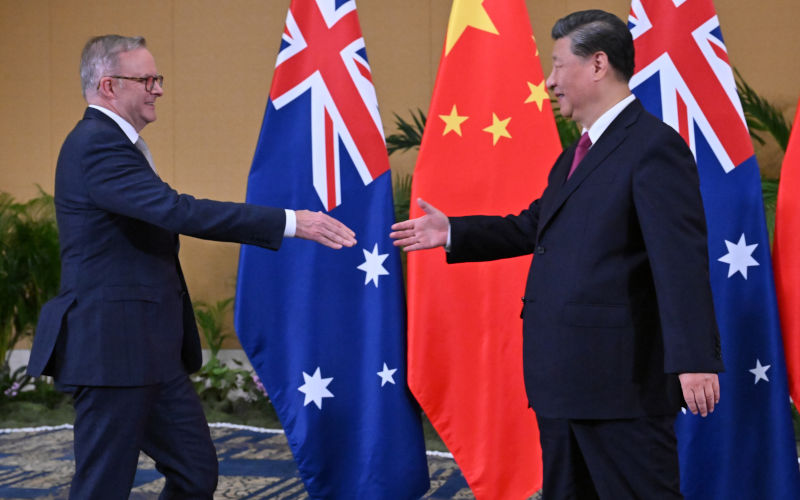 Cooperate where we can, disagree where we must. It's time to start the next 50 years of the Australia-China relationship on a more positive footing. Exactly as our predecessors did in December 1972.
"We will cooperate where we can: (and) disagree where we must act in the national interest". A carefully worded quote from Anthony Albanese as he came out of his "warm and constructive" meeting with China's President Xi. Carefully worded because the PM knows that China is crucial to the ongoing well-being of the Australian economy and because he knows, no politician in the current media climate dares to openly say nice things about China without that caveat.
Day two of the G20 and perhaps the most important meeting of the day was that of Australia and China's leaders. China is too important an economy for Australia to dismiss but, as far as China is concerned, Australia isn't irreplaceable. Australia's business people, politicians and community leaders know this but our media would like us to believe something else. Current figures are that China exports 2% of its products to Australia and imports 6% of its total from Australia, but is still Australia's Number one market for exports (188bn) and supplier of imports (93bn).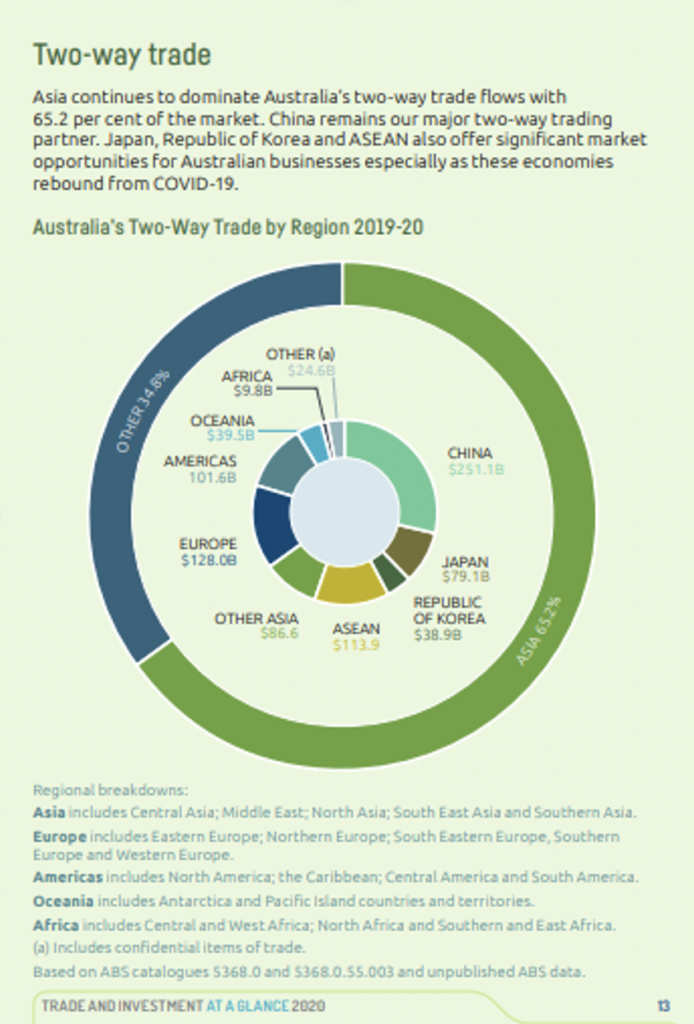 Source Trade and Investment At A Glance 2021. Accessed 16th Nov 2022
As some media reports go, this meeting was a victory for Australia and a capitulation for China, China's Global Times however, sees it differently: "China values Australia's recent willingness to improve and develop bilateral relations" was one of Xi's quotes, and was not contradicted. The fact that Penny Wong and her opposite number in China, Wang Yi have had several good discussions in the past is a positive sign and, as they pack their bags and head to Thailand for the APEC meeting, it's almost certain there will be more. Australian trade with China has never gone down, this is just something the media would have us believe, there were a few trade disputes but trade between the two could certainly improve considerably if only the relationship were better.
Ask anyone in the pub, or go out with your mates and have a meal and when anyone mentions something they read in the paper, saw on the news or clicked online and they will be ridiculed: "you can't believe everything you read in the papers mate" or, sarcastic rejoinders such as: "Well, if it's in the papers, it must be true". This leads us to one of the modern world's most fascinating dichotomies.
No one believes anything they read in the papers; of course, that's because hardly anyone reads the papers, they get their information online from Twitter, YouTube or other social media sites that were designed as entertainment but have now become our go-to sources for news. In doing so, we create our own information bias through following and interacting with like-minded people. Unfortunately, much of the information they provide us, is untrue.
Read any one of the mainstream media's headlines and you'd be forgiven for thinking China is evil. Even "Australia's ABC reports today that: "Xi has overseen what has been called a genocide…" and Xi: "threatens Taiwan with an invasion", he's also "crushed dissent" and is "tearing up the commitment to one country two systems". All this in just one paragraph!
And none of them are true. As always with mainstream media there is a kernel of truth wrapped up with misunderstandings, misrepresentations, often mistranslations (deliberate or otherwise), cobbled together and glued with misinformation.
Politicians, wary of losing votes, dare not go against public opinion and public opinion is formed by media. Much of Australian public opinion is formed by Australia's most influential (American owned and headquartered) media group, News Corp limited. Many of their articles on China are written by reporters with connections to the Australian Strategic Policy Institute (ASPI) or sourced from material published by ASPI. Yet, ASPI, despite claiming independence, are connected to, substantially paid and influenced by the US State Department, Taiwan's government and many international military contractors.
The previously quoted ABC article is a lead article on their website and written by Stan Grant, one of ABC's, and perhaps Australia's, most recognised and senior correspondents who also happens to be, or has been, a senior fellow of ASPI. The lack of disclosure on this matter is something that this website has questioned in the past.
So now we enter a different dichotomy. If the US State Department and our US influenced media would like Australia to be unfriendly towards China, then America should lead by example and also be unfriendly towards China. Yet, a day before President Joe Biden, met and had very friendly discussions with President Xi. Now Australia's PM has done the same. But this apparent friendship has limits.
Biden is the same president who once called Xi "a thug" and has recently enacted the CHIPS for America Act which prohibits investments in, and prevents sales of, semiconductors to China. The same President who presides over a Senate which has recently approved the United States Innovation and Competition Act. All this while conducting friendly meetings with Xi, online in November last year and several times by telephone and letter since coming to office. In other words, what we're seeing on the surface, the friendship and talk of ongoing cooperation can't continue.
Biden will return to the USA and face a Senate and Congress that, even if they do remain under the control of his own party, won't support him on being friendly to China. He'll also face already low approval rates and risks dropping that further if he's considered to be "soft" on China. So, words across a conference table in Bali may not transcend into actions in Washington. There are, for example, right now over 5000 items of legislation or resolutions in the House which are anti-China in nature. It's unlikely any of them will be pulled out of the system because Biden and Xi are now friends again.
This means that Australia must, for the time being at least, go its own way with China, it must form its own foreign policy and must do so without relying on leadership from the USA because that leadership is a hash of mixed messages. At the same time Penny Wong in her meetings with Wang Yi and Albanese in any future dialogue with Xi, both need to be seen to deliver on their commitments of ongoing diplomacy as Australia and China enter their 50th year of relations. Much more importantly, if Australia is to start a journey back to something approaching the relationship of previous years, they need to disregard the rhetoric of US influences in Australian media and potentially the general public too. However, early in their term is the best time to do this as they have until 2025's election to prove themselves.
According to Australian media, the ABC says this meeting will "not extinguish differences", the Australian edition of the Guardian says Australia will "stick to its values", The Australian Financial Review states the entire reason for Xi's "about face" is because of his "problems at home".
The takeway from the G20 meeting for Australia must be that there is an opportunity to do better. China welcomes the opportunity and opens its doors to increasing trade. If Australia really does have the problems with China that ASPI and ABC's Stan Grant suggests, then China would welcome the opportunity to address them. Ask for a look at Xinjiang, it will be granted; visit and talk with Hong Kongers in the streets, opinions will be different; look for examples of "crushed dissent" and see if any are evident, they won't be; read the official translations of what Xi has said on Taiwan, he has never indicated he will take it by force, he's always said he would prevent others taking it away from China. These are the realities.
It's time to start the next 50 years on a more positive footing. Exactly as our predecessors did in December 1972.
This post has been republished in Sydney Today, in simplified Chinese on 21 December 2021.