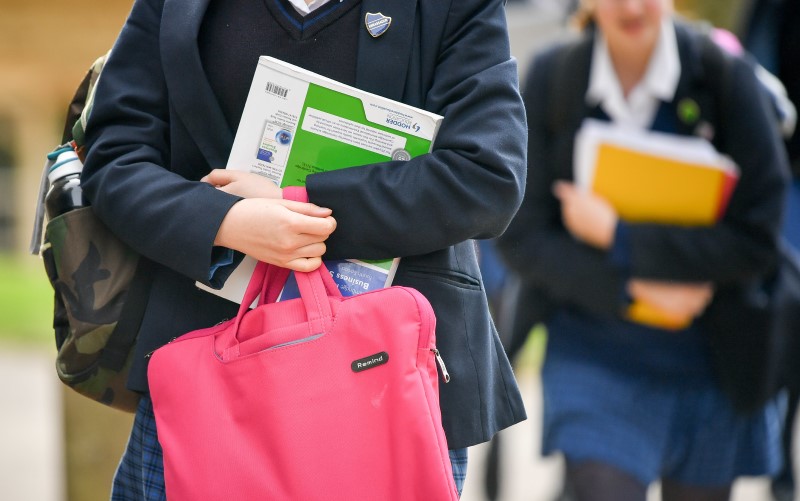 Teachers and students returning to school  in NSW won't find themselves in Covid-safe conditions, John Frew writes.
The just-released "Advice for Parents" regarding protocols to deal with the return to school of students, is another example of the incredible incompetence that has devastated public education in NSW. This release, like most decisions coming from both the federal and state governments falsely promises the very best possible outcome by assuming a tough stance.
These current directions that have been released are so full of holes they do nothing to address the situation.
Take for example the real shortage of teachers. Prior to the anticipated teacher absentees due to Covid protocols, a significant number of teacher shortages already existed. These numbers will inevitably be compounded in a workforce that is already dealing with 3000 vacancies. These vacancies are not equally distributed across the state but strongly reflect the socio-economic profile of the schools.
Research by the teachers' union revealed about a 20 per cent shortage due to teachers leaving the system in droves. Between 40 per cent to 50 per cent of teachers leave in the first five years because of the ridiculous workload and pitiful pay rates compared to equivalent jobs in the private sector.
To add to this workload schools will have to take on the additional task of distributing 6 million rapid antigen tests to all families who will be responsible for conducting two tests per student per week. The parents are to pick these test kits up from the school. Anyone who has worked in a school, especially those in difficult areas understands how this simple direction is laughable. Just trying to get a 100 per cent response from any school instruction regardless of its value is impossible. So, what do schools do when parents refuse to cooperate? Nothing, it is not mandatory. The kids don't have to be tested before they go back and there are no penalties for non-compliance. How are the schools expected to provide a safe environment?
As Angelo Gavrielatos of the NSW Teachers Federation points out, no other industry would be allowed to subject their workers to settings where there are up to 2000 personnel at one site, groups of up to 30 people confined to poorly ventilated rooms and no prior evidence required that everyone on site has tested negative to a Covid check.
The premier and the current Education Minister Sarah Mitchell feel confident that these guidelines will suffice and as for the teacher shortage they are appealing to attract teachers through the "joy of teaching" while they desperately try to entice staff from overseas.
This is a familiar hopeless idea shared by other portfolios to address other shortages resulting from the plummeting appeal living in Australia has experienced under our federal government.
Previously the US has been a source of teaching staff but Australia now has a "do not travel to Australia" warning to US citizens placed on it by the US government. Another smart idea is to attract retired teachers back into the classroom. For many of these old teachers, the "over my dead body" sentiment is a bit too prophetic.
And, in a last-ditch effort, student teachers will be co-opted into school to cover the vacancies. Does this mean these untrained teachers will be subjected to the outrageous demands that currently exist for first-year-out teachers?
School goes back next week to conditions that can only be seen as abusive. We have seen the "let it rip" approach to the pandemic take the lives of too many for the sake of the economy.
Now this "let's pretend it will be okay" attitude by the government may well have the same deadly outcomes for teachers and students.