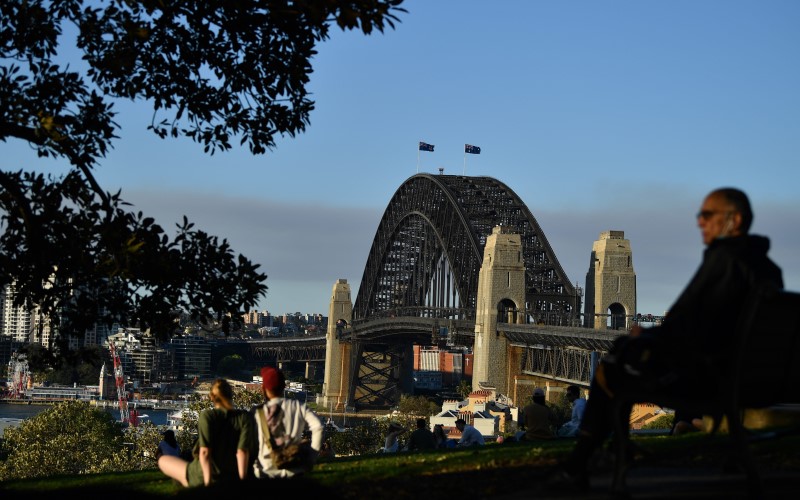 The separation of humans from nature is a major factor in the planet's ecological challenges, but the COVID-19 pandemic might shift our thinking.
Has COVID-19 started a trend for us to take more time in green spaces, and will it lead to a leap forward in our actions to care for nature?
In areas where they were allowed out to exercise during lockdowns, people were everywhere — walking, jogging, exercising dogs, pushing prams. Local parks came into special focus and beaches and coastal walks were crowded too. This desire to be outdoors seemingly confirms evidence that time in, and a close relationship with, nature is needed by humans for a sense of wellbeing and mental health.
The results of a survey to explore if interactions with outdoor environments during the COVID-19 pandemic led to a greater appreciation of nature, and whether these were a new and exciting experience, are not yet in. However, the pandemic revealed that, in Sydney, access to outdoor spaces and natural areas is important although not equally available, certainly not within five kilometres of home. In areas blessed with an abundance of green space, town planners of the past were quietly thanked.
Sydney is fortunate to be ringed by national parks. The NSW National Parks and Wildlife Service reports that, compared with the same period in 2018, visitor volume grew by up to 50 per cent in the last quarter of 2020. The trend intensified in the first half of 2021 as travel options were limited.
The National Park (now Royal) was established in 1879 to provide "lungs for the city" and allow escape from the inner-city miasma. Now, with Sydney's increasing density, the amenity and availability of outdoor spaces are proving vital to provide escape from the miasma of COVID-19 and to contribute to wellbeing and health. During the pandemic it became apparent that access to the benefits of green spaces is not equally available across the city. The NSW government announced two major programs to enhance green spaces within the city: Great Public Spaces and Greening Our City. The department said:
"People with access to green and public places are healthier and happier than those who don't. For many people living without a lush backyard, the parks and green spaces in our towns and cities are vital to maintain both physical and mental health."
Both programs catalyse sub-projects with local councils and community groups. These steps to "green" the city are welcome, but there is an opportunity to take this further. Our national anthem enthuses that "our land abounds in nature's gifts of beauty rich and rare", but what are these gifts and how many people know about them and appreciate their value?
Our "nature's gift" of biodiversity seem to be disposable for economic development, even to clearing the most endangered ecosystems. A recent proposal is for a 16-kilometre east-west motorway and corridor connecting the future Western Sydney airport to the rest of the city. Along the way it will provide a shared cycling and walking path that branches off into surrounding parks. A tick for planning access to green spaces, but along a motorway?
Unfortunately, this corridor will cut through the critically endangered Cumberland Plain woodlands, resulting in about 81 hectares of native vegetation being bulldozed. We are promised this will be offset by securing some of the same ecosystem elsewhere! However, that is certain death for most of the "rich and rare" animals and plants living there. In fact, for a 13-kilometre radius around the airport, native plant life will be restricted to discourage birds that might create a risk to planes. This is our story over and over: nature is expendable for economic growth. Nature's gifts should be integrated into planning.
Is this land clearing due to a lack of appreciation and understanding of how unique and interdependent natural systems are? Is it due to a lack of relationship or connection with nature? Many write of the growing physical and psychological separation of humans from nature being the primary driver of the social-ecological challenges facing the planet, including climate change.
Yet it is clear Australians love the outdoors and being in nature. Is that love enough to advocate and care for nature? Are nature's riches evident in our public conversations and national identity?
Many readers may be unaware that Australia's Strategy for Nature 2019–2030 proposes actions so that "nature, now and into the future, is healthy and resilient to threats, understood, and valued both in its own right and for its essential contribution to our health, wellbeing, prosperity and quality of life".
Increasingly we are coming to appreciate the Indigenous connection and relationship with country, where people see themselves as a part of country and country as part of them. Yet, communicating the idea of oneness or connection with nature is challenging, especially virtually. The recent ABC program Back to Nature attempted to explore the emotional connections people can make with nature. The cinematography was stunning but the dialogue, leaving aside Indigenous reflections on connection with country, provided little to trigger awe, wonder or empathy. Anecdotally the dialogue put a lot of people off, even people who love the bush. So how do we reach the goal of connecting all Australians to our "nature's gifts"?
One of the positive outcomes of their encounters with nature during lockdowns was that many people began to observe and report on native birds on social media. In 2020 more than 25,000 people participated in Birds Australia's "Backyard Bird Count" and it will be interesting to see if there is an upsurge in interest in the 2021 count. Hugh Possingham, chief scientist of Queensland, says such citizen science programs are effective ways of beginning a relationship with nature, encouraging observations and data collection and stimulating the curiosity to learn more.
Does it all come down to education? A global alliance of organisations has developed "The Planetary Health Education Framework", which commits to a shift in the role of education from the informative to the transformative. It places "interconnection within nature" as the central element of the five domains of the framework because this interconnection has been a historically marginalised and ignored concept.
The strategies within the framework address the cognitive (sense of connection), the affective (caring component), the behavioural (commitment to act) and, where appropriate, the spiritual. The framework seeks to reach beyond the simple knowledge transmission of social-ecological interactions traditionally offered by educational institutions and hopes to surpass superficial and short-term attempts to "reconnect" with or "spend time" in nature. It is not just contact with nature but the nature of the contact that matters.
The Strategy for Nature could be more visible and active in its goal to "connect all Australians with nature", providing more impetus, resources and opportunities for collaborative learning among all tiers of government, NGOs and educational institutions.
Perhaps then we can build on what COVID-19 began — more contact with nature — and deepen the nature of the contact and the reflection on why we overexploit the natural world that is fundamental to our survival and wellbeing.