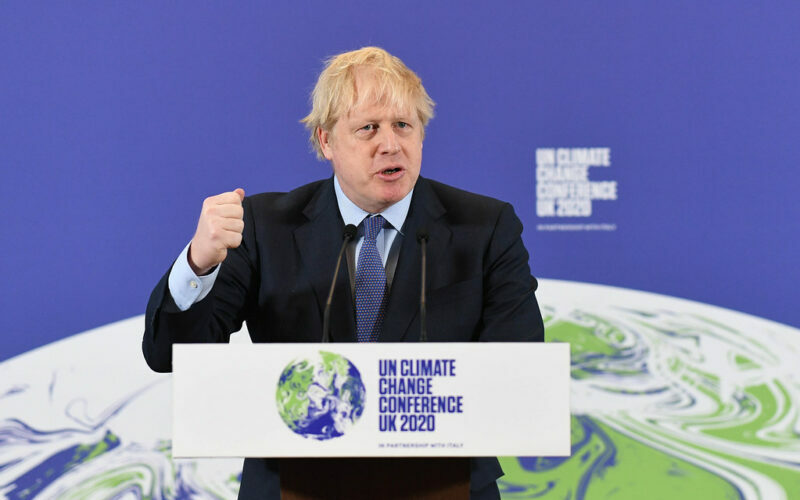 Momentum is building for the big climate conference in Glasgow next month. It needs a big contribution from China. This may not happen: their agenda is full. But Glasgow has succeeded already.
The big Glasgow conference on climate change, known as COP26, will run from November 1–12.
Boris Johnson is pulling out all stops to make it a success and a show of what "global Britain" can do. He has put Alok Sharma, one of his most senior cabinet ministers, in charge.
The build-up is as big as we have ever seen. Many countries have announced more stringent emissions reduction targets in preparation. The UK itself has made a legally binding pledge to cut its emissions by 78 per cent by 2035 compared to 1990. National leaders lined up this month to address the UN General Assembly on the subject.
Around 40 countries are expected at a "pre-COP" conference in Milan at the beginning of October. The month will end with the G20 leaders' summit in Rome on October 30 and 31. Many heads of state or government will go from there direct to Glasgow.
We can feel the momentum building, even here.
Before Glasgow, Scott Morrison wants agreement on a target for Australia to reach net zero emissions by 2050. His junior coalition partners, the Nationals, are stamping their elastic-sided boots, demanding something for them before they agree.
The rural sector has already been affected by climate change more than most parts of the economy, so reducing climate change is really a favour to the Nats. When Morrison caves, which he surely will, one hopes he will give them something useful. In a report this month, the Grattan Institute set out practical ways to reduce emissions from agriculture.
The issue is urgent. Time is running out. The Intergovernmental Panel on Climate Change released the first part of its monumental sixth assessment report in August, on the scientific evidence.
UN Secretary-General Antonio Guterres called it "code red for humanity". The report was even more definite than earlier ones, saying, "Human influence on the climate system is now an established fact".
It showed that only under the most stringent emissions abatement scenario is there hope for the world to keep global warming below the Paris target of 1.5 degrees Celsius. Even then, it is likely that the world will overshoot 1.5 degrees and will have to make its way back later in the century by sucking vast amounts of greenhouse gases out of the air.
To keep below 1.5 degrees, the whole world needs to cut emissions by 45 percent by 2030 and to zero on a net basis by 2050.
If we fail to do this, we can look forward to heatwaves, droughts, more big fire seasons, floods, sea level rise, more big storms and ocean warming and acidification — the whole catastrophe. How bad it will be depends on how well we cut emissions. Every fraction of a degree of global warming counts.
The deniers of climate change have been muted this time. The evidence is overwhelming. Even parts of the Murdoch media empire are saying net zero by 2050 is essential.
But the key to fighting climate change lies with China. It is by far the world's largest emitter, accounting for around 27 per cent of total greenhouse gas emissions. This is around double America's amount. The EU comes third, at 7 per cent, and India fourth at 6 per cent.
Chinese President Xi Jinping surprised the world in September 2020, announcing that China would aim for its emissions to peak before 2030 and to achieve "carbon neutrality" before 2060.
At the recent UN General Assembly, he said in a pre-recorded message that China would cease to finance new coal-fired power stations in other countries. It has been doing this on a large scale.
These were very important announcements, but will he go further by Glasgow? One never knows, but I doubt it.
China has a massively full agenda of reform already, aimed at the new goal of "common prosperity". Xi and the Chinese Communist Party want to rein in the powerful mega-rich tycoons of technology, property development and other sectors, even private tutoring.
Provincial officials, aiming for rapid growth and with plenty of money available, have built China's huge coal-fired power and industrial sectors at breakneck speed. It will take another campaign of forced reform to reduce China's emissions quickly. I am not sure they will take this on at this point.
Alok Sharma has said, "the ball is in China's court when it comes to making [COP26] a success". Will they return the serve?
Glasgow won't be a repeat of COP15 in Copenhagen in 2009, widely considered a flop. It has already been a success by forcing emissions cuts up the global agenda. Morrison might even fly home convinced that deeper cuts are needed by 2030.