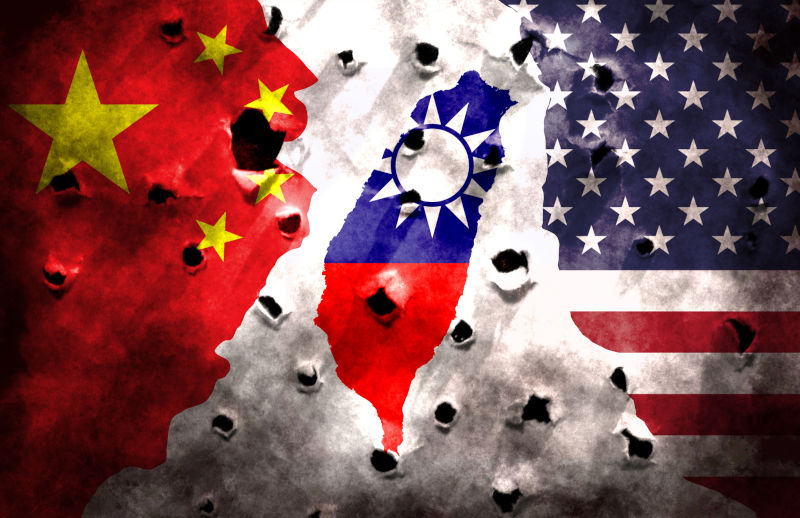 China's foreign ministry lodged 'stern representations' with the US after President Joe Biden again said American troops would defend the island if the PLA attacks.
It's seen as a possible strategy adjustment and a bid to find out and test Beijing's bottom line – but Washington 'won't be able to drive the PLA's schedule.'
US President Joe Biden has again said American troops would defend Taiwan in the event of a PLA attack, but analysts say it will not change Beijing's plans for reunification with the self-ruled island.
In an interview on CBS' 60 Minutes that aired on Sunday, Biden said the US would defend Taiwan "if in fact there was an unprecedented attack", after making similar comments previously.
Biden reiterated America's one-China policy, but said "Taiwan makes their own judgments about their independence" – raising questions over a potential deviation from the official line of not supporting Taiwan independence and opposing any move to change the status quo of the Taiwan Strait.
The Chinese foreign ministry lodged "stern representations" with the US in response.
"We are willing to do our best to strive for peaceful reunification. At the same time, we will not tolerate any activities aimed at secession," ministry spokeswoman Mao Ning told a regular media briefing on Monday.
She urged the US to handle Taiwan-related issues "carefully and properly" and not send "wrong signals" to Taiwan independence separatist forces, warning Washington not to damage its relations with Beijing and peace in the Taiwan Strait.
In Taipei, the Taiwanese foreign ministry thanked Biden for reiterating Washington's "rock solid" security commitment to the island.
CBS reported that after Sunday's interview, the White House clarified that the US policy of "strategic ambiguity" on Taiwan had not changed, but that the Taiwan Relations Act obligates the US to help equip Taiwan to defend itself.
Washington has been intentionally vague on whether it would come to Taiwan's defence in the event of an attack, a policy that is meant to deter Beijing from taking action, without the US committing to war.
Beijing sees the island as part of China and has never ruled out the use of force to take control of it. Most countries, including the US, do not recognise Taiwan as an independent state.
Washington normalised relations with Beijing and cut off official ties with Taipei in 1979. It opposes any attempt to take the island by force.
Zhou Chenming, a researcher from the Yuan Wang military science and technology think tank in Beijing, said Biden's latest remarks reflected the escalating tensions in the Taiwan Strait.
He said the White House's aim was to "maintain communication channels with both the Beijing leadership and the PLA, with their ultimate goal being to find out Beijing's bottom line".
"That would help them to prepare for the next step of the strategy, to test that line and create more tension in the region," Zhou said.
He also pointed to speculation in recent years by senior US military commanders of when the PLA might take Taiwan by force, saying it was all part of efforts to get an indication of Beijing's timeline.
But he said Beijing would "choose the right time to resolve the Taiwan problem" and that the US would not be able to "drive the PLA's schedule".
Fu Qianshao, a retired PLA Air Force equipment specialist, said Biden's comments suggested the "strategic ambiguity" policy on Taiwan was moving towards "strategic clarity". He pointed to the Taiwan Policy Act 2022, a bill being pushed by bipartisan US lawmakers to boost support for the island.
He said the US military appeared to be "adjusting its strategy to curb the PLA's preparation for a war over Taiwan using deterrence", saying that a promise to defend Taiwan was also aimed at encouraging Taiwanese pro-independence forces.
"The PLA won't be threatened … into taking early action or postponing the plan," Fu said. "Beijing has its own idea of what measures should be taken and the timing of Taiwan reunification."
Beijing's military planning would also be based on the assumption that the US would intervene in a conflict over Taiwan, said Drew Thompson, a visiting senior research fellow at the National University of Singapore's Lee Kuan Yew School of Public Policy.
He noted that the US had shown its commitment to Taiwan through arms sales, visits and exchanges to make space for Taipei to negotiate with Beijing from a position of relative security.
"Defending Taiwan is an integral part of that approach," said Thompson, a former director for China, Taiwan and Mongolia in the US Secretary of Defence's office.
But a conflict to defend Taiwan remained "very hypothetical", he said.
"We're not at that stage yet where an international coalition is forming to counter Chinese military aggression because Chinese military aggression hasn't yet emerged. We're still at the coercion phase, and military coercion is quite evident."
Lu Li-shih, a former naval instructor at the Taiwanese Naval Academy in Kaohsiung, said Biden's remarks could be more a case of "strategic deterrence".
"The US military realises that it's too difficult for it to cope with a Taiwan war while the Ukraine war is still going on," he added.
That view was echoed by Cheung Mong, an associate professor at Waseda University's School of International Liberal Studies in Tokyo. He said the US was trying to deter any outbreak of war "because it's not in the American advantage to fight on two fronts [Ukraine and Taiwan]".
"But Beijing's calculations might focus on domestic political need, making the US' deterrence very limited," he added.
Minnie Chan is an award-winning journalist, specialising in reporting on defence and diplomacy in China. Her coverage of the US EP-3 spy plane crash with a PLA J-8 in 2001 near the South China Sea opened her door to the military world. Since then, she has had several scoops relating to China's military development. She has been at the Post since 2005 and has a master's in international public affairs from The University of Hong Kong.