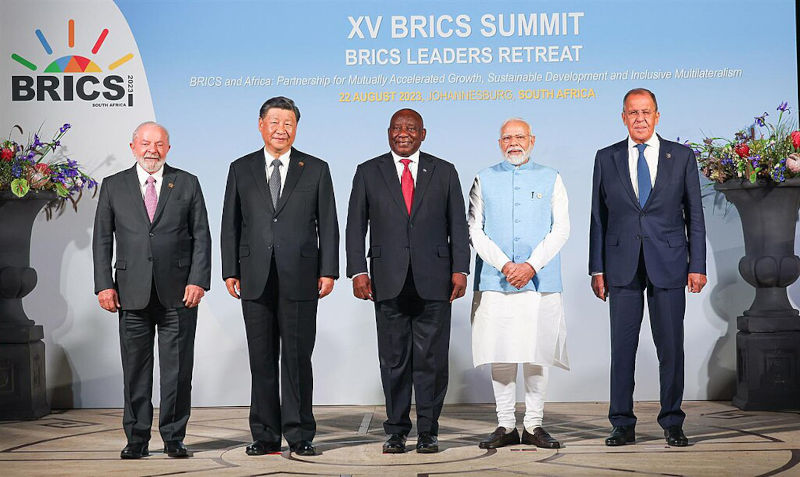 In Asian media this week: Bloc steps up challenge to old world system. Plus: Xi and Modi agree to ease border tensions; West loses 'plebiscite' on rules-based order; three-way 'alliance' confronts China, North Korea; US media support new China narrative; Biden to visit New Delhi but skip Jakarta; new Thailand PM a Thaksin confidant.
The BRICS grouping may need a new name, having agreed this week to admit six new members, strengthening the Global South's challenge to an outdated international order.
Hong Kong's South China Morning Post said the new members were heavyweights with deep pockets, key oil exporters, countries with booming populations and strategic locations.
The BRICS bloc, founded in 2001, consists of Brazil, Russia, India, China and South Africa. This week's BRICS summit, held in Johannesburg, decided to admit, from January 1, Argentina, Egypt, Ethiopia, Iran, Saudi Arabia and the United Arab Emirates.
SCMP's report, by Africa correspondent Jevans Nyabiage, quoted South African President Cyril Ramaphosa as saying BRICS was a champion of the needs and concerns of the Global South – including economic growth, sustainable development and reform of multilateral systems.
Aly-Khan Satchu, a geo-economic analyst, said the heavyweights were Iran, Saudi Arabia and UAE. The latter two countries had deep pockets and could serve as the equivalent of a lender of last resort in a changed international payments system.
Singapore's The Straits Times reported that UN Secretary-General Antonio Guterres, attended the expansion announcement, highlighting the group's growing influence. He echoed BRICS' calls for reform of the UN Security Council, the International Monetary Fund and the World Bank. "For multilateral institutions to remain truly universal, they must reform to reflect today's power and economic realities," he said.
China Daily said in an editorial the appeal of BRICS to developing countries should make developed countries heed calls for reform of the global governance system.
"The expansion of BRICS is a new starting point for the group," the editorial said. "All of the six new members, from three continents, are important regional players. Their inclusion in the group markedly broadens the scope of the BRICS mechanism and will inject fresh vitality into it."
Brazil's Luiz Inacio Lula da Silva looked forward to welcoming more new members. The Straits Times said they would be chosen according to their geopolitical heft, not the ideology of their governments. Lula said Brazil would support the entry of Nigeria, Angola, Mozambique and Democratic Republic of Congo.
China's Global Times said in an editorial Western media had reported BRICS members were at odds on the question of expansion. "They clearly underestimated the determination of the BRICS members and other developing countries to unite and co-operate," the paper said.
Productive talks outside the conference halls
BRICS Sidelines: At international summits, important meetings take place away from the conference halls. At the BRICS summit, China's President Xi Jinping was active on the sidelines.
The Hindu newspaper reported Xi and Indian Prime Minister Narendra Modi agreed to step up efforts to disengage troops and ease tensions along the Line of Actual Control separating the two countries. Their armies have been involved in a stand-off following clashes in April 2020.
SCMP said Xi also met the leaders of Cuba, Ethiopia, Bangladesh and Senegal. He hinted that Ethiopia's debt payments might be suspended. Ethiopia has a number of Belt and Road infrastructure projects and it owes China an estimated $US13.7 billion.
Global South grows, rules-based order 'implodes'
The Global South is gaining economic and political clout, increasingly joining the superpowers at the negotiating table. As the war in Ukraine burns out, a post-Ukraine settlement promises a shift in the architecture of international relations.
This is the view of Russian political scientist Oleg Yanovsky, as published recently in Hong Kong's South China Morning Post.
Before the war, Yanovsky says, the West was dominant with soft power, economic strength and military force.
"Now its soft power is being ignored by an increasingly illiberal Global South, its economic strength has yet to crush what the late US senator John McCain dismissed as 'a gas station masquerading as a country', and NATO-trained troops have achieved little two months in the counter offensive," he says.
"Since the re-ignition of conflict in Ukraine in February 2022, the United States and its allies have been pressuring the Global South to take sides. The non-alignment of most economies was a plebiscite on the rules-based order that the West lost.
"Few nations outside the West have joined the anti-Russian coalition. Major economies prefer continued growth over a conflict on behalf of the so-called rules-bases order."
Yanovsky, a lecturer in political theory at the Moscow State Institute of International Relations, says future historians will ask why the rules-based order imploded.
"The answer may be that, fundamentally, rules are only rules if everyone agrees to follow them," he says.
New three-way pact almost an alliance
South Korea, Japan and the US have agreed on what they call a new era of three-way co-operation, including military exercises, annual leaders' summits and top-level defence, diplomatic and economic meetings.
The Japan Times said the three countries' leaders met at Camp David, Maryland – "traditionally reserved for historic diplomatic announcements".
The paper's main story questioned whether the agreement would have staying power but it quoted US President Joe Biden as saying the initiatives were institutional changes in how the countries deal with each other.
The Korea Herald said in an editorial the new pact was the biggest change since the Korea-US alliance was formed 70 years ago.
"As North Korea, China and Russia are cementing their unity, it has become urgent for South Korea, the US and Japan to tighten their security co-operation," the paper said.
The agreement at Camp David, it said, was a step that precedes an alliance.
A commentary in the paper by Wang Son-taek, a director of the Global Policy Centre at the Hanpyeong Peace Institute, agreed that the prospect of military co-operation was almost that of a regular alliance.
A key point, he said, was that the capacity to respond to a threatened North Korean nuclear attack had been increased.
An opinion article in The Korea Times said the history of South Korea-Japan relations would be a great challenge to the pact. Colonial and wartime issues had not been fully resolved, said Kim Sang-woo, chairman of the East Asia Cultural Project at the Kim Dae-jung Peace Foundation.
"Many Koreans believe Japan owes more in terms of apologies and reparations," he said.
The Asahi Shimbun newspaper said the agreement, between countries that shared the values of freedom and democracy, was uniquely significant.
But the paper said in an editorial more work was needed to ensure the new coalition contributed to regional stability.
"If it works only as a strategic architecture to compete for supremacy, the enhanced framework for trilateral co-operation will only heighten tensions," it said.
Global Times, one of China's official newspapers, quoted Biden as saying the summit was not about China. But it said the leaders' talk of joint efforts to maintain peace and stability in the Taiwan Straits and the South China Sea had exposed their anti-China hypocrisy.
A China Daily commentary said the summit was undoubtedly aimed at containing China. The summit statement could not hide the intention to form a "mini NATO" military alliance that would endanger peace in the Asia-Pacific.
China a threat when it is strong, a threat when it is declining
The US is crafting a new China narrative. Once it was a threat because of its rise; now it is a threat because it is in decline.
Economist and China expert James K. Galbraith says US President Joe Biden has set the terms of the new narrative. "When bad folks have bad problems, they do bad things," Biden said of China. Says Galbraith: "He did not explain how, exactly, unemployment and an ageing population turn China into a threat."
Galbraith says in an opinion piece the narrative has been signalled by recent articles in the New York Times.
His article was distributed by Project Syndicate, the expert writers' group and published by the South China Morning Post and the Bangkok Post.
Galbraith, an economist at the University of Texas at Austin and a UN adviser to China in the 1990s, agrees that China's economy is slowing. But he disputes the analysis of Nobel laureate Paul Krugman, a New York Times columnist. Krugman says China now has too much saving, too much investment and too little consumption – that it needs to boost consumption to take the place of investment.
But Galbraith says Chinese families save prodigiously and can do so because they have jobs, in large part in investment sectors.
"What is the new narrative really about?" he asks. "It is not so much about China as it is about the West…the inevitable triumph of capitalism and democracy.
"It is about our American leaders winning out against 'bad folks' who may do 'bad things'.
"It's a narrative that's made-to-measure for the 2024 election campaign."
Biden's ASEAN commitment questioned
US President Joe Biden plans to attend the G20 summit in New Delhi next month but he has turned down an invitation to go to the ASEAN summit that precedes it.
Vice-president Kamala Harris will visit Jakarta for the ASEAN summit, which is to be held from September 5-to-7. Biden will arrive in New Delhi on September 7.
The Jakarta Post said in an editorial it could not see any valid reason for Biden to have to send Harris to the Jakarta summit.
"Biden's absence from the ASEAN summit will only raise questions about the US commitment to the region amid the rising tension between Washington and Beijing and China's escalating military actions in the South China Sea," it said.
"Four of the 10 ASEAN nations, Malaysia, Brunei, Vietnam and the Philippines, are embroiled in territorial disputes with China in the resources-rich sea."
The paper conceded that Indonesia President Joko "Jokowi" Widodo should blame himself for failing to foster a strong relationship between the two countries. "He has paid little attention to the US, despite several visits there, but focuses more on China and other emerging forces as the epicentre of his foreign policy platform," it said.
The Hindu newspaper reported prominently a White House announcement about the visits to New Delhi and Jakarta.
It played up a line in the statement saying that Biden would commend Prime Minister Narendra Modi for his leadership of the G20.
New Thailand PM transfers shares to his daughter
Srettha Thavisin, Thailand's new prime minister, is a very rich property developer who is also a confidant of Thaksin Shinawatra and his sister Yingluck, former prime ministers who were ousted by army coups.
He was a public critic of the 2013-14 protests that led to the coup against Yingluck's government. According to a profile in Bangkok Post, after the coup he was ordered to report in person for "attitude adjustment".
Srettha was educated in Thailand and the US. His wife, Pakpilai, is a medical specialist. They have three children.
His company, Sansiri, is one of Thailand's biggest property developers, with revenue last year of Baht 34.9 billion (more than $A1.5 billion) and net profit of 4.2 Baht 4.2 billion ($A186 million).
Srettha resigned as CEO earlier this year and transferred his Sansiri shares, worth Baht 1.2 billion ($A53 million), to his daughter.
An article on the Thai Enquirer website said that just before the May 14 election, Srettha posted on social media that his goal was a better livelihood for all Thai people. "My enemy is people's poverty and inequality," he said.
Srettha was elected easily as Thailand's 30th prime minister on Tuesday, 100 days after the election in which his party Pheu Thai came second to the progressive Move Forward Party.
Move Forward's leader, Pita Limjaroenrat, was defeated in a ballot for prime minister by the votes of senators appointed by the military coup-makers.
Pheu Thai went back on its word not to deal with military backed parties and included them in its coalition, ensuring enough senators voted for Srettha for him to win. Most of the votes against him came from Move Forward MPs.
Assured that Srettha would win, Thaksin Shinawatra returned to Thailand on Tuesday after 17 years in exile. He was taken to court to be sentenced on corruption convictions and then sent to a prison hospital.
He was later transferred by helicopter to the Police General Hospital in central Bangkok, reportedly suffering from chest pains, high blood pressure and low blood oxygen. The Thai PBS World website reported six doctors had been assigned to treat him.
Bangkok Post said conservative activist Srisuwan Janya asked the National Anti-Corruption Commission to investigate whether Thaksin had received special favours.