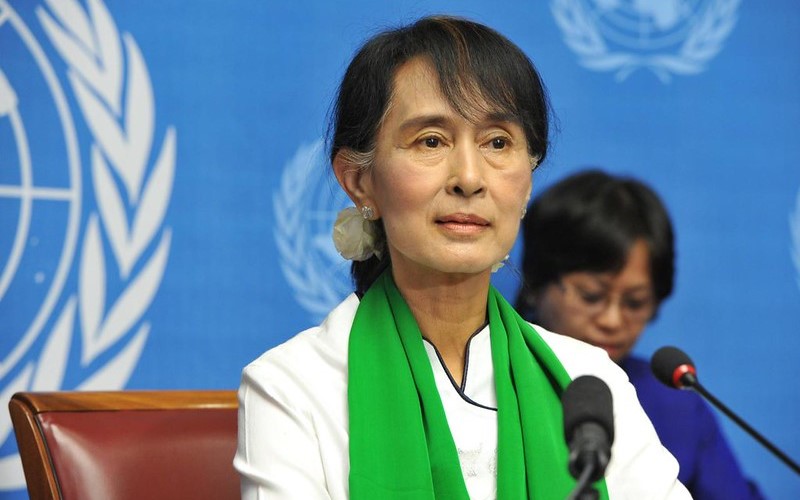 Human rights are unlikely to be high on the agenda when a human rights abuser becomes the first foreign head to hold talks with Myanmar's top general.

Cambodian Prime Minister and ASEAN chair Hun Sen is expected to meet the Myanmar junta leaders this weekend as the devastated country heads into its second year of martial law.
The Cambodian side announced that Hun Sen had not set any preconditions on the meeting "but the visit is not far from the five-point consensus endorsed by ASEAN".
The five-point consensus, reached at an ASEAN summit in April, calls for an immediate cessation of violence in Myanmar, constructive dialogue among all parties, the appointment of a special ASEAN envoy to facilitate dialogue, the provision of humanitarian assistance, and a visit by the envoy to Myanmar.
None of the points has been implemented by the Myanmar military government, and since the February 1, 2021, coup there have been at least 1265 civilian deaths while more than 11,200 people have been arbitrarily detained, including MPs, doctors, journalists, trade union leaders, and opposition activists. In December the government jailed former democratic leader Aung San Suu Kyi, thumbing its nose at international demands for her to be released. Australian economist Sean Turnell remains in detention charged with breaching the Myanmar Official Secrets Act while working in an advisory capacity to Suu Kyi.
Hun Sen is expected to meet the junta leaders in the capital, Naypyidaw, on January 7-8. Indonesian President Joko Widodo has spoken to Hun Sen by telephone and reiterated Jakarta's position on the importance of implementing the five-point plan and "bringing democracy back to Myanmar through inclusive dialogue".
"Should there be no significant progress, Myanmar should only be represented by non-political level at ASEAN meetings," Widodo said.
The statement adds to tensions in the ASEAN group about Myanmar's role. Myanmar was angered by ASEAN's decision not to include it in a recent summit.
If the visit comes off, Hun Sen will be the first head of a foreign government to see coup leader General Min Aung Hlaing. Hun Sen and the general will have much to talk about, but it is unlikely that human rights will be high on their agenda.
Human Rights Watch reported in 2015 that Hun Sen had been linked to a wide range of serious human rights violations including "extra-judicial killings, torture, arbitrary arrests, summary trials, censorship, and bans on assembly and associations" and had set up a national network of spies and informers. It sounds like a handbook for the coup.
Myanmar has been in a state of virtual civil war since the generals ousted the democratically elected Suu Kyi government last February. It has taken up arms against its own people, overseen the decimation of the health and education sectors, destroyed the economy and set back the agricultural sector by decades.
The United Nations Development Program (UNDP) reported in December that urban poverty in Myanmar would triple under the combined threat of the Covid-19 pandemic and the ongoing political crisis. Its household survey of 1200 people showed that income had reduced for 75 per cent of the population.
It said: "The assessment confirms UNDP's projections that by early 2022 nearly half of Myanmar's 55 million population will be living below the national poverty line. There now appears little doubt that the country's poverty headcount is likely to return to levels not seen since 2005, effectively erasing 15 years of pre-pandemic economic growth. There are also significant risk to nutrition, health and education, which will negatively impact on the human capital of the next generation."
Hun Sen is the longest-serving head of government of Cambodia, and one of the longest-serving leaders in the world. He orchestrated a coup d'état in 1997 and since 1998 has led the Cambodian Peoples Party (CPP) to consecutive and often contentious election victories. In 2018 he was elected to a sixth term in a largely unopposed poll after the dissolution of the opposition party, with the CPP winning every seat in the National Assembly. He is currently serving his sixth term as prime minister in de facto one-party rule.
Min Aung Hlaing this week repeated his claim that elections will be held in August next year. He has jailed or detained most members of the National League for Democracy, which won a handsome majority of seats in the November 2020 election.
There have been consistent demands for strong sanctions against Myanmar, including a ban on arms sales, but so far the international community including Australia has responded with limited sanctions, mostly against the junta members. Hun Sen has frequently criticised Western powers in response to their sanctions on Cambodia over human rights issues.
A number of rights groups and NGOs have expressed concern over the failure by the US and France to not sanction the Myanmar regime and block revenue from gas extraction.
American oil company Chevron and French oil giant Total are part of a consortium of companies operating the Yadana gas field in Myanmar. Before the surge in global gas prices over the past year, the project was estimated to earn the military around $400 million annually.
Perth-based Myanmar Metals has announced plans to offload its 51 per cent stake in the Bawdwin mine in north-eastern Shan state near Myanmar's border with China, having outlined problems financing the project following the coup. But the $40.9 million sale is being challenged by civil society groups, which have lodged a complaint with the Australian National Contact Point, a government agency that gauges multinationals' adherence to OECD guidelines for business conduct. Activists fear the profits will end up in the hands of a military regime.
Meanwhile, protests against the military junta continue daily throughout Myanmar despite the terrible toll on peaceful activists.
Mizzima News, a normally reliable pro-democracy publication, says it has become apparent the death toll from an attack by the Myanmar military now referred to as the Christmas Eve massacre is more than 50. Mizzima quoted Karenni state police as confirming that 35 local civilians, including three children, were burned alive by the army near Moso village in Phruso township, Kayah state, and that 42 residents were still missing. Among those killed were two Save the Children staff, who were providing humanitarian assistance to children.
"This news is absolutely horrifying," said the charity's chief executive, Inger Ashing. "We are shaken by the violence carried out against civilians and our staff, who are dedicated humanitarians supporting millions of children in need across Myanmar."
Radio Free Asia (RFA) reported this week that at least 61 people had died and more than 40,000 had fled fighting elsewhere in the country this month.
The UN refugee agency emphasised the need for urgent protection and assistance for thousands of people who had fled intensified fighting and crossed into Thailand. "The UNHCR, together with partners, reiterates to the royal Thai government its readiness to provide the necessary humanitarian assistance and protection support to the new arrivals," it said.
Naw Say Say, the general secretary of the Women's League of Burma, which helps refugees along the Thailand-Myanmar border, told RFA's Myanmar Service that many of the people who had crossed into Thailand were sheltering at a cattle ranch near Mae Sot township. "As far as we know, there are tens of thousands of people [displaced] from more than 10 villages on the Myanmar side," she said. "They are moving from place to place, and it's hard to get the exact numbers."
Naw Say Say said there was a shortage of clothes, medicine, food and shelter for the refugees.
Meanwhile, the World Health Organisation reports the Omicron variant of COVID-19 was detected in Myanmar for the first time on December 29. It said the Myanmar Department of Health had advised that up to January 4 there have been 531,299 confirmed cases of COVID-19 with 19,278 deaths. As of December 10, 31.8 million vaccine doses had been administered. However, data provided by the junta is impossible to confirm.